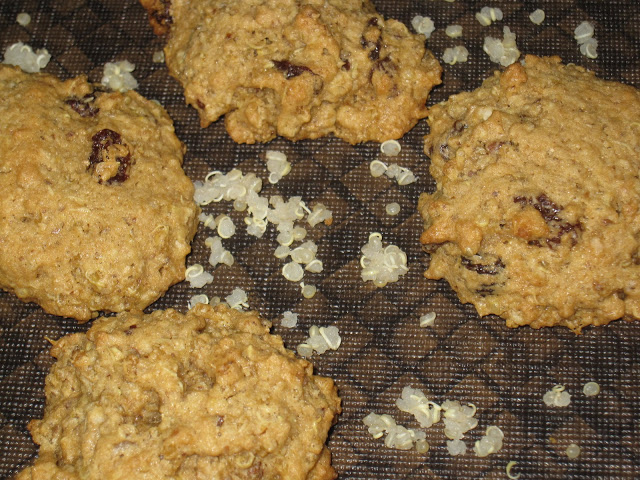 Quinoa is one of those strange food names I've never been able to pronounce properly. Off of the odd chance that I magically get it right, my brain never decides to remember it and then I always go back to mispronouncing it again. The bad part is that Trevor has decided that we're at the point of our relationship where he knows what I'm talking about and doesn't bother correcting me, even when I use the wrong words or say something wrong all together.
Trevor: What's for supper?
Me: Oh, we're having….uh, quinn-noh-ah.
Trevor: (pause) Great, sounds delicious!
This does wonders for my social development outside of the apartment. "Yes, Mr Waiter, I would like my side dish to be some of that delicious looking……quinn-noh-ahh….yes, I said quinn-noh-ahh. In my spare time? I like to bake and post my creations on the internet."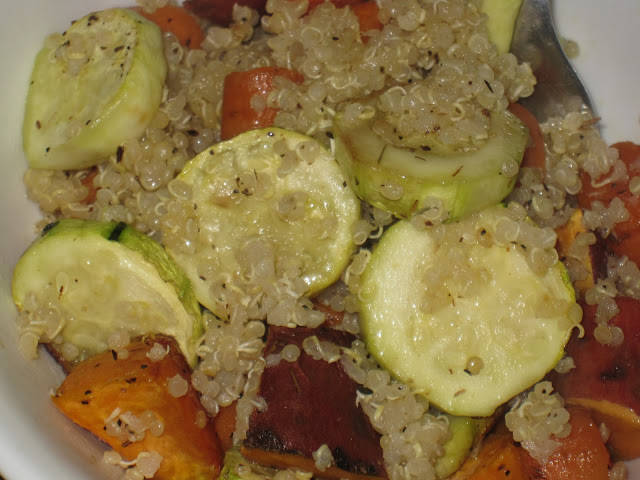 One of our typical quinoa suppers, with roasted carrots, sweet potato and zucchini
For future reference, according to Google, quinoa is pronounced keen-wah. Yeah, I don't get it either, I must have completely zoned out during that significant part of grade 2 when this kind of alphabetical pronunciation was taught to us. Grade 2 wasn't a complete blur though, I can tell you about the time that my best friend at the time pushed me as I dangled on the highest monkey bar as though it were a swing (we thought we were so clever) and thanks to the force of that push, I flew off backwards and landed flat on my face in the playground sand. That was the year I rocked a wicked scar on my lip and a new-found knowledge of momentum.