Lemon Chia Seed Pancakes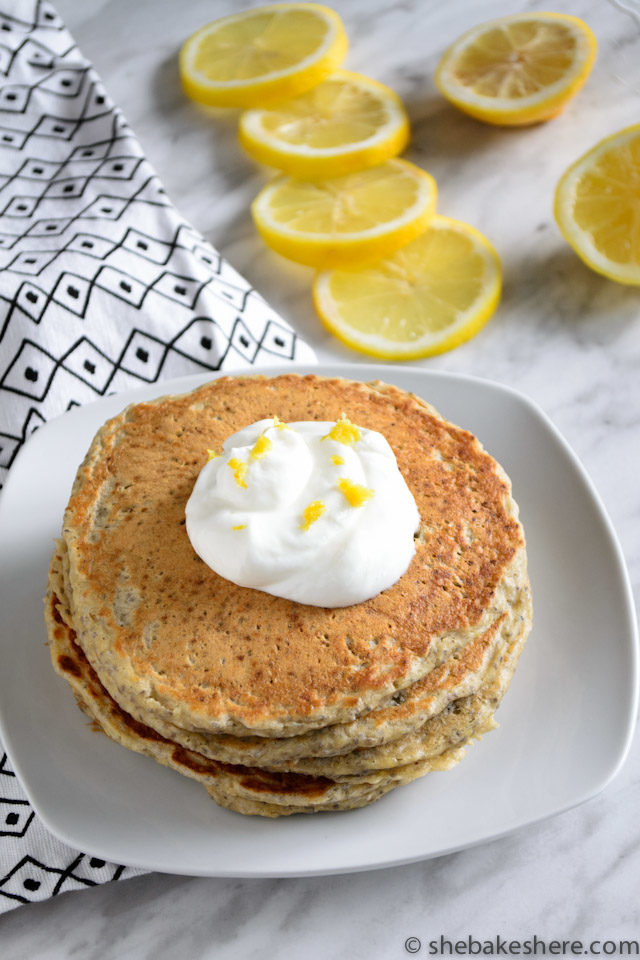 I didn't expect to go so long without posting, but here is my first recipe of 2018! The beginning of the year was pretty hectic, what with work, attending prenatal classes at the hospital, and just trying to get everything organized before my leave, and most of all, before our baby's arrival. I'm now a couple days into my maternity leave and I finally feel like I have a chance to breathe this year.
I didn't mean for blogging to go on the backburner, but it's true what they say – food really can become less interesting during pregnancy. It's funny, I always thought it was such a cliche thing when I read about how other bloggers dealt with their pregnancy and food aversions, but I so get it now. That being said there have been a lot of foods I can't seem to get enough of during the last couple months. It's just that 90% of them don't involve an oven (or any cooking on our part).
My favourite foods this pregnancy:
Citrus-y food like pineapples and clementines
Vanilla Greek yogurt with strawberries or blueberries
Cheddar cheese or marble cheese slices with fresh cucumber slices
Crispy breakfast potatoes and hot sauce
Roasted brussel sprouts or my roasted broccoli recipe
Tempura shrimp and rice (takeout)
Butter chicken roti takeout from an Indian food restaurant by Trevor's office
Air-popped popcorn with coconut oil and hot sauce
Safe to say, my tastes have been all over the place for the last little while. For the last month, I've also had a major sweet tooth and made a batch of my Grandma's Two Hour Homemade Cinnamon Rolls and her Monster Cookies. Thankfully most of this baking fits in the freezer, so I don't have it around tempting me all the time (*glances at freezer*). I also started batch cooking and doing some freezer meal prep back at the end of January, so I think we're all set for the future meals whenever baby decides to arrive. I'm sure by then, I'll be so tired that I won't care what I'm eating as long as it's somewhat healthy and fills me up!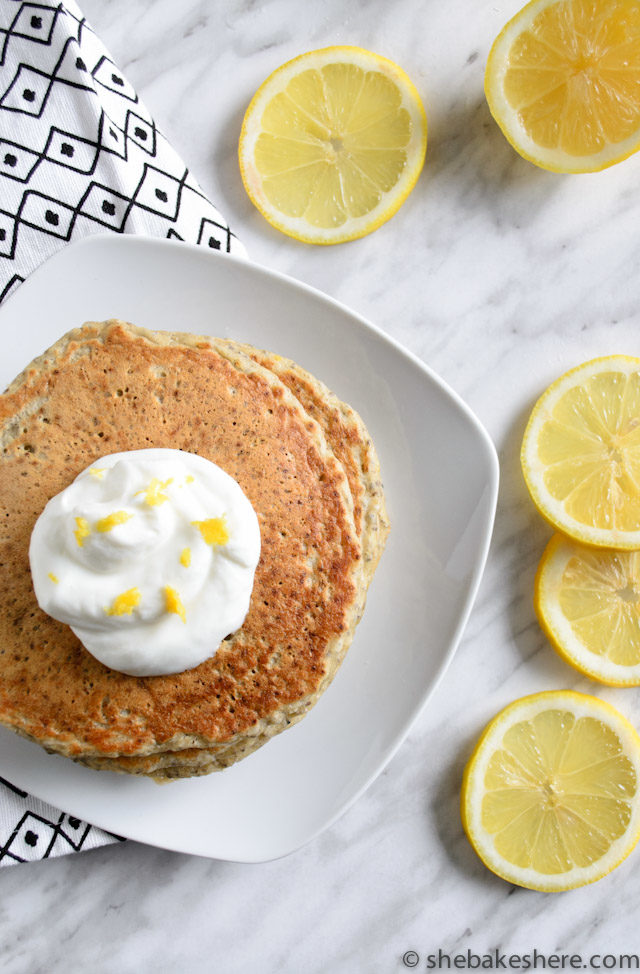 If you follow me on Instagram and have seen my Instastories, you probably noticed that I've been on a bit of a weekend pancake or French toast breakfast kick. Now that I'm on leave, this has seeped into my weekday routine and I'm sharing one of my current favourite morning recipes – Lemon Chia Seed Pancakes. I never seem to have poppy seeds on hand, so chia seeds are a great substitution and pack a lot more nutrition. Especially when topped with Greek yogurt and fresh fruit (my favourite).
Just a note, the chia seeds will absorb some of the liquid in the batter, so it's best to make the pancakes within 20 minutes of mixing the batter. Any longer and the middle part of the pancakes can turn soggy and not cook all the way through.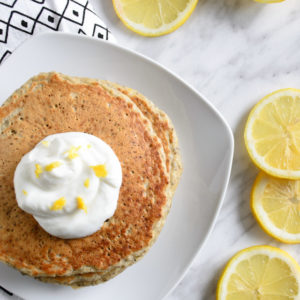 Lemon Chia Seed Pancakes
Ingredients:
1 1/2 cups almond milk
1 large lemon, zested and juiced
1 1/2 cups flour
3 tbsp sugar
1 tbsp + 1 tsp baking powder
1/3 cup chia seeds
Pinch of salt
1 1/2 tsp vanilla
1 large egg
2 tbsp butter/margarine, melted
Directions:
In a large measuring glass, measure almond milk and add lemon zest and lemon juice. Set aside for 5 minutes.
In a large bowl, whisk together flour, sugar, baking powder, chia seeds and salt. Add vanilla and egg to the milk/lemon mixture and then add the wet mixture to the dry mixture. Stir gently to combine and then add the melted butter/margarine. Stir a couple more times until the butter/margarine is incorporated and let the batter sit for 5 more minutes to let the chia seeds absorb some of the liquid. Don't let the batter sit for too long, otherwise, too much liquid can be absorbed and the pancakes will not cook properly all the way through.
Preheat your non-stick pan over medium heat. Ladle out 1/4 cup of pancake batter onto the heated pan and flip when the edges are brown and the middle of the pancake has bubbles. Serve immediately with your choice of toppings (I like Greek yogurt, maple syrup, and fresh cut fruit).
Feel free to substitute regular milk or your choice of milk for the almond milk.