Cocoa Peppermint Crescent Cookies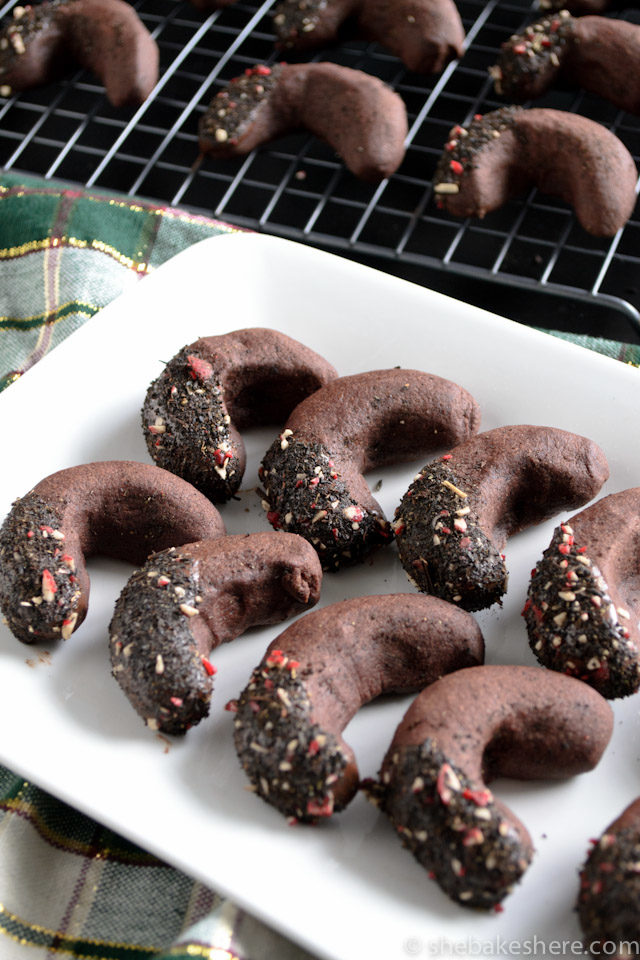 With Christmas only a couple days away, I imagine that most people already have finalized their holiday baking, but I thought I would throw one more recipe in the mix for all the tea lovers out there. Fun fact: I actually made these cookies at the beginning of the month for our condo's holiday party, but I forgot to post the recipe until now. Pregnancy brain will do that to you!
I was quite the keener this year and made most of my Christmas cookies last week, so now all the shortbread, biscotti and turtle chocolates are chilling out in the freezer and waiting to jump on a plane with us to Calgary. I ended up having to make another half recipe of my Grandma's Christmas Shortbread Cookies because I have no self-control and ate the first batch before they made it to the freezer. They are my favourite Christmas cookie of all time, so I should have known better than to be tempted by making them too early.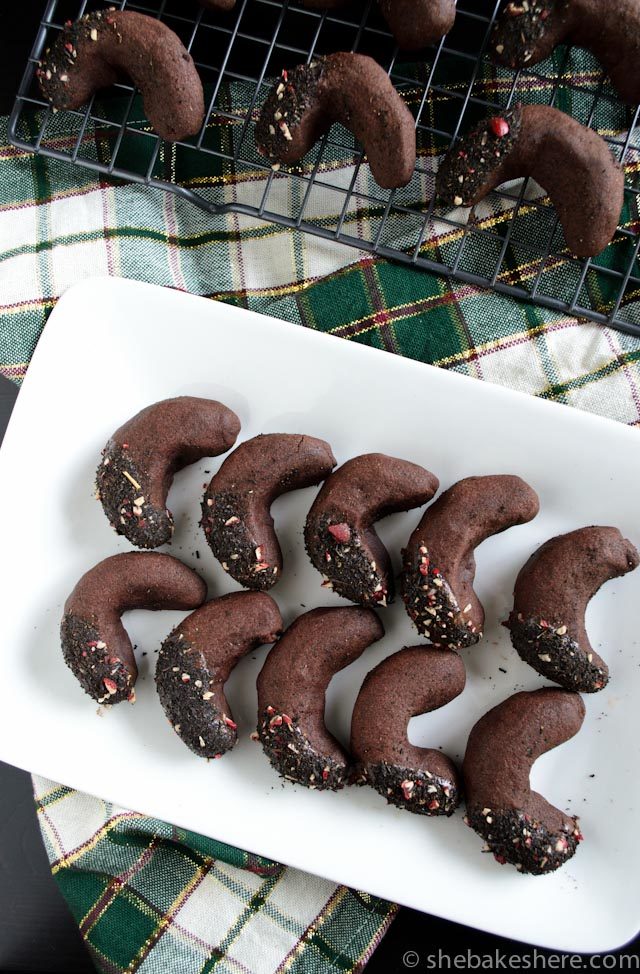 Since I made these Cocoa Peppermint Crescent Cookies for our condo's holiday party, it took all of my self-control not to devour them when I was taking these photos. Chocolate and peppermint are my favourite flavour combination and I'm a sucker for a cool, crisp mint flavour enveloped in rich chocolate. The cookies have been dipped in melted chocolate and sprinkled with Steeped Tea Candy Cane Sugar topper. This Candy Cane Sugar topper is a mixture of black tea and crushed candy canes that comes in a grinder and is sprinkled on hot chocolate, tea or other winter-themed drinks as a flavour little pick-me-up. Since I still had half of the container left over, I thought this recipe would be a fun way to use up the rest. But of course, if you don't have this very specific Candy Cane Sugar topper, crushed candy cane pieces or crushed hard peppermint candies will be fine too.
So far our holiday plans involve spending next week with my in-laws in Calgary (we're flying on the 24th – pray for us) and then coming back to Toronto just in time for the New Year weekend. No real celebration plans for New Year's Eve, but we've definitely reached that age where going out for the 31st has lost its appeal. Starting in January, it's going to be go go go to get ready for our new addition scheduled to arrive in March. I have a feeling that the next couple of months are going to fly by! 🙂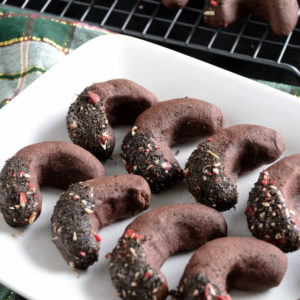 Cocoa Peppermint Crescent Cookies
Ingredients:
1 cup butter/margarine, softened
1 cup sugar
1 egg
1 tsp vanilla
2 1/2 cups flour
1/2 cup unsweetened cocoa powder
1/2 tsp salt
1/2 cup baking chocolate, melted
1 tsp shortening
1/2 cup Candy Cane Topper (from Steeped Tea)*
*Can also substitute with plain crushed candy cane pieces.
Directions:
Using a stand-up mixer or handheld beaters, cream together the softened butter/margarine and sugar. Add egg and vanilla and continue mixing until well-combined.
In a separate bowl, whisk together flour, unsweetened cocoa powder, and salt. Gradually add flour mixture to the wet mixture until soft dough forms. Cover the bowl with plastic wrap and chill the dough for 2-3 hours until firm.
Preheat oven to 350*F and line your baking sheets with parchment paper or a non-stick silicone liner.
Shape 1-tbsp mounds of the dough into crescent shapes and place 1-inch apart on your baking sheet. Bake for 10-12 minutes until the cookies are set. Remove the cookies from baking sheets and let cool on a wired rack.
Melt chocolate and shortening in a small pot over very low heat until partially melted. Remove from heat and stir to ensure there are no lumps. One by one, dip the end of each cookie in the chocolate and then sprinkle with Candy Cane Topper (can also use crushed candy canes). Place the finished cookies back on the wired rack to let dry completely before storing.