About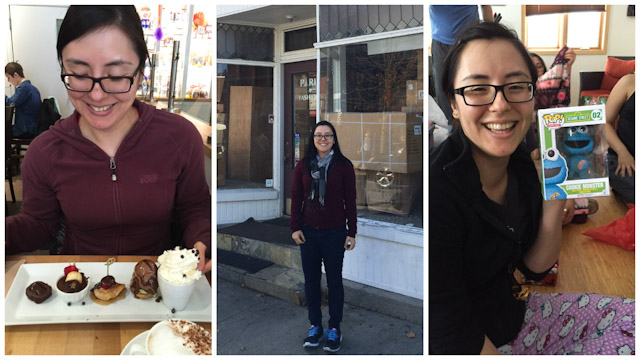 Welcome! My name is Jessica and this is my food blog, She Bakes Here. I started this blog in January 2011 as a fun way to share recipes and my food photos with my family. At first I used to only write about desserts I made and the cake decorating classes I took at Michael's, but over the years my tastes have gradually shifted. Now I enjoy eating delicious food with a dash of indulgence for good measure. Among all the cookies, squares and muffins recipes, you'll also find some healthy recipes that I eat regularly and even a couple of my Grandma's recipes that my family has enjoyed over the years.
I spent most of my childhood watching my Grandma and my Mom make food (my two biggest inspirations) and some of my favourite memories are of helping them in the kitchen. When I was 11, I experienced a "crash course" in cooking when my Mom became pregnant with my sister and couldn't stand being near uncooked food. At the time, I remember being stressed out by trying to cook supper every night for our family, but now, I find being in the kitchen very therapeutic and it's become my go-to place after a long, tiring day.
A little bit about me….
I have a Bachelor of Fine Arts Degree in Film Production and Media Studies and live in Toronto, Ontario (Canada) with my husband, Trevor. Before 2011, we lived in the Saskatchewan prairies where I worked in the production offices for a couple of Canadian TV series and the occasional feature film. When we moved to Toronto, I switched careers and now have a more manageable 9-5 government job. This gave me a lot more time to cook, explore the city (farmer's markets! restaurants! food trucks!) and start this blog.
Besides baking, cooking and eating food, I also have a soft spot for musical theatre. I've seen a handful of shows in Toronto (Spring Awakening, Avenue Q, Book of Mormon, Wicked, If/Then, Kinky Boots and Cabaret) and someday hope to see a real Broadway show in NYC (visited 3 times, still no luck). I have a weird fascination with personal finance and love, love, love reading the Personal Finance for Canadians subreddit. Once I even trained for and completed the Queen City Half-Marathon. About once a year, the photos show up on my Facebook Memories and make me laugh. Oh and if you haven't noticed, I write a lot of run on sentences – those will be sprinkled all over the place here.
Contact me….
Do you want to feature me or one of my photos/recipes? Feel free to drop me an email at shebakeshere@gmail.com or fill out my contact form. I love hearing from people! Please note that I do not read press releases.
Social media-wise, I can also be reached on my Facebook page, and Twitter account. You can view the goings-on of my daily life and some behind the scenes stuff on Instagram and feel free to pin my pages to Pinterest and check out my Pinterest account.