Soft Whole Wheat Chocolate Chunk Cookies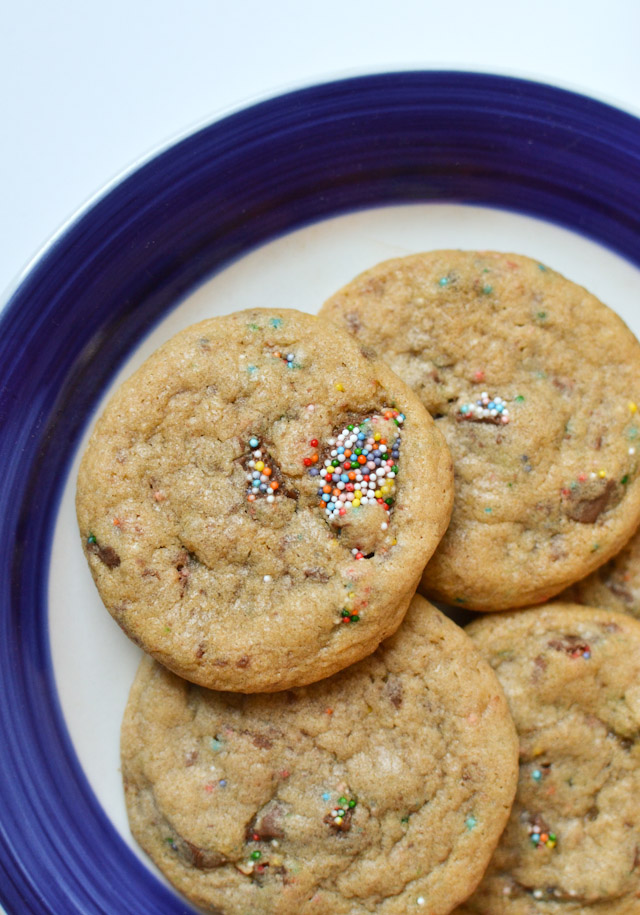 It's times like this that make me realize how awesome chocolate chip cookies are. They are the perfect snack, they make a fantastic homemade gift and when paired with a cold glass of milk, it just feels like they could melt your troubles away. Another reason chocolate chip cookies are so awesome is because of how versatile they are. I've added potato chips, mint hot chocolate, made cookies with dark chocolate and peanut butter, nutella, used a cookie cutter, and I even have a recipe for all the vegans out there.
I didn't plan on making yet another recipe for chocolate chip cookies (or rather, chocolate chunk cookies), but I was really craving them this past weekend and I figured that I should take advantage of the cool weather now while I'm still able to turn on my oven without it becoming an ordeal, heat-wise, in our apartment. I originally purchased these chocolate yummies (google 'em) for some cupcakes I was designing in my head, but that idea never happened and I've been hiding these morsels in my freezer ever since.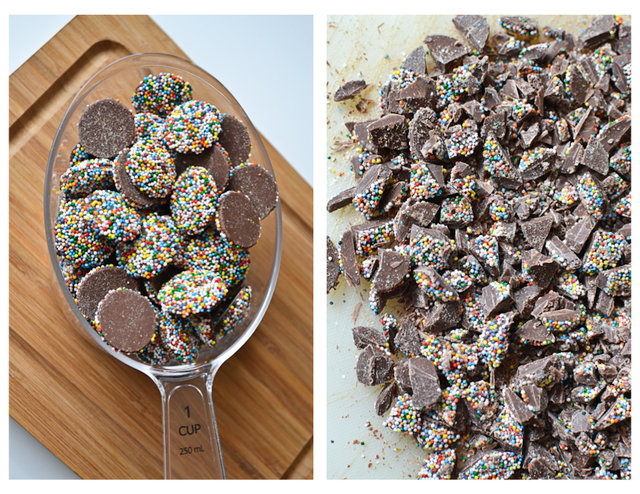 The chocolate yummies were a little interesting to chop up because quite a bit of the sprinkles ended up separating from the chocolate, but it's not a baking party until there is a little bit of a mess, right? I saved as much of the sprinkles as I could and tossed them into the dough along with the chopped chocolate. As you can see from the photo below, the sprinkles created a nice pop of colour in the cookie dough and were a blast to photograph.
You'll also notice in the recipe below that the instructions say to wrap up and chill the cookie dough for at least an hour. This may not be necessary, but I found this step to be extra useful to help create uniform shaped cookies. I'm not sure if this really affected the overall taste or the texture after the cookies were baked, but it made the rolling process easier (and cleaner!) and I'm all for taking the easier (cleaner!) route. Especially if the end result is perfectly round, soft-baked chocolate chunk cookies.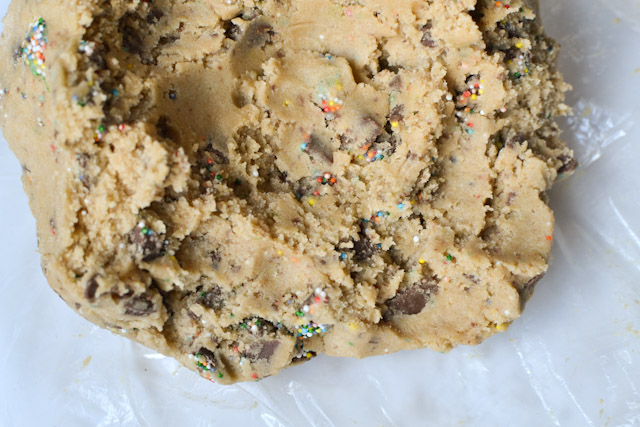 Soft Whole Wheat Chocolate Chunk Cookies
Ingredients:
2 cups soft whole wheat flour*
2 tsp cornstarch
1 tsp baking soda
1/2 tsp salt
1/2 cup + 2 tbsp butter/margarine, room temperature
3/4 cup brown sugar
2 tbsp white sugar
1 egg
2 tsp vanilla extract
1 cup chocolate chunks
Directions:
In a small bowl, measure and whisk together soft whole wheat pastry flour, cornstarch, baking soda and salt. Set aside.
Using your mixer, beat together butter/margarine and sugars until creamy. Add the egg and vanilla extract and beat until smooth. You may need to scrap down the sides of the bowl to ensure everything is evenly mixed.
Set your mixer to the lowest setting and slowly add flour mixture to the wet mixture until just combined. Fold in chocolate chunks.
Wrap the cookie dough tightly in plastic wrap and chill in the fridge for 1 hour, or up to 8 hours.
Remove the cookie dough from the fridge and let sit on the counter for 10 minutes. Begin preheating your oven to 350*F and line your baking sheets with parchment paper or silicone baking liners.
Roll the cookie dough in one-tablespoon sized balls and place on cookie sheet, spaced 2 inches apart. Bake for 8 minutes until the cookies just start to brown. They will appear underbaked, but this is fine. Let the cookies rest on the cookie sheet for 5 minutes (they will continue baking during this time) before transferring to a wired rack to cool.
* Whole wheat pastry flour can also be used in place of soft whole wheat flour.