Homemade Gyoza (Grandma Kay recipe)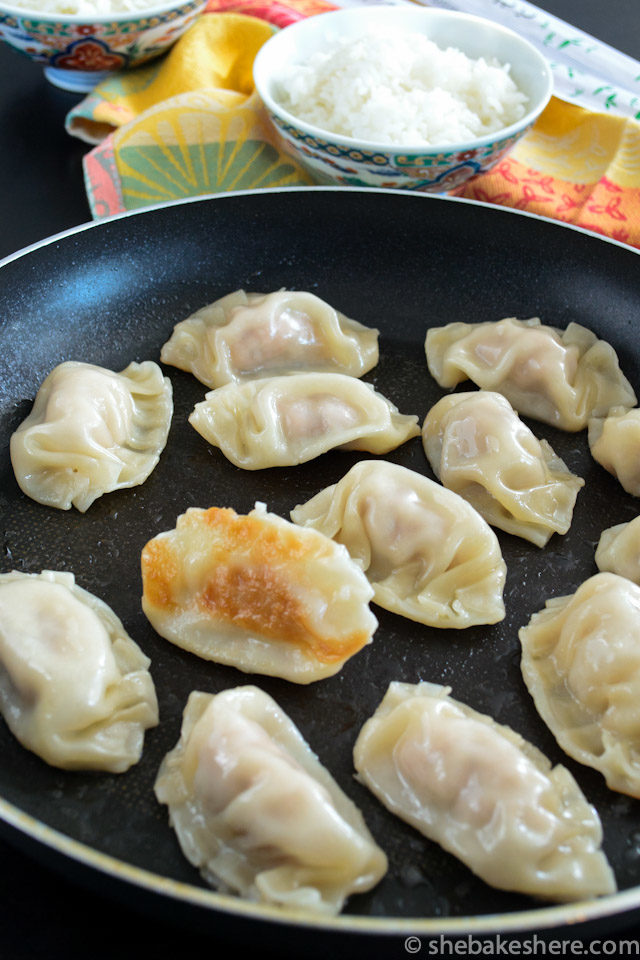 Hellooo! So glad to know that you are still here. It was never my intention to go this long without a recipe or even just a post, but I seriously underestimated how little time I would have, especially after I returned to work after my maternity leave.
So what's new since then? Well, as I previously mentioned I'm back to work at my full-time job. Things got a little hectic last fall as we juggled the new routine of earlier mornings, daycare drop-offs, getting back into the groove of work, daycare pickups, and then rushing home to cook supper. I feel very fortunate to live in a country where I was afforded a long and generous maternity leave and we lucked out getting a toddler spot at a daycare that is a 15-minute walk from our home and is also somewhat on my work commute. The daycare waitlists here are very long and finding a spot can take up to a year or longer depending on the area you live in. Even though I had applied for spots in my first trimester, actually securing a spot was something that lingered on the back of my mind as my return to work date was approaching. We recently had our scheduled one-on-one meeting with one of the providers at Thomas's daycare to go over his recent milestones and it was a great reassurance and reminder that he's in great care while Trevor and I continue our careers.
Speaking of Trevor, another big change in our household is that he recently turned into a freelancer! This has been a great move for us and it has given him so much more creative freedom in the jobs he has been undertaking. It's also been nice to have someone at home to dump food into the slow cooker or pull the chicken out of the freezer so that we can get a jump-start on supper Thomas and I come home, haha. 🙂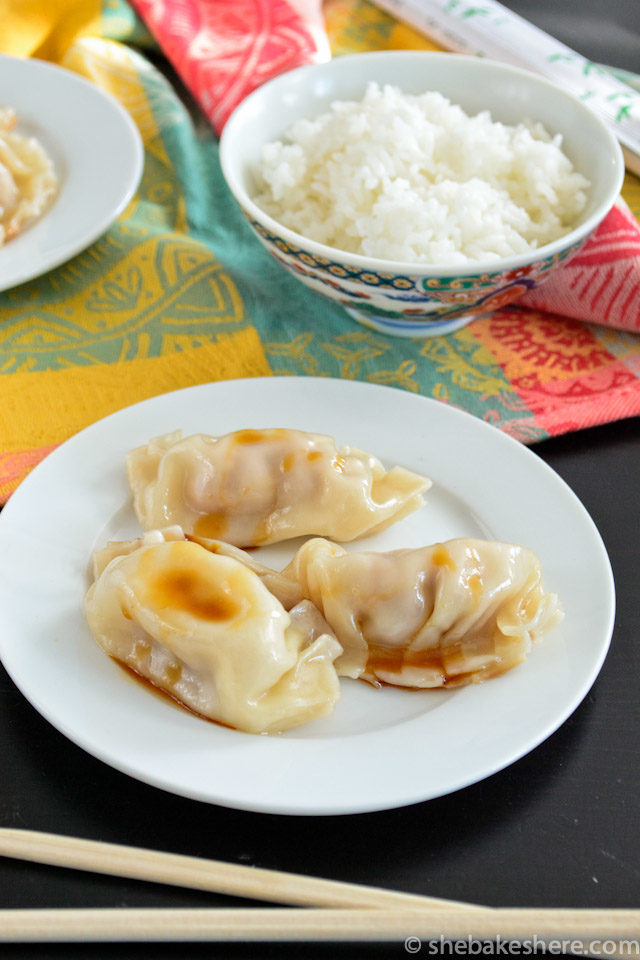 On the days where we don't rely on our slow cooker for supper, I find that having a large freezer bag full of homemade gyoza has been a lifesaver. Just throw a dozen or so in a pan, cook up some rice and steam some broccoli, and I have a balanced meal ready to go in under 30 minutes. Thomas isn't a big meat eater (#toddlerlife), but he eats anything mixed up with rice and of course he loves dipping food in gyoza sauce.
I've been making my Grandma Kay's gyoza recipe for a couple of months now and at first, I was super intimidated with pleating, but now it's my favourite part of the process. I usually set everything up on the coffee table in front of the TV and throw on an old episode of Game of Thrones as background noise. Plus, I find that as long as you don't overfill your gyoza and the edges stick together, the pleating doesn't have to be perfect. It is very forgiving once you actually cook them.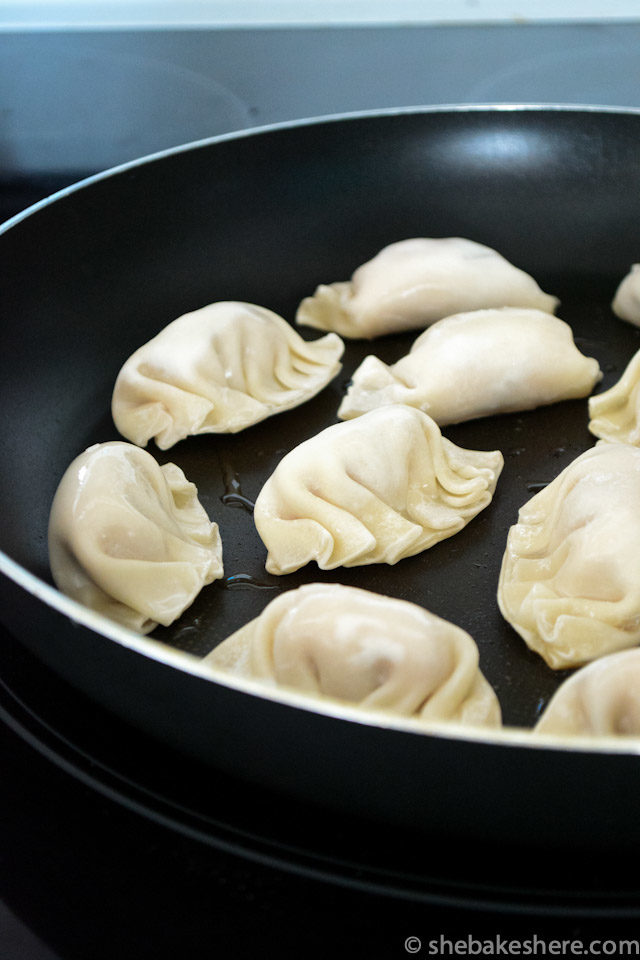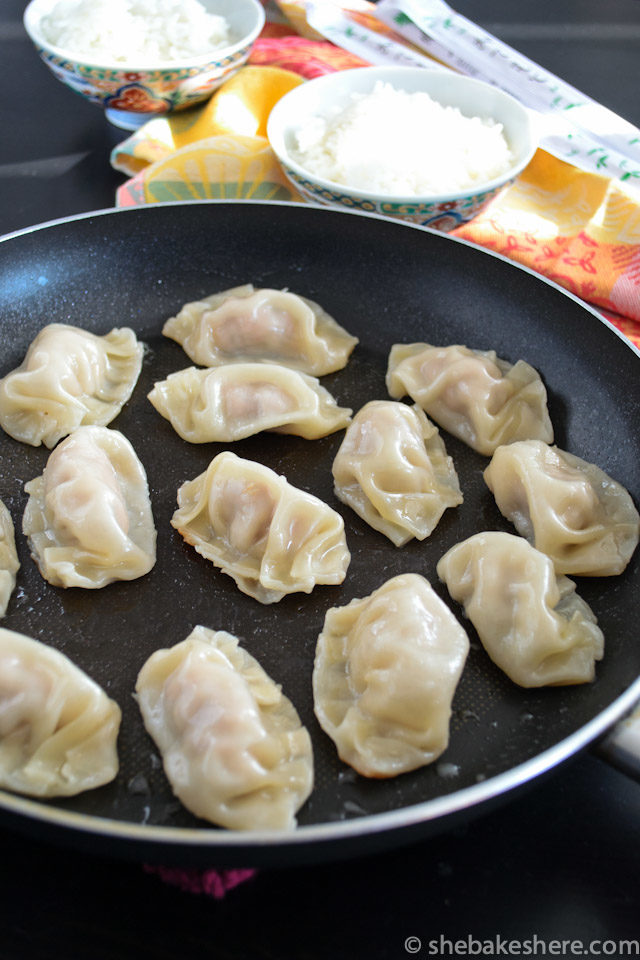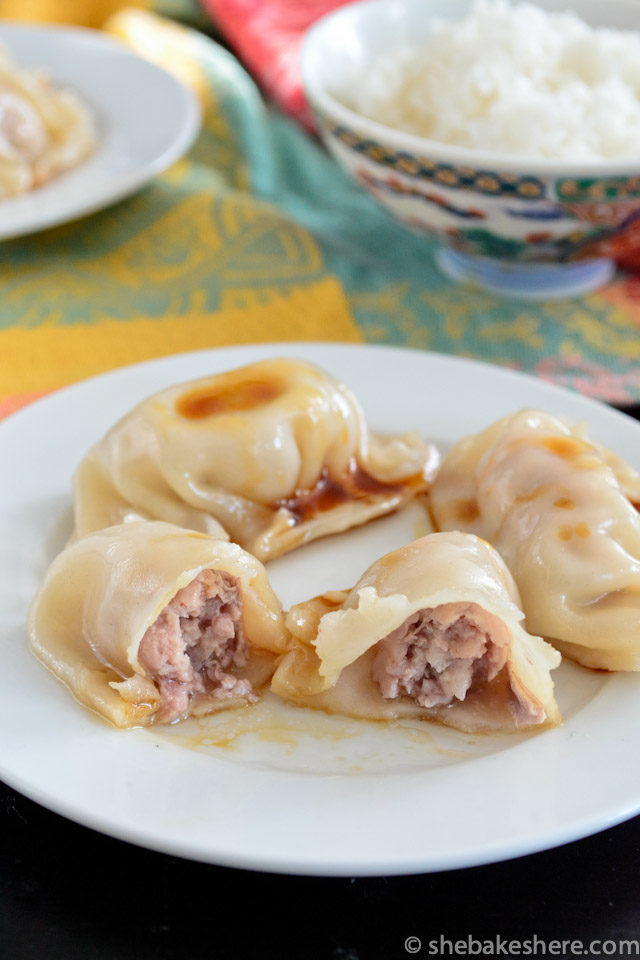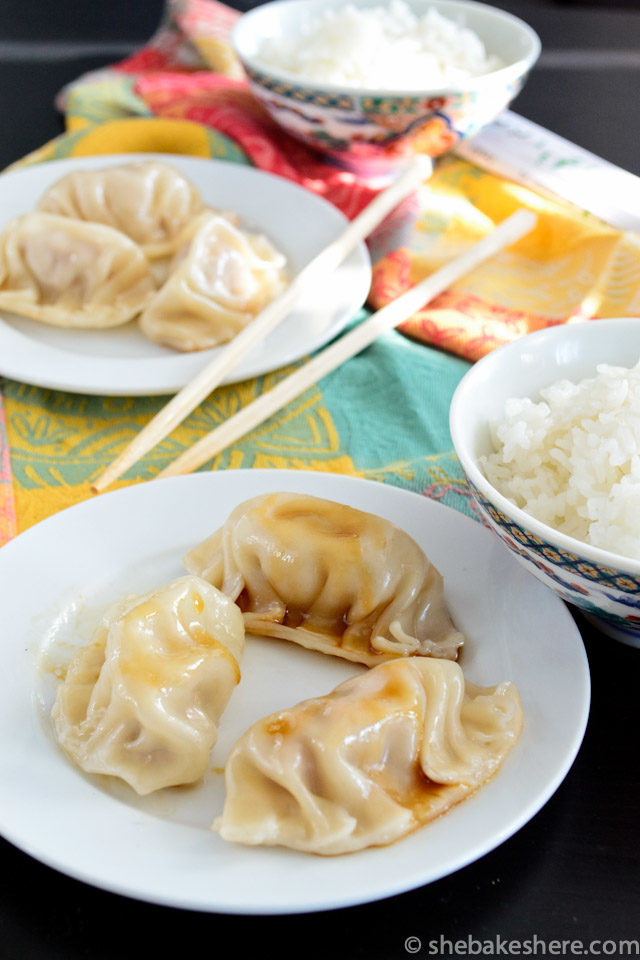 Homemade Gyoza
Ingredients:
Gyoza Filling
10 large shrimp
150 grams ground pork
50 grams fresh chives, sliced into small pieces
Pinch of salt
1 tsp grated ginger (or ginger juice)
2 tsp mirin
1/2 tsp soy sauce
1 tsp sesame oil
Round Gyoza Wrappers (approximately 30)
1 tsp cooking oil
1/4 cup water
Gyoza dipping sauce
Directions:
In a small food processor, pulse the shrimp until grounded and no large chunks remain.
Scoop the grounded shrimp to a large bowl. Add the remaining ingredients (ground pork, sliced chives, salt, grated ginger, mirin, soy sauce, and sesame oil) and mix well with a wooden spoon.
Set up a small station with the gyoza filling, a small spatula, a large cookie sheet, a small bowl of water, and some clean dish towels. Once the package of gyoza wrappers has been opened, you will need to cover them with a dish towel so they stay fresh.
Place a gyoza wrapper flat into the palm of your non-dominant hand. Scoop a little over a teaspoon of the gyoza filling into the center of the gyoza wrappers. Dip your finger of your other hand into the bowl of water and gently circle the edges of the wrapper until the edges are slightly damp. Fold the gyoza in half and gently pinch the top middle, pleating the edges on each side. (NOTE: I found these instructions at Just One Cookbook to be super helpful when I was first learning how to wrap my gyoza). Once you have completed one, place it on the cookie sheet and cover it with a dish towel to keep it fresh. Continue until you have run out of gyoza filling. If you run out of wrappers first, the gyoza filling can be stored in the fridge for a few days.
To freeze the gyoza, remove the dish towel and place the cookie sheet in the freezer for 10-15 minutes. Remove the cookie sheet from the freezer, place the frozen gyoza in a ziplock freezer bag (remove as much air as you can), and then place the bag in the freezer for future meals. Freezing the gyoza on the cookie sheet beforehand will keep help keep them from sticking together in the bag.
To cook (either from fresh or from frozen), heat the 1 tsp cooking oil in a non-stick frying pan over medium heat. Place the gyoza in the pan flat side down and let cook for approximately 4-5 minutes until the bottoms are a golden brown. Carefully add the 1/4 cup of water to the pan and cover the pan to steam the gyoza for 10-12 more minutes to cook them all the way through. Once they are finished cooking, remove them from the heat and immediately serve alongside your favourite gyoza dipping sauce.