Salted Chocolate Nutella Cookies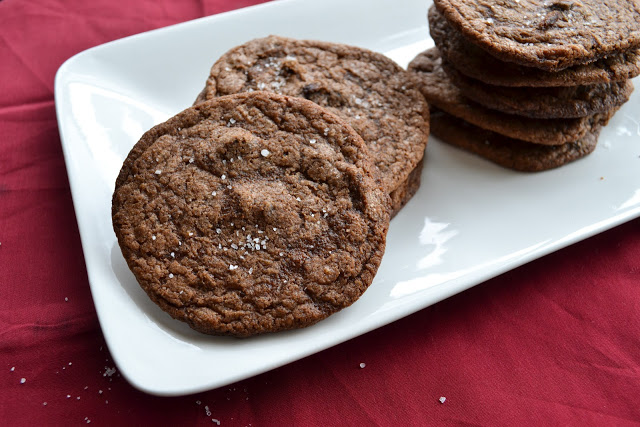 After baking the muffins, I knew I had to use up the rest of the Nutella. Between the span of making the muffins and making these cookies, I had found myself wandering to the kitchen on numerous occasions and ending with a spoonful of Nutella in my mouth.
Show of hands, I'm not the only person who does this, right?
Point being, this had to stop. And I'm glad that it did, otherwise these cookies wouldn't be in my life.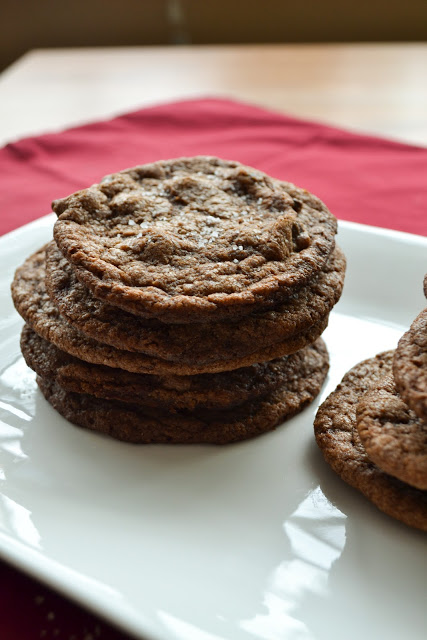 These cookies are fantastic: crispy and sweet, salty and crazy addictive. It's an easy recipe to throw together. Just as easy as it is to eat three of them and not even realize it until you're licking the stray salt grains from your lips.
They also pair wonderfully with a tall glass of almond milk (me) or a short cup of espresso (Trevor).
Hide them from everyone, including yourself. You have been warned.
Salted Chocolate Nutella Cookies
Ingredients:
1/2 cup butter/margarine, room temperature
3/4 cup brown sugar
1 egg
1/2 tsp vanilla
1/2 cup Nutella or other hazelnut chocolate spread
1 1/2 cups flour
1 tsp baking soda
1/4 tsp salt
1/2 cup chocolate chips
Pinches of coarse sea salt
Directions:
Preheat your oven to 350*F.
Using your mixer, beat together butter/margarine and brown sugar until light and fluffy. Add the egg, vanilla and Nutella and mix well.
In a separate bowl, whisk together flour, baking soda and salt. Beat the flour mixture into the delicious Nutella mixture. Stir in chocolate chips.
Drop mounds of dough in tablespoon-sized scoops on a greased baking sheet. Cookies will spread during baking, so try to space them out a bit.
Bake for 6-8 minutes and remove from the oven when your cookies are flat and slightly cracked on the surface.
Immediately sprinkle lightly with sea salt. Let sit on the baking sheet for a minute before transferring to a wired rack to cool completely. Store in an air-tight container.