Chocolate Chip Four Leaf Clover Cut-Out Cookies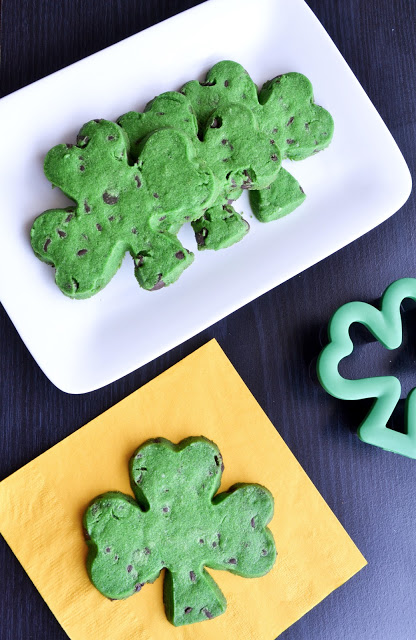 Okay, I get it. Food, especially baked goods should not be green. However, I like to think that there are two exceptions to that rule.
1). Baked goods are allowed to be green if mint is involved
2). The green baked goods are for St. Patrick's Day
Luckily, these four-leaf clovers fall into both categories.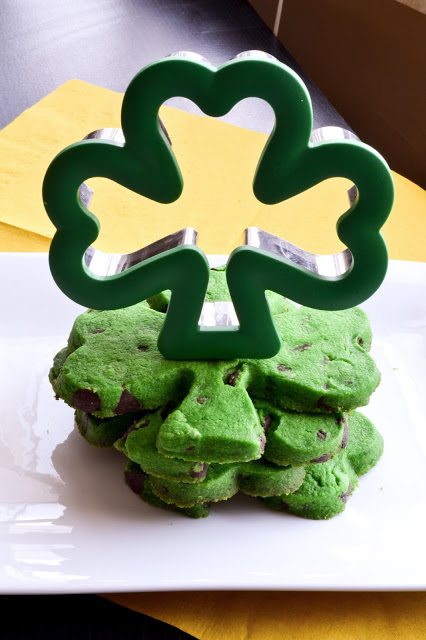 I know, it may seem like I'm repeating myself my from last year. However this not-used-until-four-days-ago four leaf clover cookie cutter has been burning a hole in my kitchen cupboard for over two years now. Every time I would open my baking cupboard to get some flour and push over my large baggie of cookie cutters, I swear I could hear it laughing and mocking me in the leprechaun's voice from the Simpsons. Back when I first started She Bakes Here, I overdosed on cookie cutter purchases and swore that I would own a cookie cutter for each season, holiday and occasion. This was also back in the day when I loved making decorative sugar cookies and was trying to take my blog in this direction (too many examples to count, but you'll get the idea here, here and here.)
Once I got sick and exhausted from eating and giving away all these cookies (Trevor was no help), I gave up on my cookie cutter dream and stashed them away in the zip-loc baggie they live in today. This cutter was one of the last purchases I made and it was never used because let's face it, how many other times a year does one use a four-leaf clover cutter?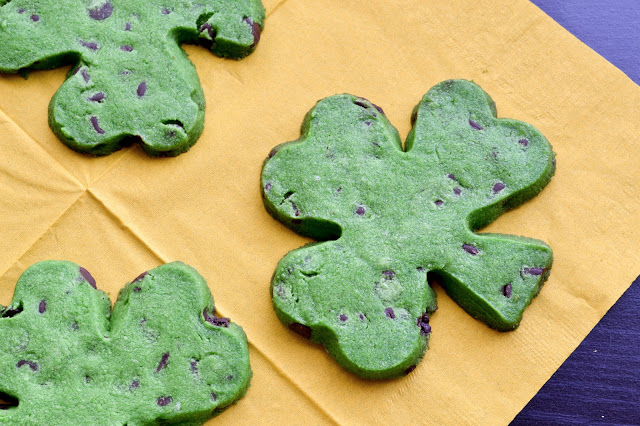 I made chocolate chip cookies again this year because it seem simpler than trying to do the three-day dance of making decorative iced cookies again. Nothing against those who do, in fact I'm envious of the mad skills those people have. Also the extra space they must have because trying to decorate sugar cookies will take up all your available table and counter space. I still have vivid memories of blogging and literally being surrounded by cookies that were trying to dry in our humid apartment. We wouldn't be able to use our kitchen table all weekend. Trevor tolerated quite a bit back then, especially when I would feel ambitious and would double or triple the cookie batches because I would make too much icing.
So when you are sick like I was (am) of making decorative sugar cookies, this cut-out chocolate chip cookies recipe is a nice change of pace. You can use any shape or season of cookie cutter you like, but I dressed these up green and minty for St. Patrick's Day. Just substitute the green food colouring for another shade or leave it out all together.
It's also worth noting that this is more of a shortbread cookie recipe than a true chocolate chip one. The original recipe called for butter but I substituted margarine because I have my first fitting next month for my dress and I feel like eating butter may cancel out all the healthy eating I've endured these past few weeks.
Happy St Paddy's Day everyone!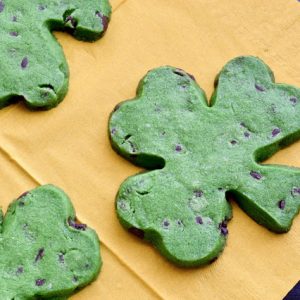 Chocolate Chip Four Leaf Clover Cut-Out Cookies
Ingredients:
1 cup butter/margarine, softened
2/3 cup powdered sugar
1/2 tsp vanilla
1 tsp green food colouring
2 cups flour
1/2 cup mint chocolate chips
Directions:
Beat together the soft butter/margarine and powdered sugar until the mixture is smooth and creamy. While the mixer is still going, add vanilla and green food colouring.
With the mixer on the lowest setting, add flour until just combined. Do not over-mix. Carefully fold in chocolate chips with a wooden spoon.
Roll out cookie dough between two pieces of parchment or wax paper. I use 1/4 inch boards (from my decorative cookie days) on either side of my rolling pin to ensure that the dough was the same thickness all the way through, but the chocolate chips will also aid in this. Chill the flattened dough in the fridge for about 20-30 minutes. I separated the dough into two mounds so it was easier to move from my counter to the fridge.
Preheat your oven to 325*F and line some baking sheets with more parchment paper.
Remove the flattened dough from the fridge and cut out shapes with your desired cookie cutter. You may have to push hard on some of the chocolate chips.
Bake for 15-18 minutes until the cookies are lightly brown around the edges. Remove the baking sheet from the oven and let the cookies cool for a minute before transporting to a wired rack.
The amount of cookies this recipe makes will vary greatly on the shape and size of your cookie cutters. I was able to make about 8 large cookies and about a dozen small cookies with this recipe.