Mint Hot Chocolate Chip Cookies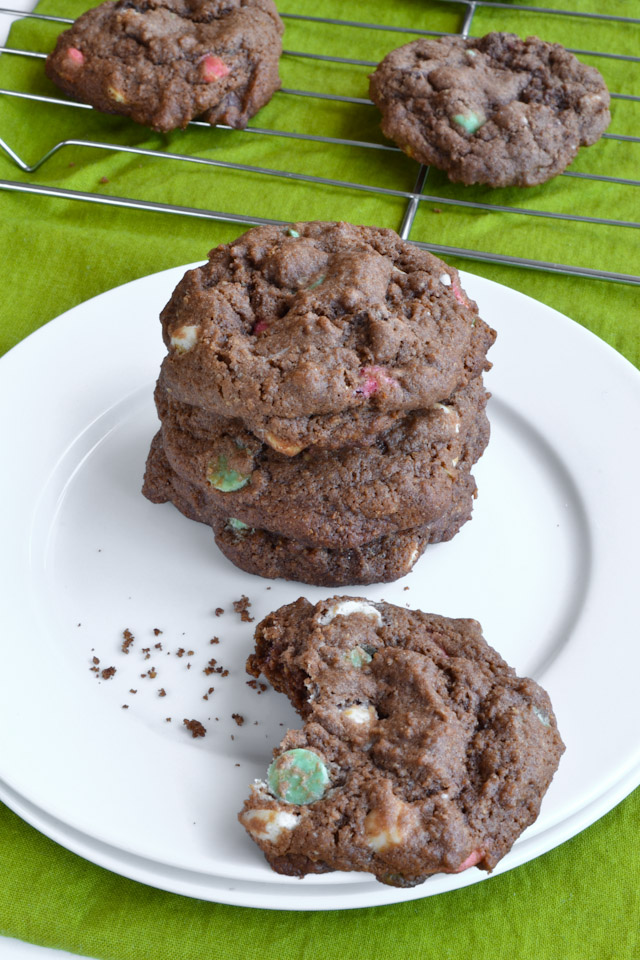 A couple days ago, my Dad sent me an email appropriately titled "Its here!!!!!" with two photos of my parents' front deck covered in between 2-3 feet of snow. As much as living and working in Toronto can sometimes drive me crazy, I will take the winter here any day. I'm yet to see a flake of snow this season (knock on wood), but that's not to say that it hasn't been cold. There were a couple evenings where we slept with an extra blanket on our bed and when it hasn't been raining (I know, sorry), the wind has been so strong that I thought my feet were going to be lifted off the sidewalk.
In preparation of this snow that is most likely coming our way (thanks for the warning, Dad!), my winter jacket, scarf and mitts have all been pulled out and I purchased a new pair of waterproof winter boots to make waiting for the bus seem a little warmer. I've already made use of my winter jacket and mitts, but I'm holding out on the first snowfall to really break in the boots properly.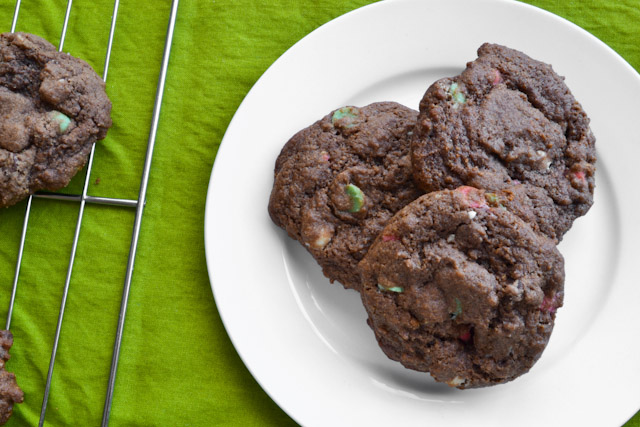 Now that I'm in the right frame of mind to face all this potential snow we may or may not get, I thought I would get a little head-start on my holiday baking list. I was originally hoping to hold out until the final week of November to post something holiday-related, but after consuming an entire batch of these mint hot chocolate chip cookies, I knew I wouldn't be able to wait much longer. In terms of holiday baking, this is not a fancy recipe and the idea of replacing some of the cocoa powder for instant hot chocolate mix isn't a new thing, but I was impressed with how these delicious these cookies were and how easily they came together. Besides, its not every week that I consume an entire batch of cookies by myself.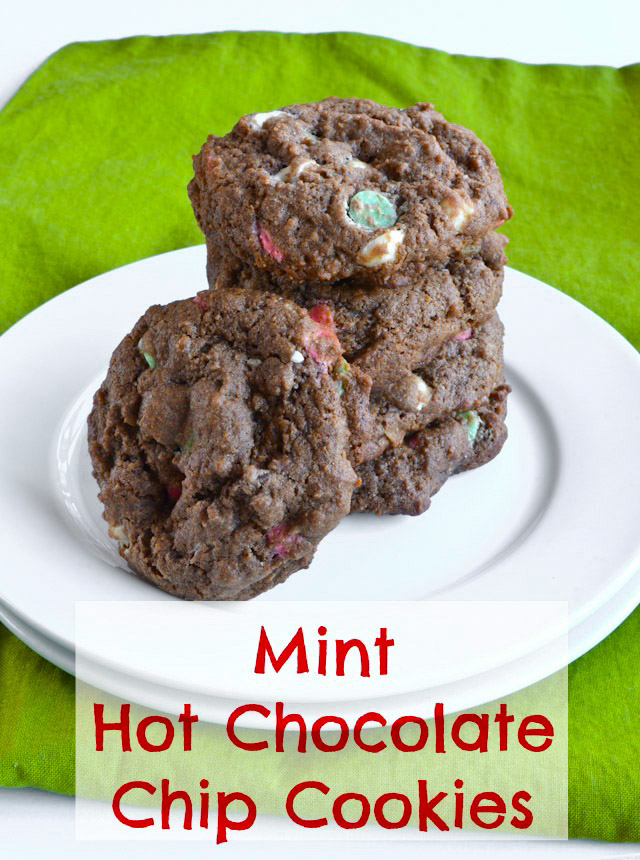 Any good instant hot chocolate mix will do for this recipe, but I decided to use a mint hot chocolate mix since it's my firm belief that mint and chocolate truly belong together. The holiday themed red, green and white baking chips were purchased at Bulk Barn and although they are not completely necessary, I felt that they added a nice holiday cheer. I also added an additional 1/4 cup of milk chocolate chips because honestly, there is no such thing as too much chocolate during the pre-holiday season.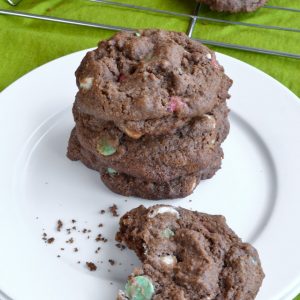 Mint Hot Chocolate Chip Cookies
Ingredients:
1 1/2 cups flour
1/4 heaping cup instant mint hot chocolate mix
2 tbsp cocoa powder
2 tsp baking soda
1/4 tsp salt
1/2 cup butter/margarine, softened
1/3 cup brown sugar
1 egg
1 1/2 tsp vanilla extract
1/2 cup Holiday themed baking chips
1/4 cup milk chocolate chips
Directions:
Preheat your oven to 350*F. Line your baking sheets with parchments paper or a baking mat.
In a large mixing bowl, whisk together flour, mint instant hot chocolate mix, cocoa powder, baking powder, baking soda and salt.
In a separate bowl, cream together butter/margarine and brown sugar. Add egg and vanilla extract and blend until completely mixed. Slowly combine dry mixture with wet mixture and stir in baking chips and chocolate chips.
Using a cookie scoop, scoop out batter onto a prepared baking sheet and bake for 6-8 minutes. Immediately remove the baking sheet from the oven. Let cool for a minute before transferring the cookies to a wired rack to cool completely. Store in an airtight container.