Clean Out Your Pantry Potato Chip Everything Cookies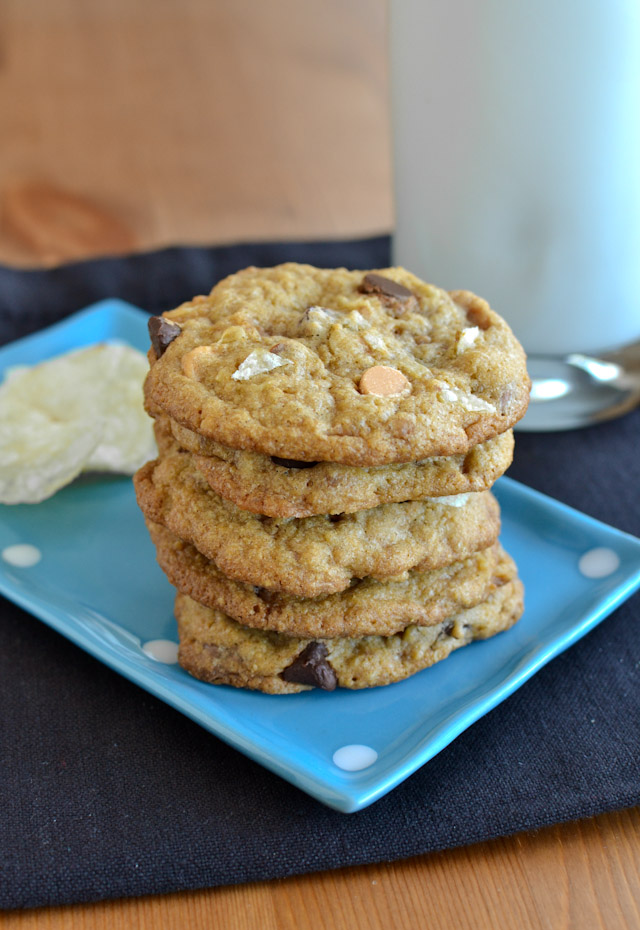 Every year, without fail, I get the spring cleaning bug and nothing in our apartment is safe. The weather is only just starting to warm up now, but I've already completed our bedroom closets, bathroom storage, the DVD/bookshelves and our kitchen cupboards. Recently, I had tackled the fridge and freezer and uncovered about a dozen half-bags of chocolate chips, flavoured baking chips, Hershey chocolates, Skor bar bits and a variety of chopped nuts. At first, I was very tempted to just snack on what little was left in each bag, but as I gradually discovered more and more bags, I realized that I had enough to make a decent "everything" cookie recipe.
"Everything" cookies go by many names. Loaded cookies, everything-but-the-kitchen-sink cookies, and even the somewhat questionable "garbage can cookies." But no matter what you want to call them, everything cookies are a great way to get rid of, well, everything in your pantry. I ended up saving the chopped nuts to make homemade granola (my currently breakfast addiction), but below is what I added to my cookies.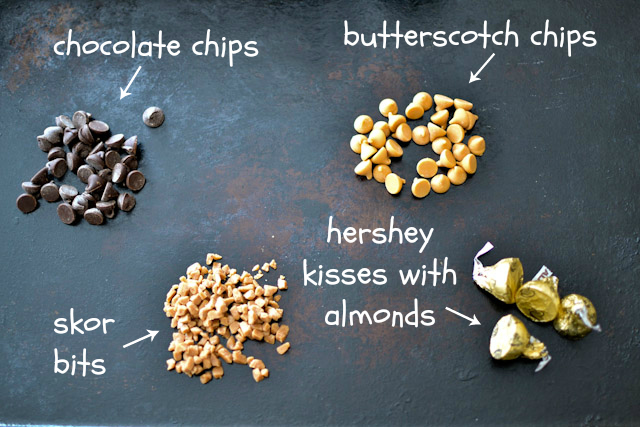 The potato chips were a last minute addition and were not included in the photo, but if you're a sweet/salty fan, I highly recommend adding some to your next batch of cookies. We normally don't keep potato chips in our kitchen, but this kind of thing is really a life changer.
It had been a while since I made a chocolate chip cookie recipe, so I'm not exaggerating when I say that between Trevor and I, these cookies barely lasted three days in our kitchen. The weekend I made them, we also experienced the most bizarre snowfall (at the end of March, no less) and ended up watching a lot of TV to avoid looking out the window. Almond milk, cookies, and the friendly glow of Netflix. What else could you ask for when you're snowed in?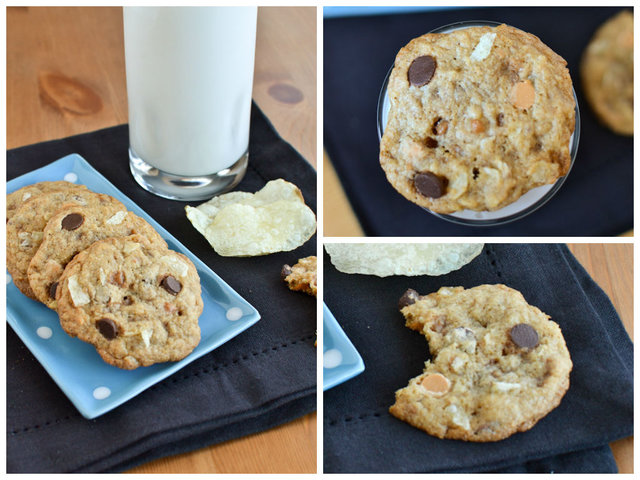 Clean Out Your Pantry Potato Chip Everything Cookies
Ingredients:
1/2 cup butter/margarine
3/4 cup brown sugar
1 egg
1 tsp vanilla
1 1/2 cups whole wheat pastry flour
1/2 tsp baking soda
1 – 1 1/2 cups various chocolate chips/baking chips
1/2 cup crushed potato chips
Directions:
Preheat oven to 350*F. Line your baking sheets with parchment paper or a silicone baking mat.
Cream butter/margarine with brown sugar. Add egg and vanilla and continue mixing until well combined.
In a separate bowl, whisk together whole wheat pastry flour and baking soda. Gradually pour floured mixture into wet mixture and mix until well-blended.
Stir in chocolate chips, baking chips and crushed potato chips*.
Drop batter by the tablespoon onto baking sheets. Bake for 8-12 minutes until lightly brown (for a more chewy cookie) or medium brown (for a crispy cookie).
Let cool on cookie sheet for 1 minute before transferring to cookie racks to cool completely.
* Optional. For crispier potato chips, sprinkle onto cookies before baking.