Muffin Tin Cinnamon Buns with Vanilla Ripple Schnapps Icing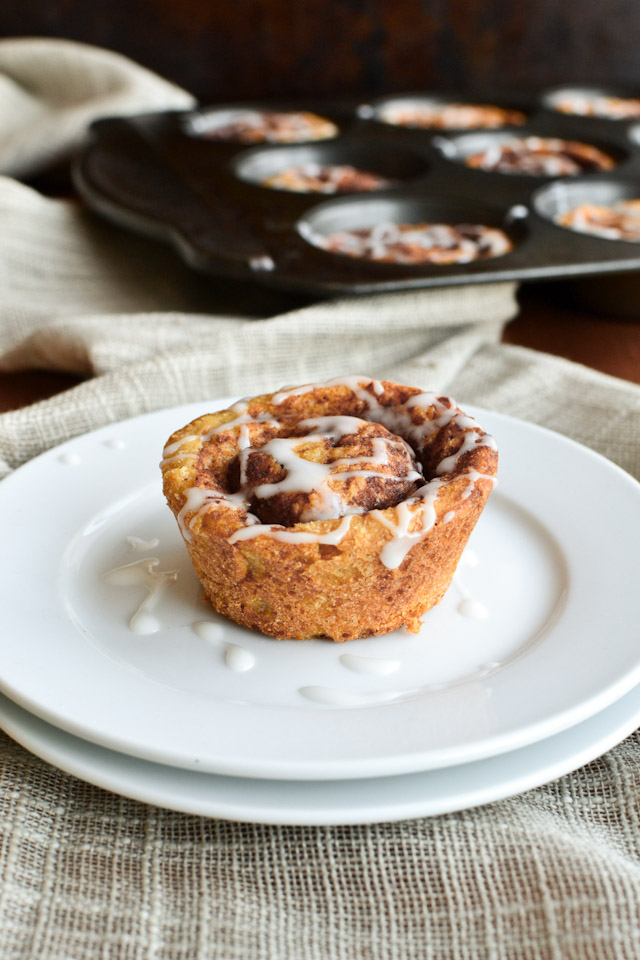 It's no secret here that I love cinnamon buns. If you do a quick search in my search bar, you'll notice that I've posted a few other cinnamon bun recipes, ranging from an adaptation of Ree Drummond's famous recipe to a quick and easy muffin recipe laced with delicious cinnamon spread. And what's not to love about a sweet and gooey cinnamon bun? Hot from the oven, drizzled in warm icing and sticky with the luscious mixture of cinnamon, butter and sugar, I would climb over my own husband for one. A perfect afternoon for me would consist of a cinnamon bun + a cup of hot tea + a good book.
In fact, a couple weeks ago I decided right then and there that I wanted this perfect afternoon to happen and set out to make cinnamon buns. The conditions were perfect. The weather outside was cold and snowy, Trevor, still not feeling well, was drinking copious amounts of tea and until that moment, I was pacing around the apartment wondering what I was going to do since I was stuck inside on a snowy day with a sick husband.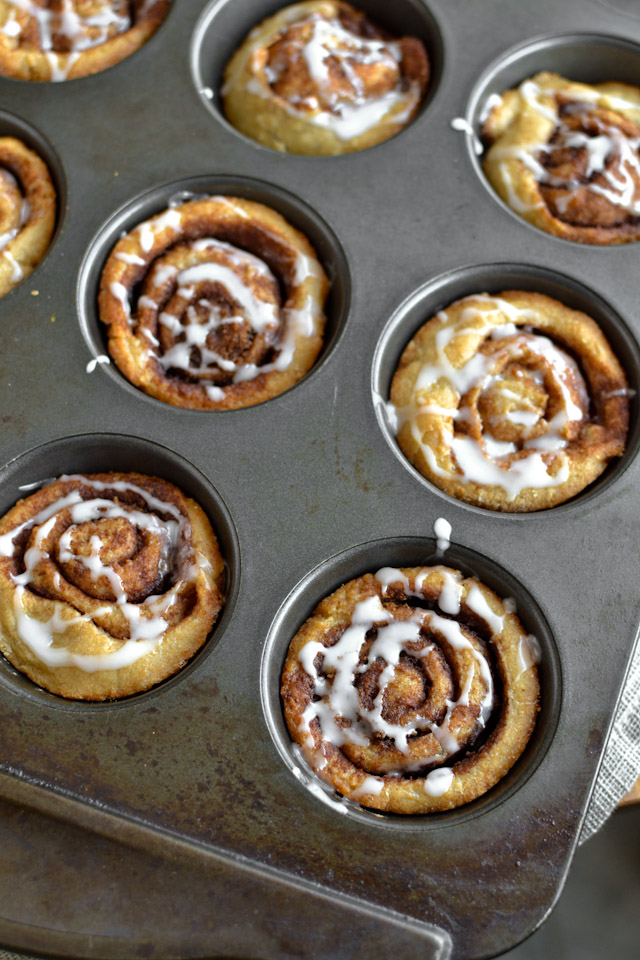 The one thing I always forget about making cinnamon buns is how long they take, what with the whole mixing and rolling and rising and baking and then finally eating. Don't get me wrong, it's completely and totally worth it in the end to have fresh, homemade cinnamon buns in your immediate possession and I did have an afternoon to fill since our plans of going outside were so not happening anymore on account of the weather, but…..I'm not much of a bread maker. As much as I love fresh, homemade bread, my patience is pretty limited and my attention span even less so. Plus I have a undesirable talent in making my dough stick to everything in such a way that I become frustrated with the whole thing. But the desire to make cinnamon buns was overwhelming and you know what, they actually turned out pretty good.
One of the reasons I believe these cinnamon buns out so well was that I used my Grandma's tried and true prospector buns basic dough recipe (I halved her recipe). However, I did change things up a bit by plopping the cinnamon buns into a muffin tin rather than baking them in a traditional pan. Plus I made the icing with Vanilla Ripple Schnapps. I have no real idea why I had a full bottle of Vanilla Ripple Schnapps in my possession, but I'm sure it was purchased with the intent of being baked into something that never happened. Until now.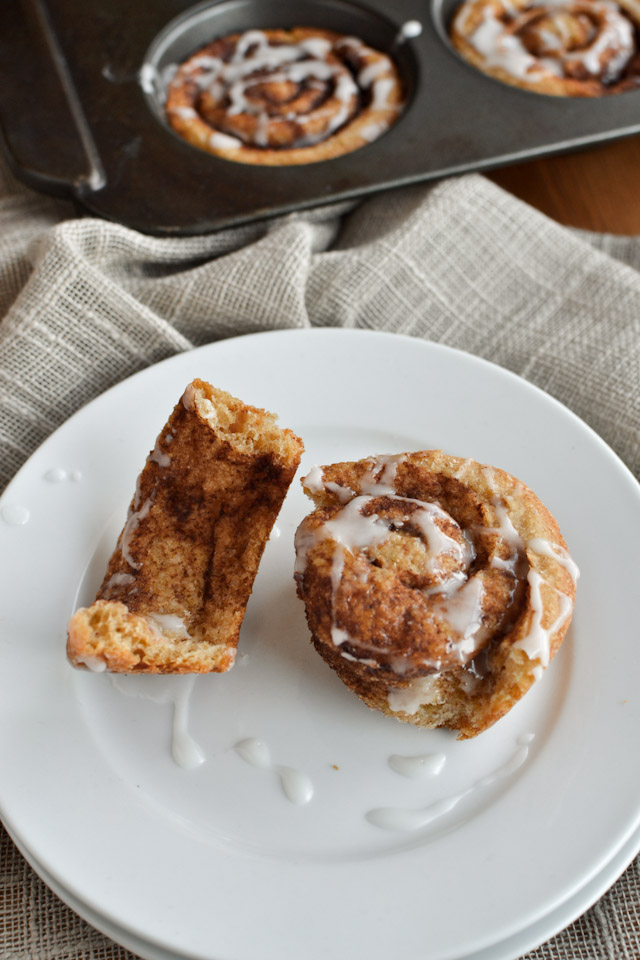 My perfect afternoon of a good book, tea and cinnamon buns never happened, but you know what? These cinnamon buns tasted just as good in the early evening over a marathon of Netflix shows.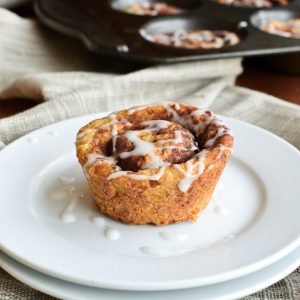 Muffin Tin Cinnamon Buns with Vanilla Ripple Schnapps Icing
Ingredients:
Dough
2 1/2 cups flour
1/4 tbsp salt
2 tbsp + 2 tsp sugar
1 egg
1/4 cup vegetable oil
1 cup warm water
1 tbsp quick rise yeast
Filling
1/4 cup butter, melted
1/2 cup brown sugar
2 tbsp cinnamon
Icing
1/4 cup powdered icing sugar
Splash of Vanilla Ripple Schnapps
Milk, as needed
Directions:
In a large bowl, whisk together flour with salt and sugar and set aside.
Using your mixer, blend together egg, oil and warm water. Gradually add flour mixture until combined. Add yeast and mix until dough is formed.
Knead dough on a well-floured surface until it is smooth. You may need to add a little more flour to keep it from being too sticky.
Place the dough in a greased bowl, cover and let rise for 1 1/2 hours. A great trick is to wrap the bowl of dough in a clean garbage bag and it keep away cold air drafts. While the dough is rising, mix brown sugar and cinnamon in a small bowl.
Punch down the dough and roll out into a large rectangle on a flat, floured surface. Spread melted butter and sprinkle brown sugar and cinnamon mixture.  Roll the rectangle into a log tightly towards yourself (starting with the edge farthest away) and pinch the edges together when you reach the end. Carefully slice with a sharp knife and gently pinch one end of each cinnamon bun to prevent the sugar mixture from falling out.
Grease your muffin pans and place a cinnamon bun (pinched side down) in each tin. Cover with a towel and let rise for an additional hour. During the last 15 minutes of rise time, beginning preheating your oven to 350*F.
Bake cinnamon buns for 18-20 minutes until the tops are golden brown. Wait 5 minutes before removing from muffin tin and cool completely on a wired rack. While they are cooling, make icing by mixing powdered icing sugar and a splash of Vanilla Ripple Schnapps in a small bowl. If your icing is too thick, you can add a tiny bit of milk to thin it out.
Drizzle icing onto cinnamon buns and serve immediately. Store in a air-tight container.