Soy-Milk Pioneer Woman Cinnamon Buns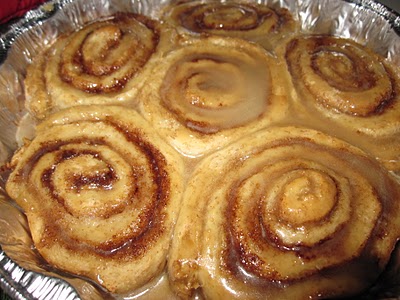 Ree Drummond is the bomb.
I bought her cookbook The Pioneer Woman Cooks along with my Cookie Craft book in January and I love it. I thought it was going to be just like her website, which is why I didn't buy it right away since all of her recipes are online.  But I'll admit it, it's easier to have a cookbook spread open in your kitchen during the baking process than a laptop displaying the recipe, but also running low on battery life.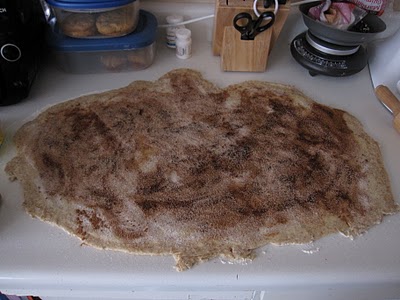 When I first discovered her website, one of the recipes that intrigued me the most was that of her famous cinnamon buns. The recipe was simple, straightforward and I already had all the ingredients already in my pantry, which is a big plus for me. The only thing that scared me was the amount of cinnamon buns the recipe made – serves 8 people. Yikes! 99.9% of the time, I'm cooking for just Trevor and I. Plus I had to factor in Trevor's lactose intolerance.
I also wanted my work pants to fit the next day.
This was where Amber at This Mommy Cooks came in. I came across her cooking blog when I was looking for a successful half-sized version of PW's cinnamon buns. She posted step-by-step photos of her baking process and I figured that 4 servings would be easier than 8 servings. Half the temptation would be gone! My clothes would still fit the next day!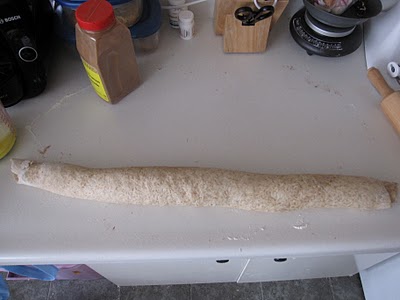 I made a few modifications, using soy milk instead of whole milk, substituting 2 cups of whole wheat flour because I ran out of white flour halfway through the recipe, using less butter and more coffee for the icing, but the cinnamon buns still turned out amazing! My version of the recipe is posted below, but you can still check out This Mommy Cooks and of course, Pioneer Woman for theirs.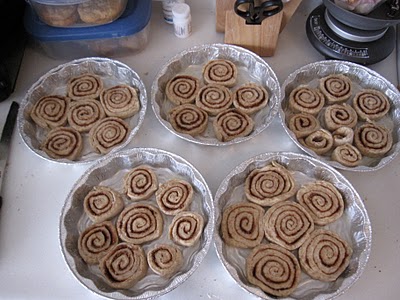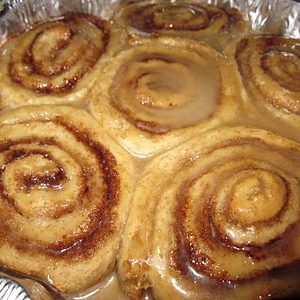 Soy Milk Pioneer Woman Cinnamon Buns
Ingredients:
Dough
2 cups soy milk (I used So Good Soy Beverage)

1/2 cup vegetable oil
1/2 cup sugar
1 package active dry yeast
4 1/2 cups all purpose flour
1/2 heaping tsp baking powder
1/2 scant tsp baking soda
1/2 tsp saltFilling:

1/2 cup melted butter
2 1/2 tbsps ground cinnamon for sprinkling, plus more as needed
1 cup sugar, plus more as needed
Maple Icing
2 cups powdered icing sugar
1/4 cup soy milk
3 tbsps butter, melted
5 tbsps strongly brewed coffee
dash of salt
1/2 tbsp maple flavouring or maple extract
Directions:
Heat milk, oil and sugar in a saucepan over the stove. Do not let boil.
Set it aside, let it cool to room temperature and sprinkle yeast on top. Let sit for one minute and then add 4 cups of flour. Stir until combined and set side in a warm place for approximately 1 hour, covered with a kitchen towel. This will allow the dough to rise.
After 1 hour, punch dough down and mix in remaining 1/2 cup flour, baking powder, baking soda and salt.
Roll out dough into a large rectangle on a flat, floured surface and spread melted butter, sugar and cinnamon.  Roll the rectangle into a log tightly towards yourself (starting with the edge farthest away) and pinch the edges together when you reach the end.
Cut with a sharp knife.
Melt butter in a pie pan or baking dish and carefully place slices in the pans. I ended up creating 5 pie pans full of 7-8 buns each, but I cut the buns pretty thin. Most enjoy a 1 1/2 inch width.
Preheat the oven to 375*F and cover the buns with a dish towel to rise for 20 minutes. Bake the cinnamon buns for 13 to 17 minutes until golden brown (not too brown).
To make the maple flavoured icing, whisk together the powdered icing sugar, milk, butter, coffee, salt and maple flavouring until there is no lumps.
Pour on hot cinnamon buns once they are removed from the oven. Let sit for 10 minutes to cool and absorb icing.
These buns also freeze really well, just bake, cool completely and wrap tightly in plastic wrap and aluminum foil. When you want to eat them, remove the foil and plastic and Ree suggests to warm them at 250*F for 15 minutes.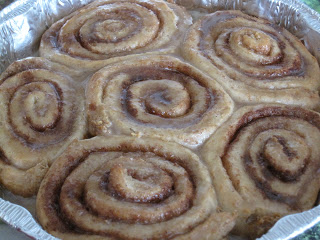 Thanks again to Ree and Amber for this amazing recipe!