Caramelized Banana Walnut Bread with Cinnamon Glaze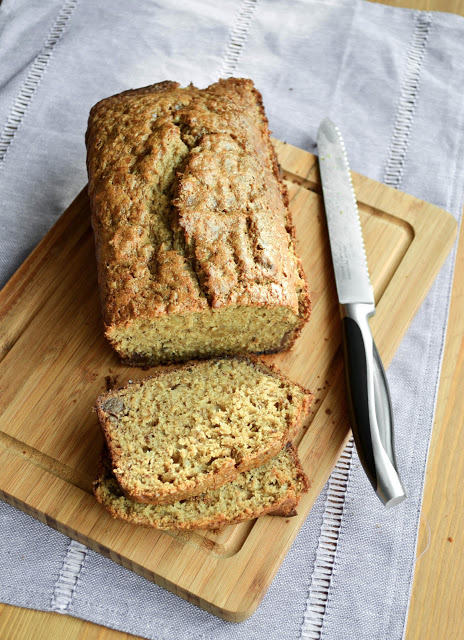 All right, I'm going to be honest. All week I've been dreaming about this banana bread. Everyday, always around 3pm, I would be in the middle of something at work when (!!) suddenly an intense snack craving would hit me. I know better than to keep a snack drawer at my desk (it would always be empty), so I've been stuck with whatever I brought from home which at that point of the day was usually an apple or nothing at all because the apple may have been eaten by 11am.
There was one day though where I decided to be smart and bring a slice of this banana bread to avoid the 3pm cravings. This failed miserably because the bread was gone by 9:30am and then the apple followed at 11am. I think that was a stressful day.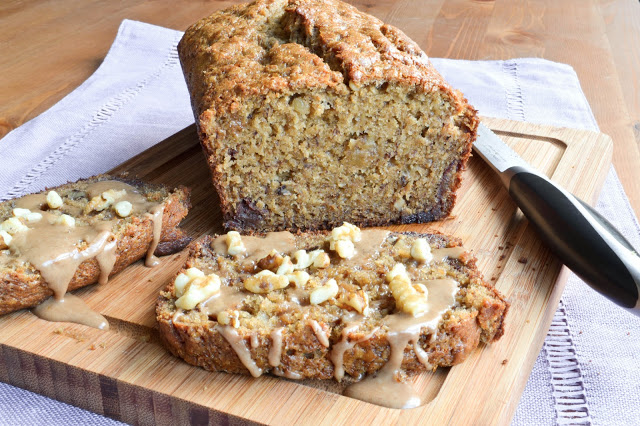 Just looking at these photos is making me crave another slice. Is it 3pm? It probably is somewhere, only instead of a drink I just want more of this banana bread. Heavy on the walnuts, please. Don't skip the glaze.
Normally most of the baked goods end up in our freezer and slowly get eaten over time. What I think makes this recipe so special compared to other banana bread recipes is that the bananas are caramelized in a pan with the butter/margarine and brown sugar. This extra step really brings out the sweetness in the bananas. If you plan on using very ripe bananas, feel free to reduce the sugar.
The glaze is optional, but also very delicious. We chose to drizzle it on individual slices, but you can also drizzle it on the top of the loaf once you have removed it from the pan and it has cooled.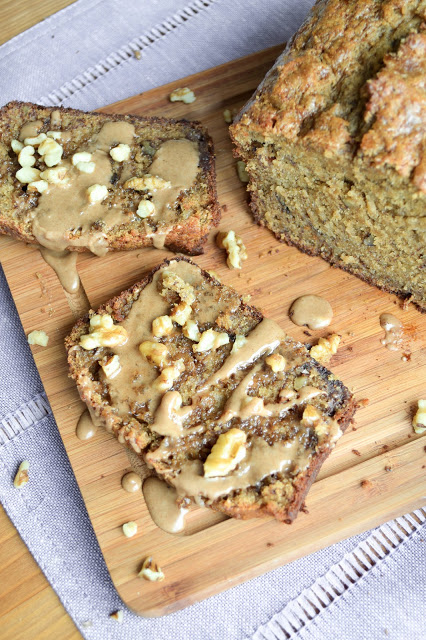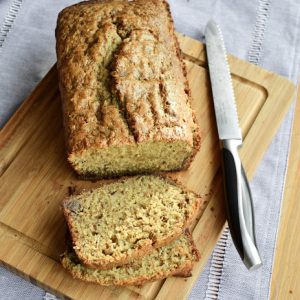 Caramelized Banana Walnut Bread with Cinnamon Glaze
Ingredients:
Bread
3 tbsp butter/margarine
3/4 cup brown sugar
3 medium ripe bananas, sliced
1/2 cup almond milk
1 tsp apple cider vinegar
1/4 cup vegetable oil
2 tsp vanilla extract
2 large eggs
2 cups whole wheat pastry flour
3/4 tsp baking soda
2 tsp cinnamon
1/4 tsp salt
Cinnamon Glaze
1/2 tsp cinnamon
1/2 tsp vanilla extract
1 – 2 tsp almond milk
1 cup confectioners' sugar
1/2 cup toasted walnuts for sprinkling
Directions:
Melt the butter/margarine in a large sauce pan over medium heat. Add sliced bananas and brown sugar. Saute for 5 minutes, stirring frequently, until the mixture is caramelized. Remove from heat and let cool for 10 minutes. Once cool, pour into a large mixing bowl and beat on medium speed until smooth.
Preheat your oven to 350*F and prep your 9×5 loaf pan with either parchment paper or non-stick cooking spray.
Combine almond milk and apple cider vinegar and set aside. If you have buttermilk on hand, you can skip this step.
Take two separate bowls. In one bowl, whisk together flour, baking soda, cinnamon and salt. In the other bowl, combine vegetable oil, vanilla extract, buttermilk (almond milk & apple cider vinegar mixture), and eggs.
With the mixer on low speed, add half of the oil mixture to the banana mixture. Once combined, add half of the flour mixture. Alternatively add each mixture until the batter is just combined.
Pour the batter into your prepared loaf pan and bake for 45-50 minutes until the top is golden brown. Remove from the oven and let cool for 10 minutes before removing from the pan and cool completely on a wired rack.