Trail Mix Banana Muffins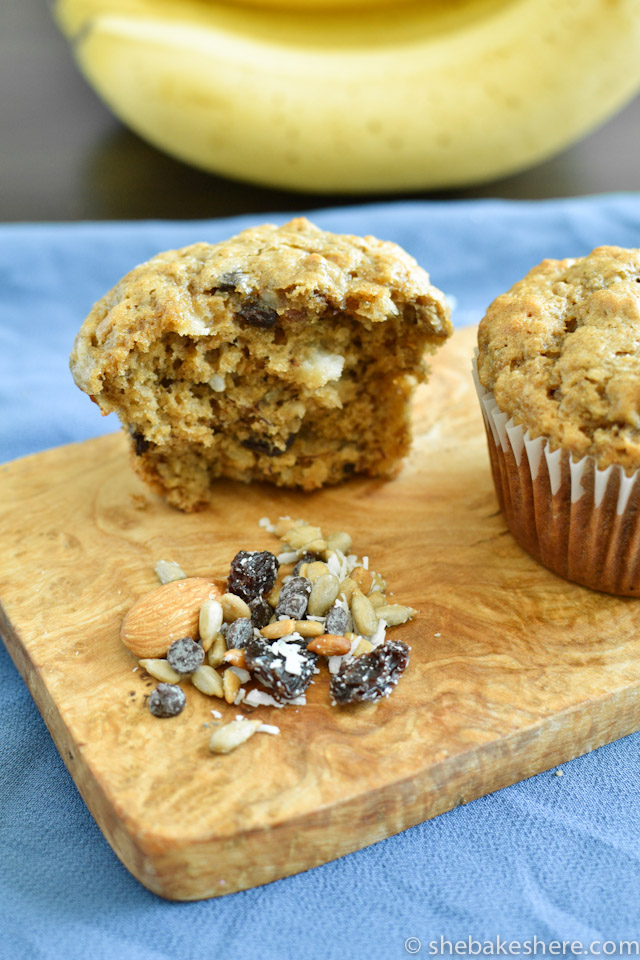 It's been pretty quiet here on the baking front. Even though we have air conditioning, our desire to eat anything flour or sugar-based has reached an all-time low. But if you shift through my archives, you'll notice that this happens every summer. With the weather being as nice as it is, I tend to spend less time in the kitchen and more time outside. It's not a bad thing, but I like to acknowledge it because the summer season is so short and we need to all get outside and enjoy it while it's still here. Pretty soon we'll be swapping our iced coffees for pumpkin spiced lattes and pulling our boots and winter coats out of storage. Ugh.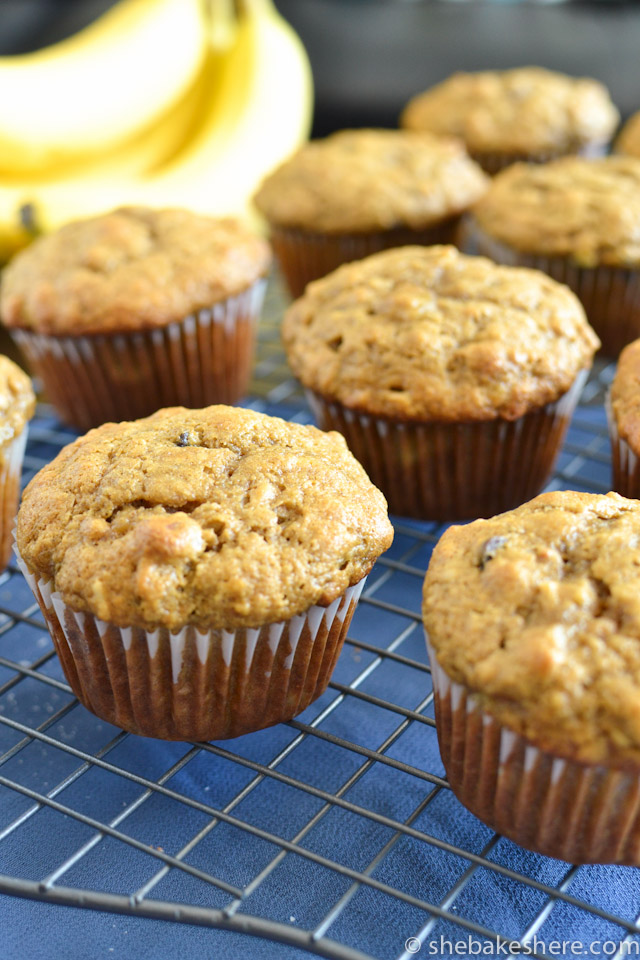 The last few items I've baked were for work or to give away, so I'm pleased that these trail mix banana muffins were just for us. No trying to plan special grocery trips, misplacing ingredient lists or figuring out the best way to transport baked goods on the subway. Just a lazy Sunday of waking up late, lounging around in our pjs, making a mess in the kitchen and eating more muffins than humanly possible. As much as I love baking for others and giving it all away, it's also nice to bake something on the fly and have time to enjoy both the process and the fruits of your labour.
Compared to everything else I've made as of late, these muffins were a breeze and a great excuse to go through my baking drawers and use up the leftover seeds, nuts and chocolate I've been hoarding. The trail mix possibilities are endless, so don't feel pressured to stick with my ingredient lists or the measurements. A heaping 1/2 cup to 3/4 cup of your favourite mix can also work in a pinch. Just be sure to whisk it with the dry flour mixture to prevent the heavier nuts from sinking to the bottom. A good shortcut that I also found is to use crunchy peanut butter to mimic the peanuts that are normally found in trail mix recipes. One less thing to chop!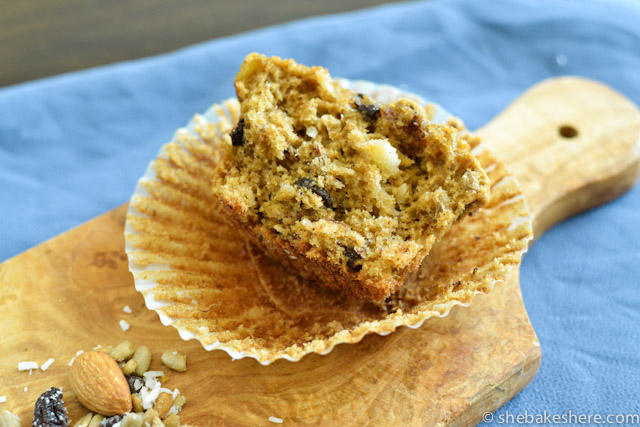 We also found that as great as these muffins are the fresh out of the oven, they are even better the next day once the flavours are given a chance to develop. Consider it a success, though, if you can get them to last that long.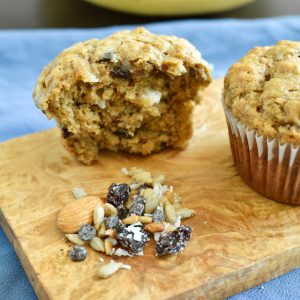 Trail Mix Banana Muffins
Ingredients:
Muffins
1/4 cup butter/margarine, softened
1/2 cup brown sugar
2 eggs
2 ripe bananas, mashed
1/2 cup crunchy peanut butter
1 tsp vanilla extract
1 1/2 cups whole wheat pastry flour
1 tsp baking soda
1 tsp baking powder
1 tsp cinnamon
1/4 tsp sea salt
Trail Mix*
1/4 cup chopped almonds
1/4 cup raisins
2 tbsp hulled sunflower seeds
1 1/2 tbsp shredded coconut
1 1/2 tbsp mini chocolate chips
Directions:
Preheat your oven to 350*F and prepare your muffin tin either with non-stick cooking spray or baking liners.
In a large mixing bowl, cream together the softened butter/margarine and brown sugar. Add eggs, mashed bananas, crunchy peanut butter and vanilla extract until well incorporated.
In a medium sized bowl, whisk together whole wheat pastry flour, baking soda, baking powder, cinnamon, and sea salt. Add chopped almonds, raisins, hulled sunflower seeds, shredded coconut and mini chocolate chips.
Using a wooden spoon, slowly add the flour mixture to the wet mixture and stir until no more flour is visible (be sure not to overmix).
Evenly divide the batter between the 12 muffins cups and bake for 15 minutes until the tops are brown.
Remove from the oven and let sit for a few minutes to cool before removing from the pan. Let cool on a wired rack and store in an air-tight container.
*Can also substitute 1/2 – 3/4 cup of your favourite trail mix. Play around and adjust the ingredients and measurements to your taste.