England, France and All That Jazz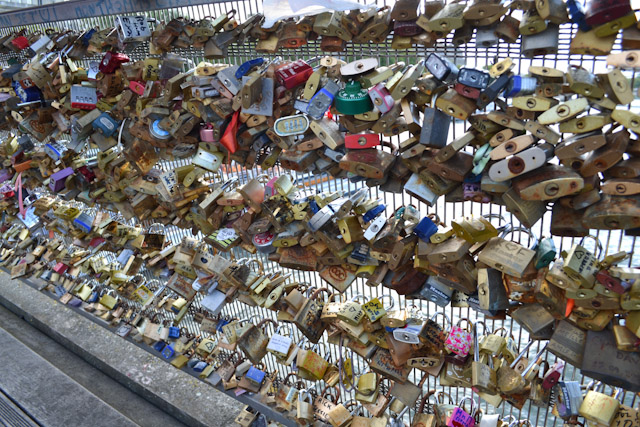 It's taken me over a week to post photos from our whirlwind England/France trip because I've been in denial about no longer being in vacation-mode. Getting up early when you're on vacation is fantastic because it's all about the "what are we going to see next?" or in our case, "what are we going to eat next?" Although we had moved prior to our trip and had a new place to come home to, it was a confusing few days fighting jet lag and getting back into the routine of work and daily life.
The main reason we took this trip was to attend Crystal and Craig's wedding. Crystal and I go as far back as junior high when we both lived in Saskatchewan and she was even a bridesmaid at my own wedding last year. A couple years ago she went to teach in Saudi Arabia and met Craig who is from the UK. I wasn't surprised when they announced their engagement, but I was thrilled when she asked me to be one of her bridesmaids. Since the wedding was going to take place overseas, we decided to make the most of the traveling and spend a few days in Paris, with a quick side-stop in London for good measure.
The first part of our trip took place in Dublin Airport, where we had a nice 4 hour layover after a sleepy 7 hour flight from Toronto. While wandering around the airport and trying to soak up the idea that we were (briefly) in Ireland, I stumbled across Butler's Chocolate Cafe. It was 5am local time, but that didn't stop me from drooling over the sight of their chocolate display. Right around hour 3 at the airport, I went back to purchase some hot chocolate and received a complimentary truffle of my choosing.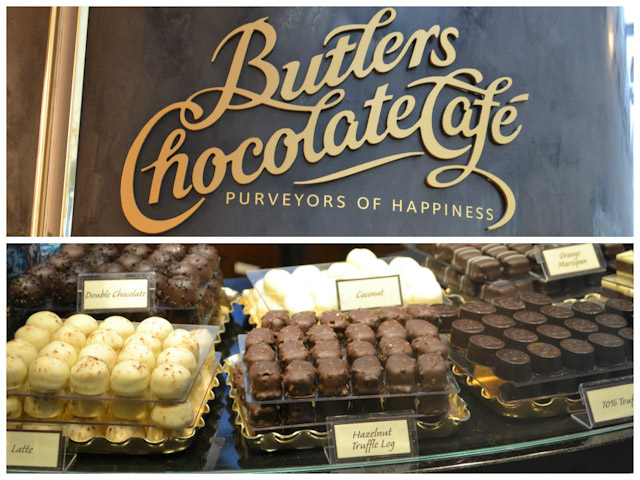 Later that day, we landed in Manchester and was immediately whisked away to see some sights. It was a cold, rainy day, but we toughed it out with a trip to Hadrian's Wall and had supper that night in Scotland. Because that's apparently what you do when you're across the pond.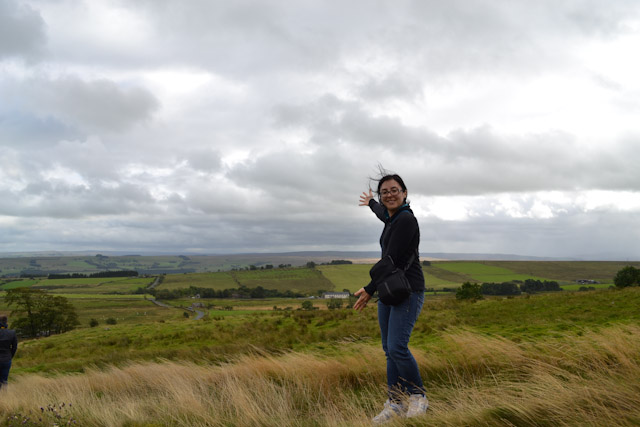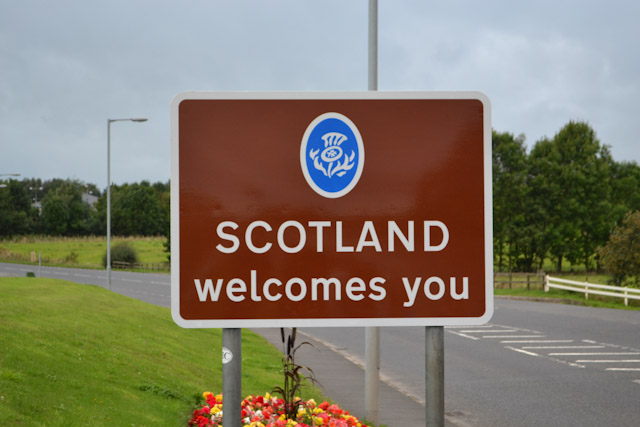 During the week, we had some time to ourselves and took the train into Manchester to check out some more sights. This was one of our favourite take away fish and chips spots with fish that was so crispy it melted in your mouth and fries with just the perfect amount of vinegar.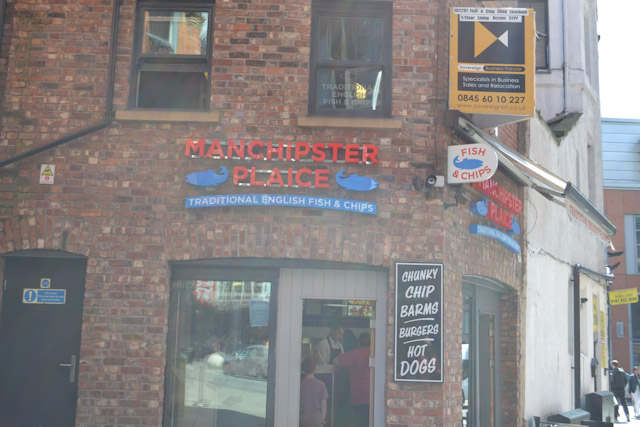 We spotted one of the red telephone booths and I was obligated to climb inside for a photo. The reason I was clenching my hands because the inside was so disgusting and I was scared to touch the walls.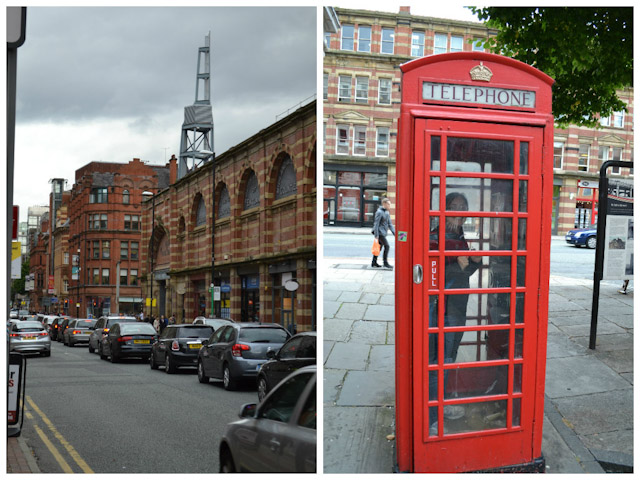 After the wedding, we said goodbye to the newlyweds and took the train to London and then onto Paris. We had a couple hours to spare in London so I dragged Trevor over to King's Cross Station to fulfill my need to check out Platform 9 3/4. If there wasn't such a huge lineup, you can bet I would have taken a photo of me pretending to push the trolley.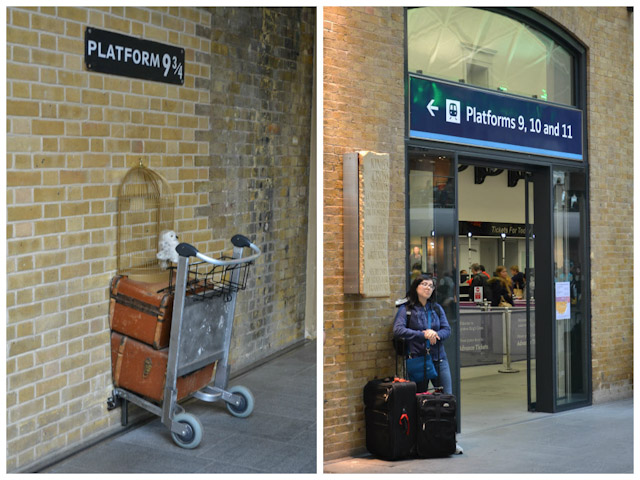 Once we arrived in Paris, we took the Metro to Saint-Germain-des-Prés which is in the 6th arrondissement of Paris. We rented a cute little studio apartment through Vacation in Paris that had a mini fridge, a microwave and a little washing machine for clothes. The cobblestone streets outside our window were filled with bakeries, cafes and there was even a little grocery store around the corner. Our French was a little rough, but we managed somewhat awkwardly to make a few purchases and enjoyed our first meal in Paris.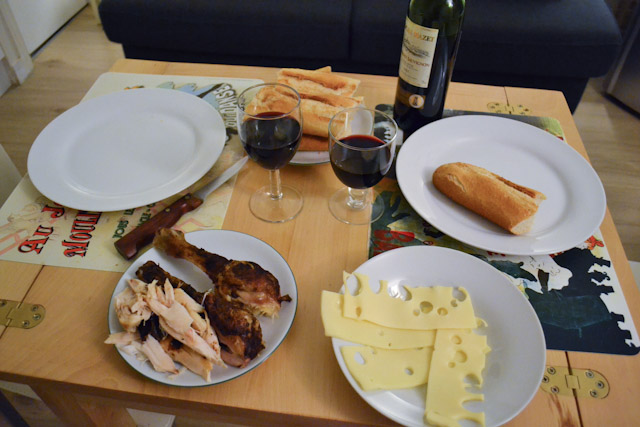 We saw the usual sights one sees when in Paris – the Eiffel Tower, Notre Dame, Musee d'Orsay and the Louvre. We took a scenic boat tour around the Seine and strolled down Avenue des Champs-Élysées. However, the biggest thing for me on this trip was the food. No matter where we were or what we were doing, I was always on the lookout to try something new, whether it was a fresh baguette, crêpes, a pain au chocolat, or a sacred macaron.
For the macarons, I had two places in mind that I knew I wanted to try out. The first one was Pierre Hermé and this was easy because there was a store a couple blocks from our apartment. When I walked inside, the display case took my breath away. The girls behind the counter took great care in each and every order that was placed and I was amazed at the amount of languages that were spoken. The man ahead of me ordered in Japanese and the cashier spoke in perfect Japanese, switching to French and English as required.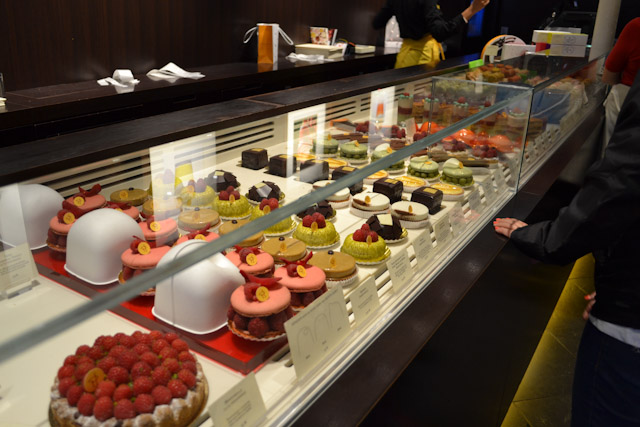 I couldn't decide on just one flavour when there were so many to chose from, so I ordered a box of twelve as well as two flavours (salted caramel and pistachio) for us to enjoy while we walked around. Although these macarons were fantastic, the shells were a little softer than I would have liked.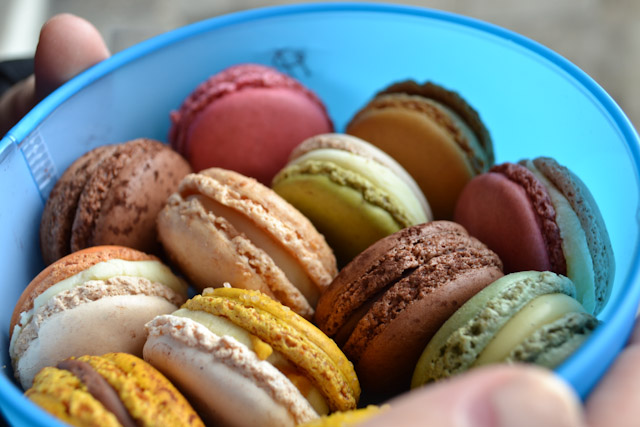 The second place on my list was Ladurée and this was a little more difficult to find since it involved a trip to the busy Avenue des Champs-Élysées. Once we found it, the storefront was so packed and I found myself to be a little overwhelmed by the amount of people in such a small space. I had barely seen the counter before I was asked what I would like to purchase and in the spur of the moment, I ordered a simple box of a dozen macarons and two croissants for Trevor and I to eat while we walked around.
Despite the rushed order, the macarons at Ladurée ended up being my favourite. They had the harder, crisp shell that I prefer over the softer shells we had at Pierre Hermé.  I think the next time I visit Ladurée, I may try during the non-peak hours (if there are any) as then I have more of a chance to see the other things they sell.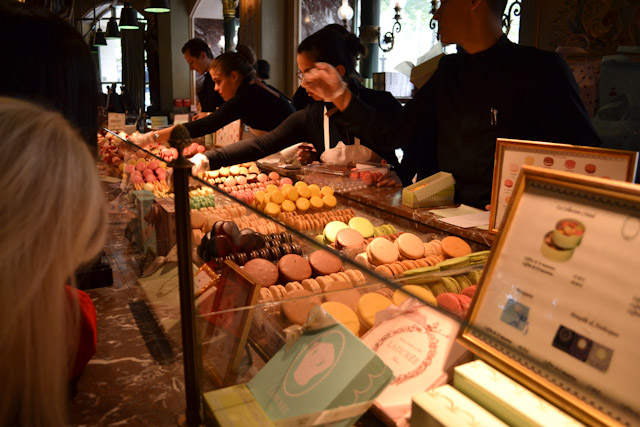 As much as I wanted to, I didn't live completely off of bread and macarons. We had some lovely sit down meals at the cafes and restaurants near our apartment and it gave us the chance to enjoy the Paris nightlife. During the day we took leisurely walks, visited the Shakespeare and Company bookstore and even saw a piece of home along the Seine. This trip was nice and laidback, completely different from our New York City honeymoon, where we had tried to cram in as much as possible.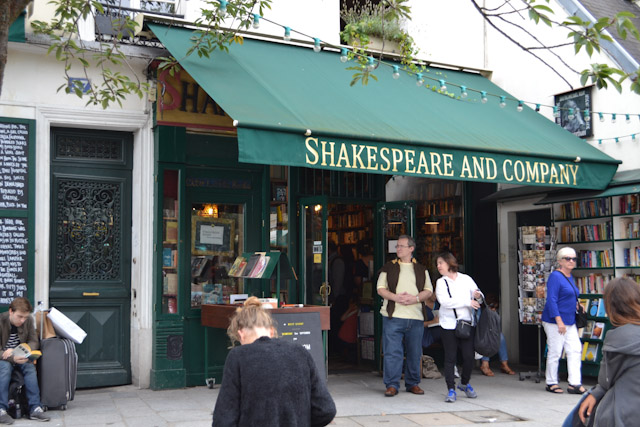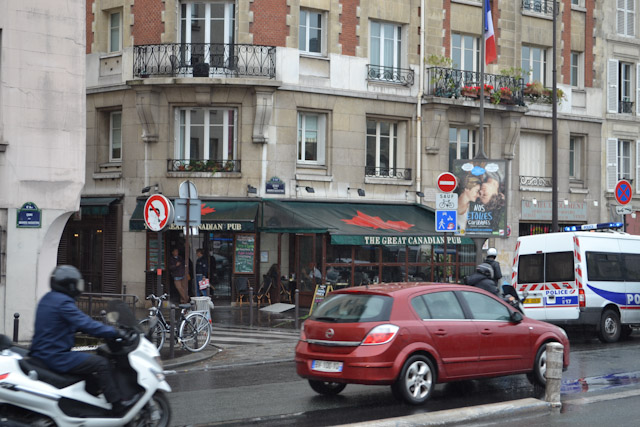 Goodbye Paris! Until we meet again….