Wedding Recap and New York City
I'm back! After one glorious week of wedding madness, along with a healthy dash of family and friends, and one week of honeymoon bliss in New York City, I finally have time to sit down, flip through photos and reflect on everything.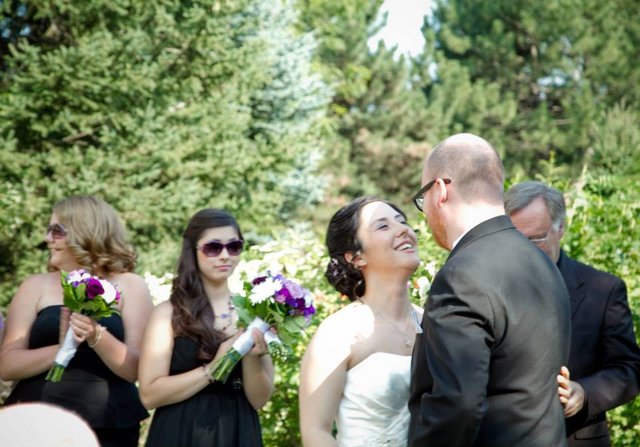 We had a fantastic wedding photographer who also did a great job on our engagement photos. However, since our wedding photos will not be ready for a couple months, I included two beautiful photos taken by our friend Emily, who is also a talented photographer.
Our August 16th wedding took place at the White Oaks Conference Resort & Spa at Niagara-on-the-Lake. Everything was perfect, from the beautiful sunny weather to the friendliness of the staff and, of course, the delicious food. As a nod to the Niagara area, each of our guests took home a little glass bottle of loose Niagara Peach Green Tea and instead of a wedding cake, we had mini pumpkin cheesecake, strawberry rhubarb and blueberry pies. To have something to cut, we had a small Saskatoon Berry pie. Trevor was thrilled when we found out they were able to source out Saskatoon Berries for us. (Saskatchewan guy at heart!)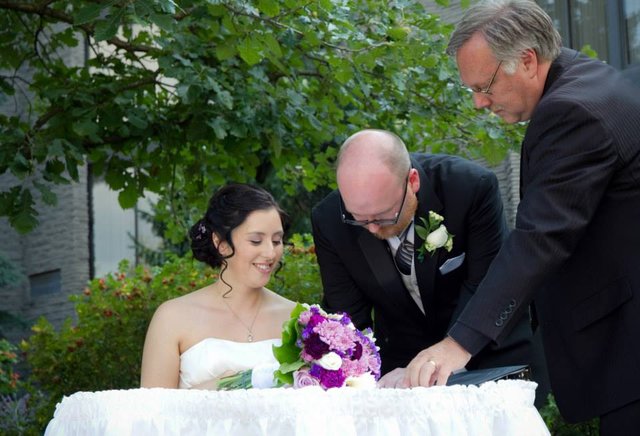 After a salmon and roast strip-loin supper, we had a good laugh and teared up over the speeches made by our wedding party and both sets of parents. Right after the speeches, we opened the dance floor. Trevor was the one who chose our first dance song "First Day of My Life" by Bright Eyes. I've loved this song since the first time he played it for me and the lyrics have always been a perfect fit for us. The father/daughter and mother/son dance was to "Fine As Fine Can Be" by Gordon Lightfoot, which was very emotional moment for both parties. The mood lightened up once the dance floor was open to everyone and soon I had to ask Kacie, my sister/maid of honour, to help me out of my wedding shoes so I could dance properly.
The dance floor was packed for most of the night, especially with the kids who seemed to enjoy the bubbles and glow-sticks we had set out. We danced until the late hours of the night and then happily retired to our honeymoon suite at White Oaks. A jacuzzi tub was waiting for us and I was never happier to pull all the bobby pins out of my hair, wash my face of all the make-up and soak my tired feet.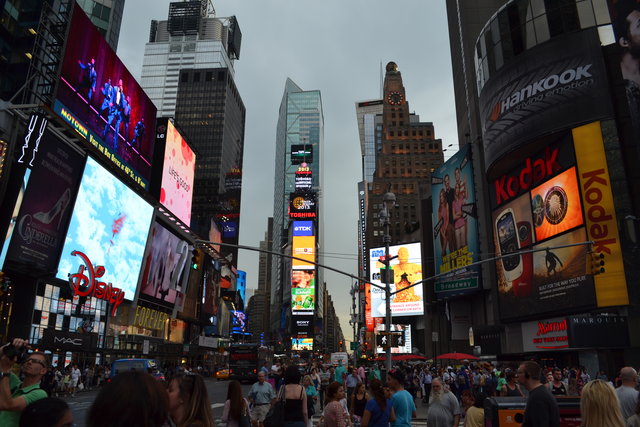 A few days after the wedding, we jumped on a plane and headed to New York City for our honeymoon! Ever since we moved to Toronto, we've always wanted to go to New York and as it worked out, our honeymoon was the perfect time to plan this trip. We got a great deal on flights through Porter Airlines and ended up staying in the Upper West Side area of Manhattan. Luckily we're familiar with riding the subway in Toronto, so we only got lost a few times riding the New York subway.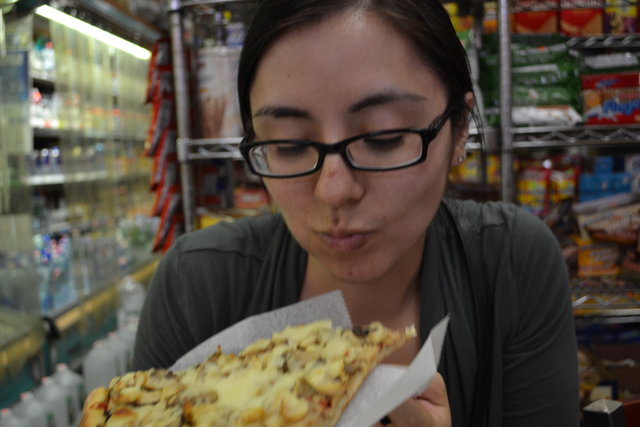 Since the wedding was now over, I was thrilled to be able to eat anything I wanted again. (I may have gotten tired of eating kale salads and green smoothies in the weeks leading up to the day). Before we left, Trevor and I both made a list of food we wanted to try on our trip. High on my list was trying the famous New York City pizza. Thin, crispy crust, lots of toppings – each slice I had was like I had died and gone to heaven. The best part was that you can buy a slice at pretty much every restaurant or convenience store, so I definitely had my fill of pizza. Trevor wanted to try bagels to see if they were any different than the ones we eat in Toronto and we found a great little bagel shop by our hotel which we hit up every day, even the morning of our departure. (For the record, I didn't notice a difference, but I think I was too infatuated with the city's pizza.)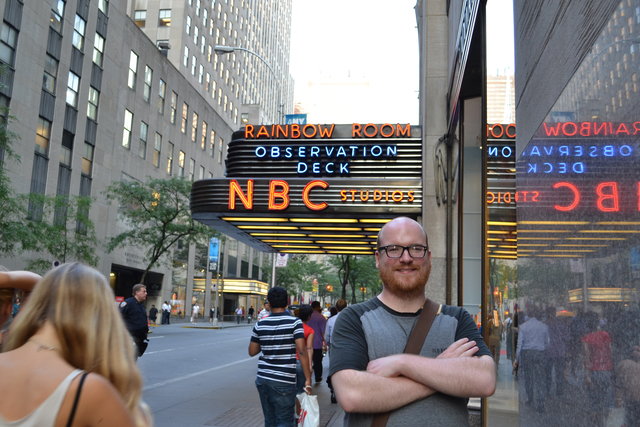 Besides gorging outselves, we also took some sights around the city. We did a short little tour at the NBC Studios where we got to see the Saturday Night Live stage and the new set for Late Night with Jimmy Fallon (both shows are on summer hiatus, so no celeb sightings – boo!). We also stopped at the studio store and picked up a few t-shirts of our favourite NBC shows.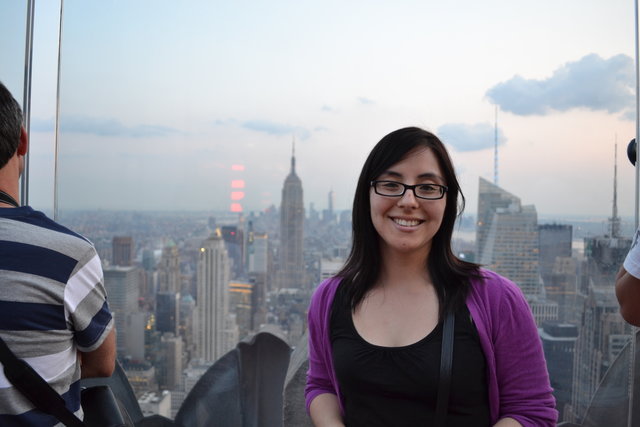 For a view of the city, we decided to skip the long lines at the Empire State Building and opted for Top of the Rock at the Rockefeller Center. Although it was still a little busy when we arrived just before dusk, we were patient and were able to get a front view after a few minutes. The best thing about Top of the Rock is that their are three levels to see the city. From one side of the building, we were able to see Central Park and on the other side, we had a great panoramic view of the city, including the Empire State Building.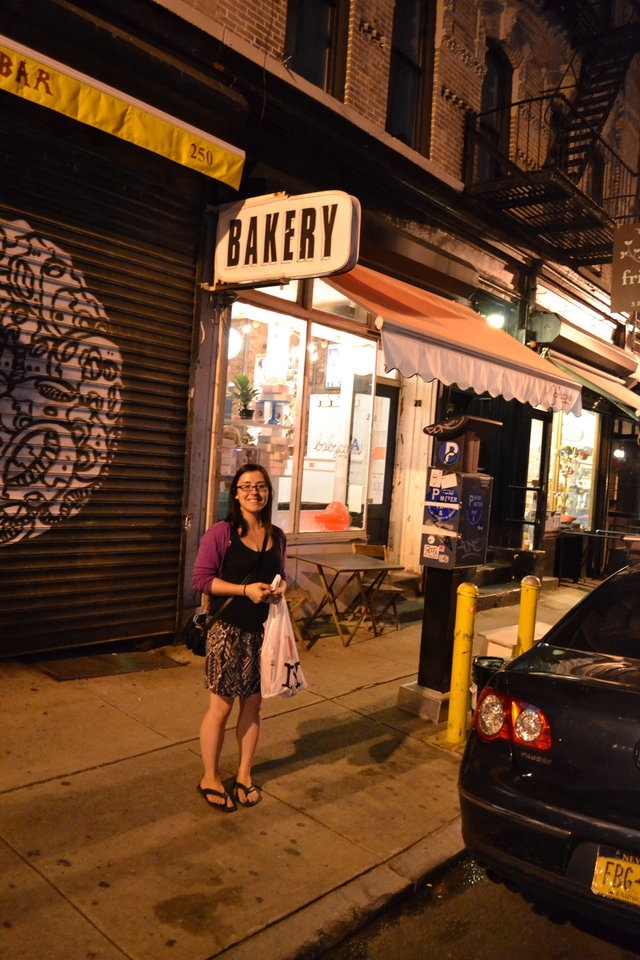 At one time, I was going to make a list of some great NYC bakeries to visit, but in the rush of the wedding week, I never found the time to sit down and make the list (this list would have involved much more research than just naming off food we wanted to try). Nevertheless, I did manage to squeeze in a last minute visit to BabyCakes, where I purchased a pumpkin cupcake and a couple donuts (cinnamon sugar and I believe an apple flavoured one). They have a tiny sign inside mentioning that they don't allow  pictures in the store, so all I have is this photo of me standing by the store front with my purchases. I didn't even get a photo of my baked goods because they barely survived the subway ride home.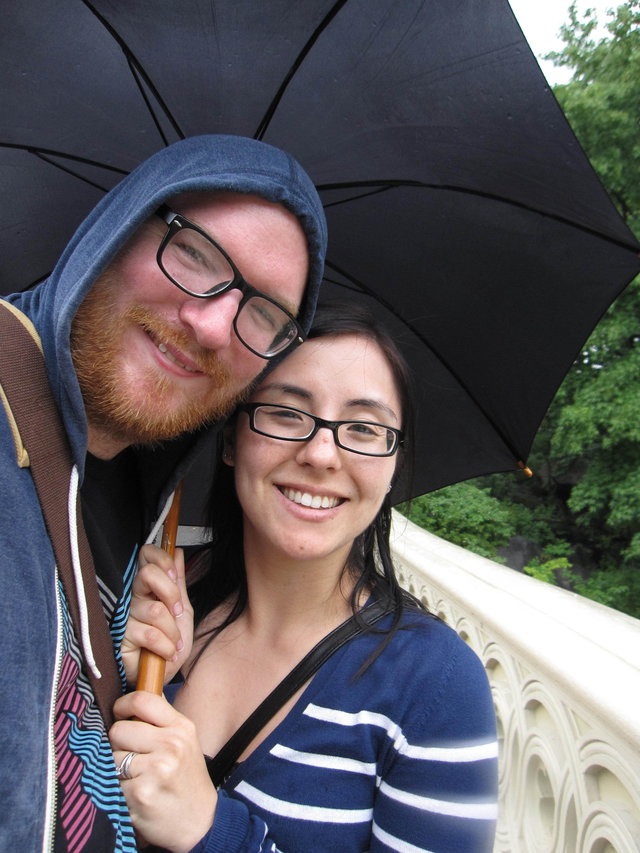 Our last day of the city was pouring rain, but the hotel we were staying at had a complimentary umbrella we could borrow, so we made the most of our final day with a walk around Central Park. During this walk, we managed to find Bow Bridge, which is known for being one of the more romantic settings in New York.
Even with a little rain, it was the perfect ending to a fantastic wedding and honeymoon holiday!