Mini Eggs Rice Krispies Treats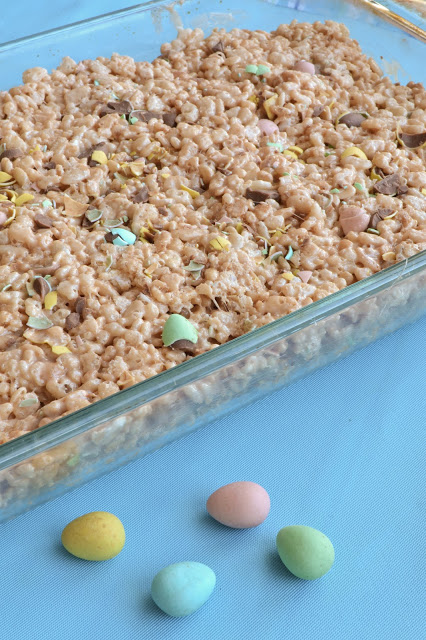 A couple days ago, I decided to take advantage of Trevor's work benefits and went for a massage. This was my first time going to a registered massage therapist and the only way I could describe the experience was pure…..bliss….. Why we've never used this part of his benefits is beyond me and now I'm going to find a way to incorporate this regularly.
Originally I went because I was having issues with my lower back, but the most alarming thing was having her discover how much tension exists in my neck. I was also told that there was more tension in the left side of my body than my right, which makes sense because I have a tendency to lean to one side in my office chair which is a big no-no.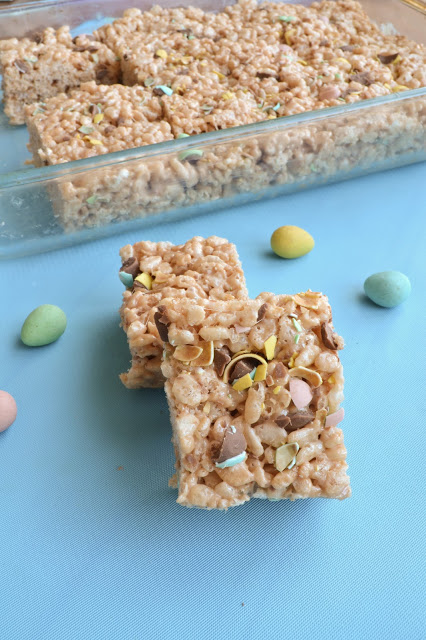 I took the advice of my RMT and had a epsom salt bath the same evening. Despite it being only 8pm, I was wiped and my body was giving me all the signals to go to bed. I still had a couple of wedding planning related emails to send out, but I took the rest of the evening off and vegged in front of the TV with a cup of hot tea from my much-neglected collection of tea tins from David's Tea.
It was nice to have an evening to relax because lately I've been feeling like I'm always on the go. If it isn't work-related, it's wedding planning and if it isn't work and wedding planning, it's just trying to keep the loads of laundry and piles of dishes to a minimum. The six-month-mark-before-the-big-day came up too quickly and all the wedding stuff we were procrastinating on since January was suddenly right in our face and demanding our attention.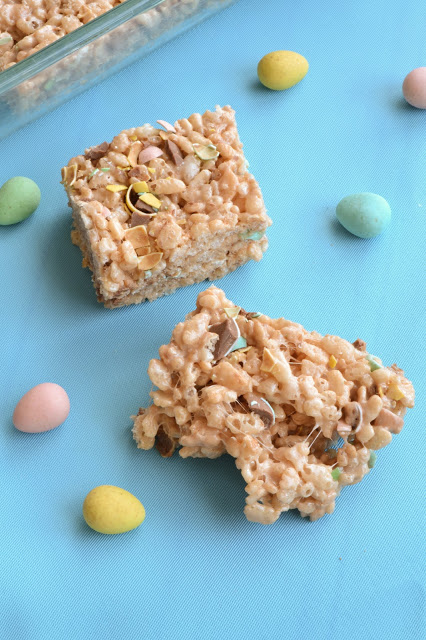 Since I used mini eggs in last year's Easter-related recipe, I really wanted to make something new this year. However, with work and wedding planning both fighting for my attention and my energy, the time for recipe development went out the window and instead of stressing about finding the extra time, I threw my hands in the air and went for a much needed massage. Once my head was a little clearer, I went to a stand-by recipe I had lodged in the back of my mind since last Easter.
Adding mini eggs to Rice Krispies Treats is not rocket science, but no one can turn down this classic, childhood favourite. I reduced the number of cups of cereal from six to five to make the squares less crispy and more gooey, which is my favourite way to enjoy them. If you prefer to have more crisp, feel free to bump up the number back up to 6 cups. It's fine, we're all adults here.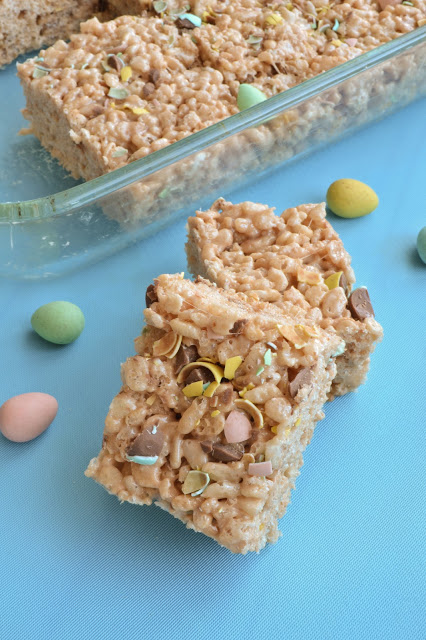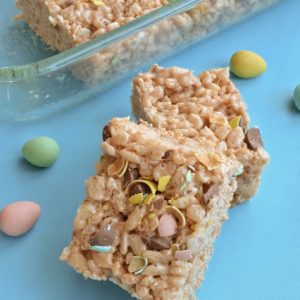 Mini Eggs Rice Krispies Treats
Ingredients:
1/4 cup butter/margarine
250g bag of marshmallows
1/2 tsp vanilla
5 cups of Rice Krispies cereal
3 small bags of mini eggs
Directions:
In a large microwaveable bowl, heat butter/margarine and marshmallows on high for up to 3 minutes. This will vary depending on your microwave. Stir after 2 minutes and if you still have some lumps, use the additional minute to make the mixture smooth.
Prepare your mini eggs. You may chop them up or keep them whole. I kept about half a dozen whole and chopped up the rest.
Once the marshmallow mixture is smooth, add vanilla and mini eggs. The mini eggs will melt, so if you want to keep a few pieces more solid, you may set some aside for sprinkling or wait a few minutes to let the marshmallow mixture cool before adding the mini eggs.
Add the Rice Krispies cereal and stir until well-coated.
Press the mixture into a greased 9×13 pan. You can either use wax paper to press the mixture down with your fingers, or use a wooden spoon. I used both a spatula and wooden spoon and had no issues.
If you saved some mini eggs for sprinkling, add them now and gently press them into the pan.
Let the mixture harden and then cut into squares. Best eaten the same day.