Chocolate Chip Peanut Butter Rice Krispies Squares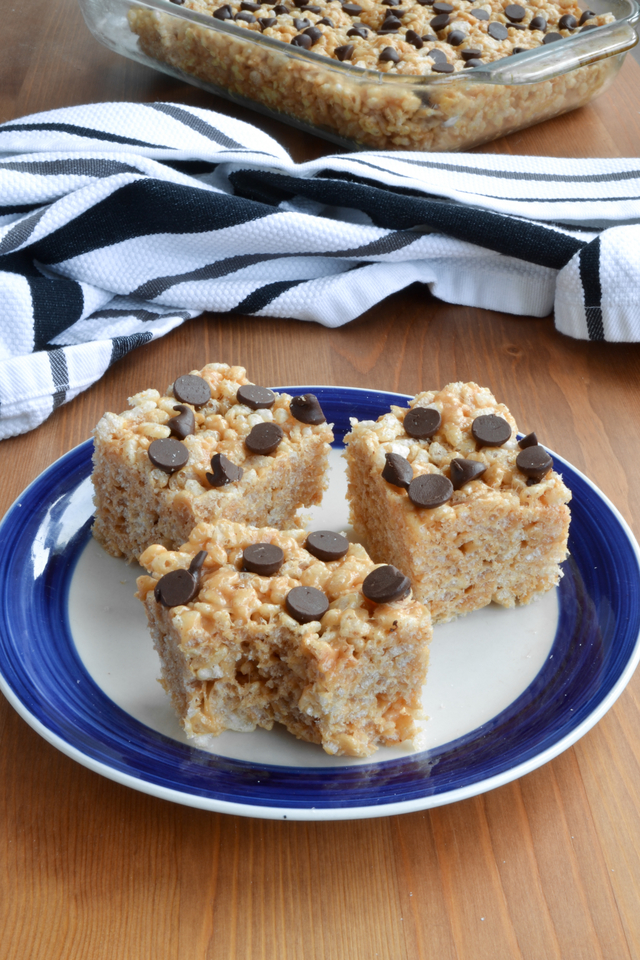 Welcome to the new layout for She Bakes Here!
For the last couple of months, I've been working with the brilliant and talented Lindsay over at Purr Design to help make the scary leap from Blogger to a self-hosted WordPress site. Not only did she transfer every single file and comment, she also helped streamline my recipe index and made my recipes much more printer and user friendly. You can even like, tweet and pin each post! After being stuck with the limitations of Blogger for the last 2 1/2 years, I'm pretty much leaping with joy over the amount of freedom I now have. The popular post listing on the side bar? All Lindsay. The fact that my tweets show up again on the blog? All Lindsay again! (PS: I plan on tweeting more, I promise!)
So have a look around and let me know what to think of the new look. I'm still in the process of formatting each and every of my almost 200 posts, but if anything doesn't work, feel free to pop me an email or comment.
In the meantime, I have a special recipe to share. Special for you because its delicious and you don't have to turn on your oven to make it, special for me because it's part of a fun memory I have with one of my closest friends.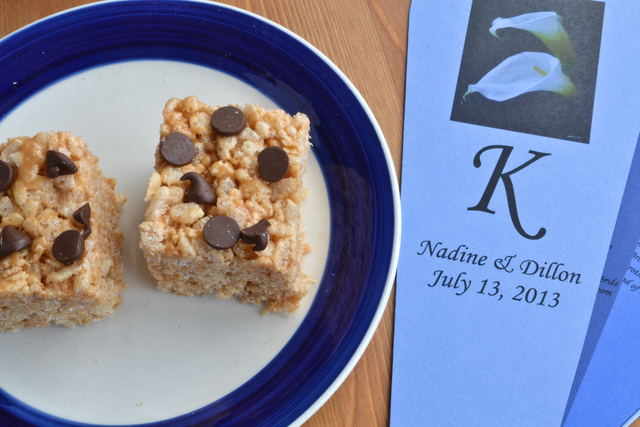 I first met Nadine in 1995 when my family moved to a small town in northern Saskatchewan. It feels so weird to say that I've known someone for 18 years, but I guess it's true. We were in Girl Guides together and I later learned that she was in the same grade as me, only in a different classroom. We remained friends through junior high and high school and sometime then we developed a snack of toast, peanut butter and chocolate chips that we dubbed our "pms snack."
After graduation, we attended separate universities but would still make the time to visit each other. As starving students, the joke of our "snack" would still come up from time to time. A couple weeks ago Nadine even tagged me in an Instagram photo of a slice of toast slathered in peanut butter and sprinkled in chocolate chips.
Last weekend, I had the honour of being a bridesmaid in Nadine and Dillon's wedding. This was the first time I had been back to Saskatchewan since we moved to Toronto in 2010 and the first time I had seen some of my friends in a very long time. Crystal, another friend and bridesmaid, has been teaching in Saudi Arabia for the past two years and is now living in Manchester with her fiance, Craig. Fun fact: next month both Nadine and Crystal will be in my wedding party and Crystal even asked us to be her bridesmaids next year for her wedding in Manchester. In high school, we used to talk about living together, attending the same university and then being in each other's wedding parties. Although the first two ideas didn't work out, I couldn't be happier to know that we are now fulfilling the last one.
So in honour of Nadine's recent wedding, here is a recipe that pays tribute to our favourite peanut butter and chocolate snack. When eaten on hot toast, the peanut butter tends to soften the chocolate chips and this gives it a warm and creamy texture. If you press the chocolate chips into the squares while the Rice Krispies mixture is still warm, you will get the same effect.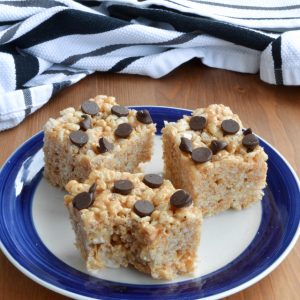 Chocolate Chip Peanut Butter Rice Krispies Squares
Ingredients:
2 tbsp butter/margarine
250g bag of marshmallows
6 tbsp natural peanut butter
6 cups of Rice Krispies cereal
Handful of chocolate chips
Directions:
In a large microwaveable bowl, heat butter/margarine, marshmallows and peanut butter for 3 minutes. Stir after 2 minutes and if you still have some lumps, use the additional minute to make the mixture smooth.
Once the marshmallow mixture is smooth, add the Rice Krispies cereal and stir until well-coated.
Press the mixture into a greased 9×13 pan. You can either use wax paper to press the mixture down with your fingers, or use a wooden spoon.
Sprinkling with chocolate chips and gently press them into the pan.
Let the mixture harden and then cut into squares. Best eaten the same day.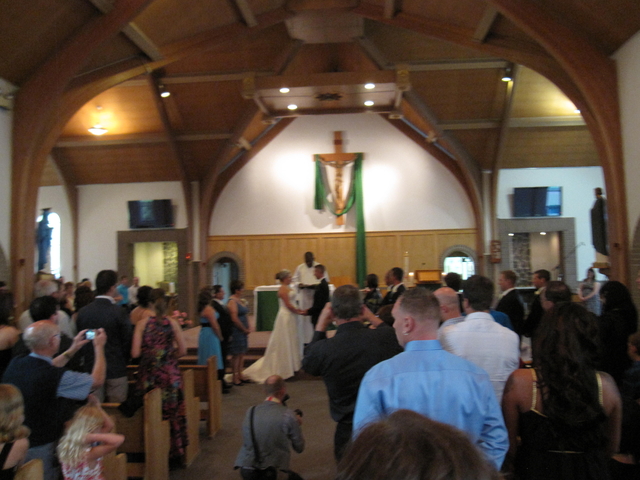 Congratulations Nadine and Dillon!