Mini Eggs Cookies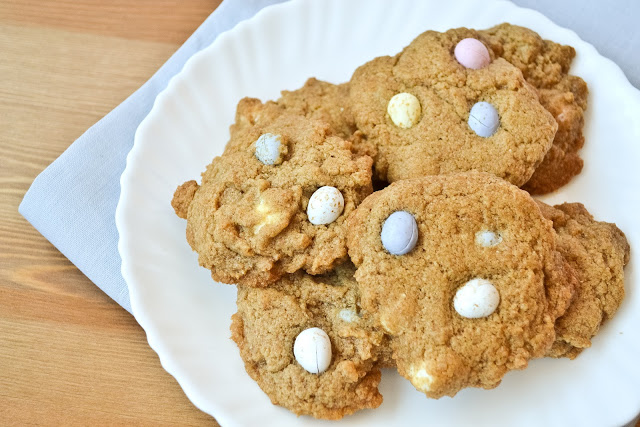 Easter has always been one of my favourite holiday colour palettes, with the pastel blues, yellows and pinks. I look forward to this time of year beccause everything in around me starts to mimic these colours, with the flowers that are just starting to poke out of the ground, to the sun peaking behind the clouds.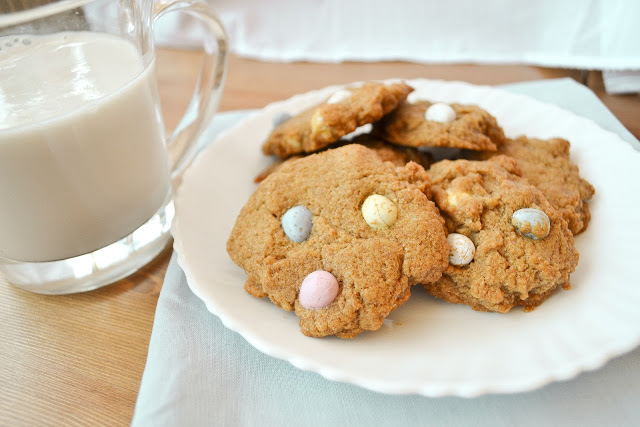 And then there is the Easter candy. The little packages of mini eggs have always been one of my favourite treats. Growing up, I always looked forward to them because they were only available during Easter time. Now if you are so inclined, you can buy them any time of year at the cash register with all the other chocolate bars.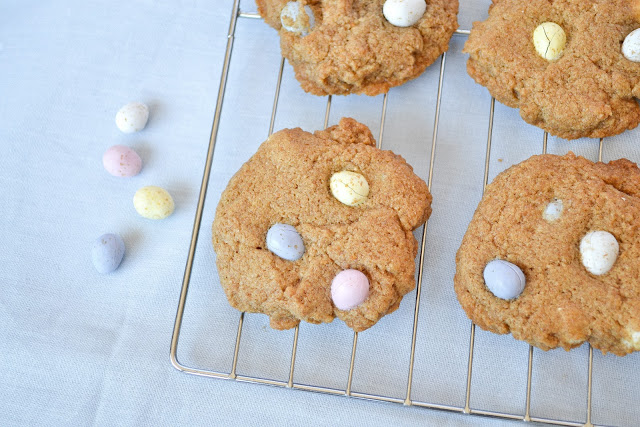 This doesn't make me love them any less, but now that they've become less of a annual treat, I rarely buy them. Rarely, but I still do. Especially if I can find a way to bake with them.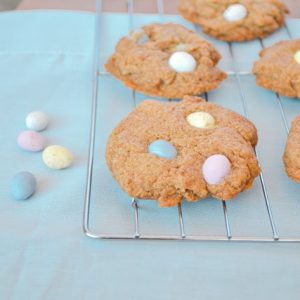 Mini Eggs Cookies
Ingredients:
3/4 cup brown sugar
2/3 cup vegetable oil
1/4 cup unsweetened almond milk
2 tsp vanilla
1 tbsp flour
2 cups of flour
1/2 tsp baking soda
Dash of salt
1/2 cup mini mini eggs (or 1 cup of regular sized mini eggs)
Directions:
Preheat the oven to 350*F.
Whisk together the brown sugar, oil, almond milk, vanilla and 1 tbsp flour. You should do this for about a 1-2 minutes until the mixture is caramelized.
Add half of the flour, baking soda and salt and mix well. Add the remaining 1 cup of flour and mini eggs and mix well until no more flour is visible.
Drop mounds approximately 1 1/2 tbsp in size on a greased baking sheet. Slightly flatten the dough to ensure the cookie will be cooked evenly. To make mini eggs more visible in the cookies, this would be the time to squish a few into the unbaked cookies before sticking them in the oven
Bake for 5-8 minutes until the edges are a golden brown. Leave on the baking sheet to cool for one minute before transferring to a wired rack to cool. Store in an air-tight container.