Rhubarb Meringue Cake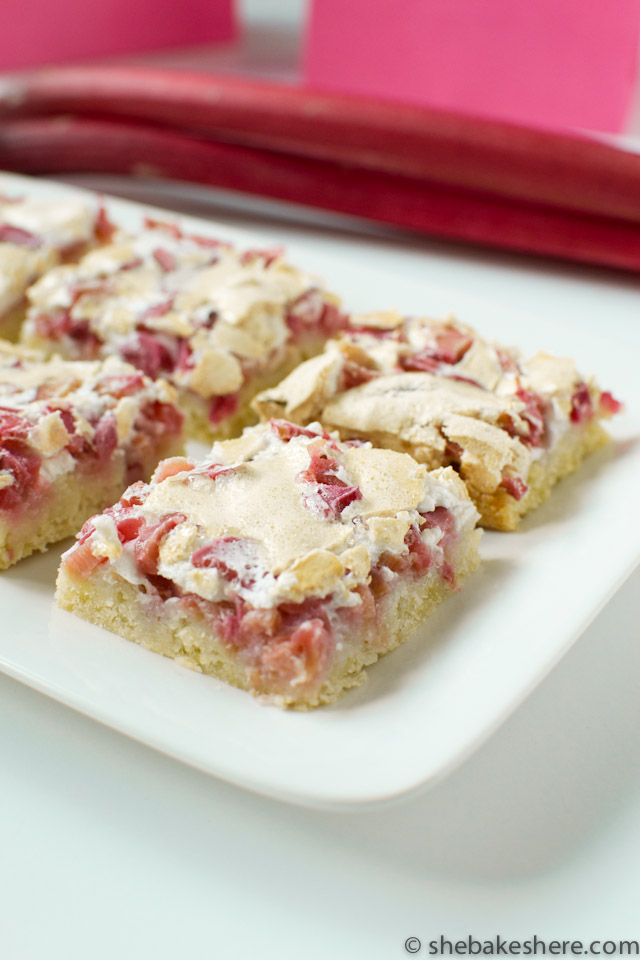 I know we're at the very end of rhubarb season, but I couldn't let the season go without sharing my Grandma's recipe for rhubarb meringue cake. It's also a bittersweet day because today would have been her 83rd birthday. My Mom sent me a photo of her handwritten recipe last month, but I was so caught up in all my jam making that I didn't have any rhubarb to spare. Once I slowed down on the jam production, I set aside some extra stalks.
When I first made this cake, I had no visual guide and only a very briefly written recipe, so I was constantly texting my Mom questions: What size of cookie sheet do I use? How thick is the cake suppose to be? Is it supposed to be meringue? How thick??? My fingers turned red and went numb chopping up stalk after stalk of rhubarb and after I spread the thick, fluffy meringue onto the unbaked cake base, I started panicking and was convinced that I had done something wrong. We were just about to eat supper (poor Trevor was hovering around the counter waiting for me to move so he could get his food), so I put the cake in the oven, set the timer and hoped for the best.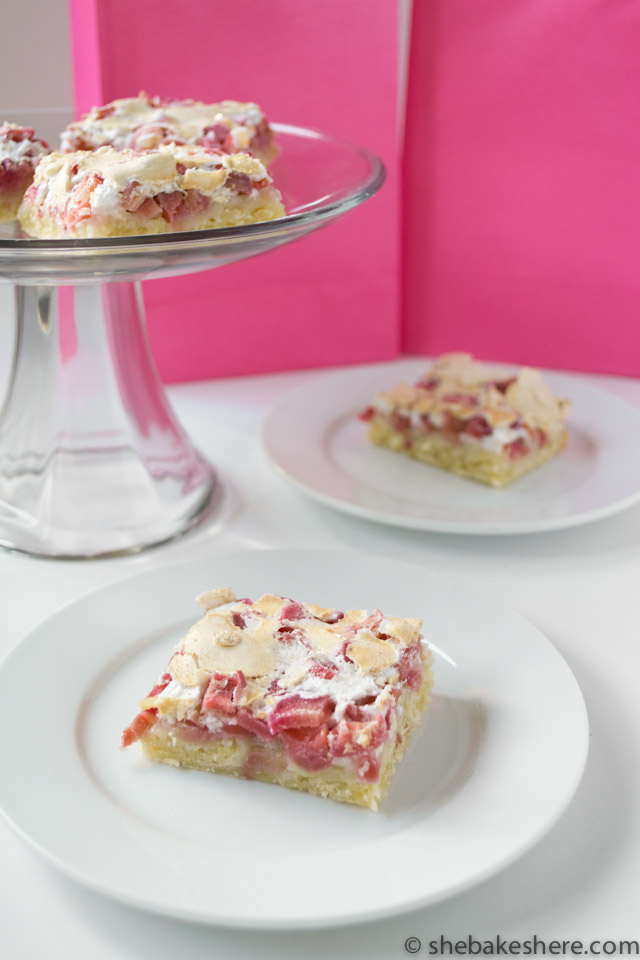 I should know by now that any recipe that was handwritten and saved in our family tends to be a recipe worth having around, even if there are a few bumps and uncertainties when navigating said recipe. The rhubarb meringue bakes up beautifully – crisp, sweet and tart. The cake underneath is more akin to a soft shortbread cookie, so it compliments the crunchy meringue perfectly. Trevor and I both scarfed down two pieces and then I packed away half the pan for a little something extra for the charity bake sale that my office was holding the next day. I'm still nursing a few rows to enjoy over the weekend, but nothing beats having a slice on the first day.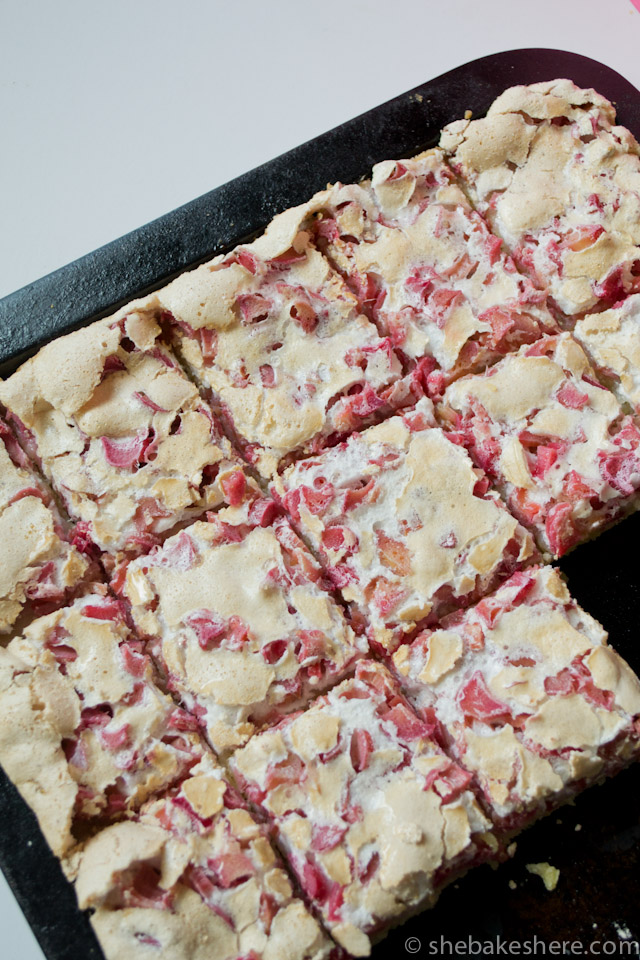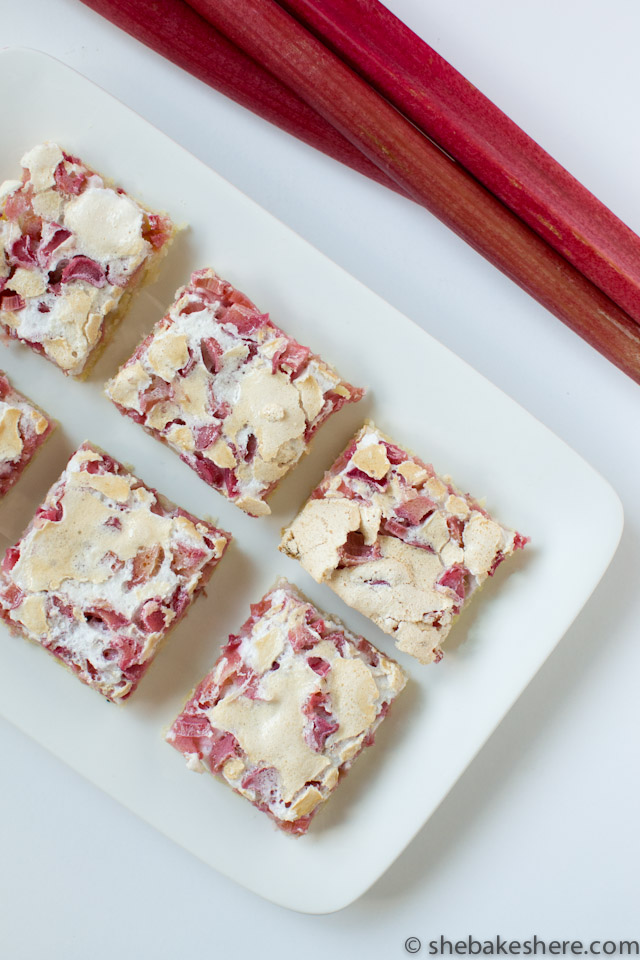 Rhubarb Meringue Cake
Ingredients:
Cake
4 egg yolks
2 cups flour
1/2 cup sugar
1 tsp baking powder
Pinch of salt
3/4 cup butter or margarine
Meringue
4 egg whites
1 1/2 cups sugar
5 cups finely chopped rhubarb
Directions:
Preheat your oven to 350*F and lightly grease your cookie sheet or baking pan.* If you haven't separated your yolks from your egg whites, you should do that now (you will use 4 eggs in total).
In a large mixing bowl, beat together egg yolks and a splash of cold water. Continue beating and add flour, sugar, baking powder and salt. Using a pastry cutter, cut in butter/margarine until a fine crumb remains. Press the crumbly mixture into your prepared cookie sheet or baking pan and set aside.
Beat egg whites until foamy. Add sugar and continue beating until the mixture is thick and slightly stiff (the meringue should double, if not triple in volume). Stir in finely chopped rhubarb and spread the meringue over the unbaked cake.
Bake for 40-45 minutes until the top of the meringue is a light brown colour. Remove from oven and let cool before slicing into squares. Best eaten the same day, and any leftovers must be stored in the fridge. Careful not the stack the squares as the meringue will stick.
* I used a standard "half-sheet size" cookie sheet which is roughly 18 inches x 13 inches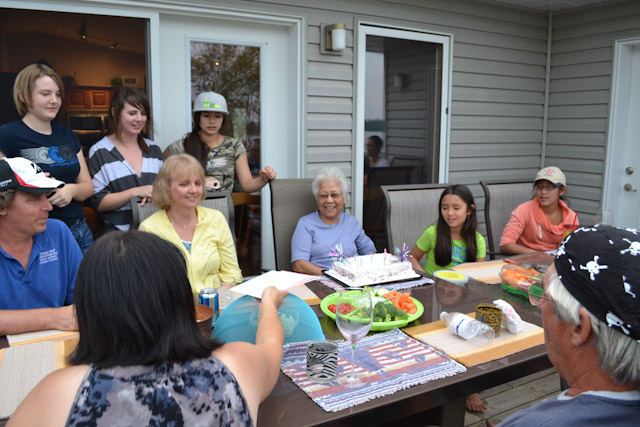 Happy Birthday, Grandma. We miss you very much.