Graduation Cookies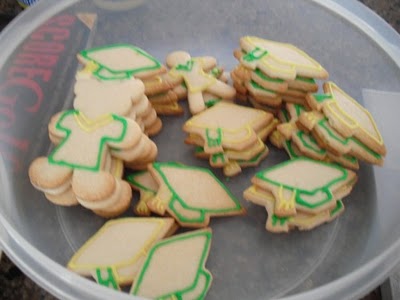 I rediscovered this photo when I was flipping through old photos on my facebook and I had to post it.  Sorry for the quality.
A couple years ago, I made sugar cookies for Nathan's high school graduation.  (To put this in time perspective, Nathan went back to school for grade 13 – an Ontario thing – and now he's in the middle of his first year of university for Mechanical Engineering).  I found the graduation cap cookie cutter at Bulk Barn and the teddy bear and boy cutter is part of my Mom's Christmas set.
Since Nathan's school colours are yellow and green, I decided to make the icing match his graduation robes.  This was my first real venture into making some sort of decorative cookies and it definitely hooked me.