St. Jacob's Farmer's Market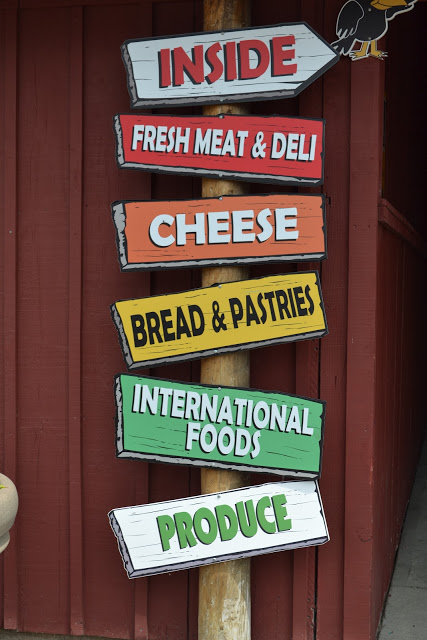 When I first discovered St. Jacob's Farmer's Market back in 2010, my Mom and I were in the process of moving my brother into residence. He was about to start his first year of university and to make the most of the trip, we also planned to visit some family members. Since it was late August and we were driving, we also planned on picking up some local produce. Word on the street is that one of the best places to do it this was in St. Jacob's Country.
I'm a little ashamed to say that since we moved to Southern Ontario, I haven't been back to St. Jacob's. I've checked out other farmer's markets in my area, but in my honest opinion, nothing compares. So when Trevor suggested we leave the city for the weekend and take a road trip, I knew I had to fit this stop in our agenda.
We left the city before noon, but the highway was full of cars and moving s-l-o-w-l-y, so we set the GPS to take us on an alternate route. It took us a little longer than usual, but Trevor really enjoyed the scenic route. I just enjoyed not being stuck in bumper-to-bumper traffic.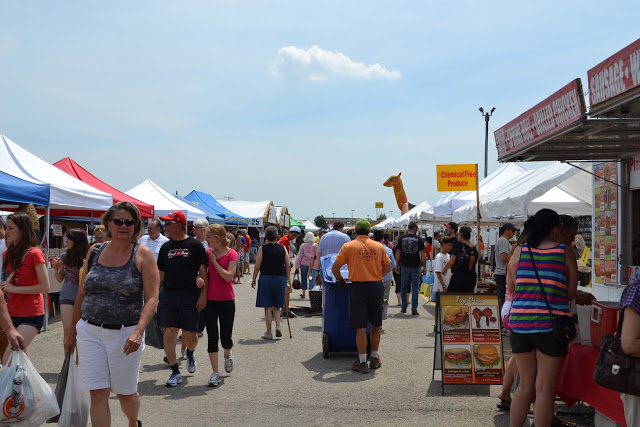 When we arrived the market was packed, the weather was hot and we were starving. We did a quick walk around to check out the different food trucks and finally settled on roasted chicken sandwiches on fresh buns.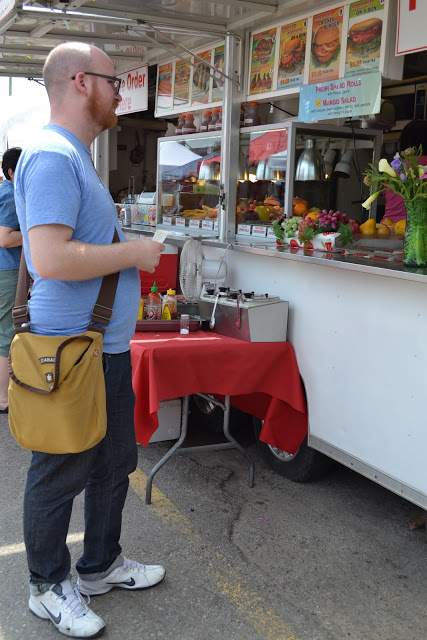 While Trevor ordered our food, I started playing with my camera.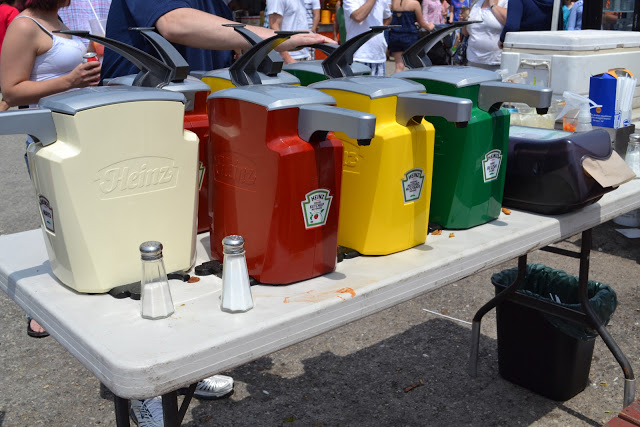 I got a kick out of the giant condiment containers outside of a hot dog stand. They were larger than my head!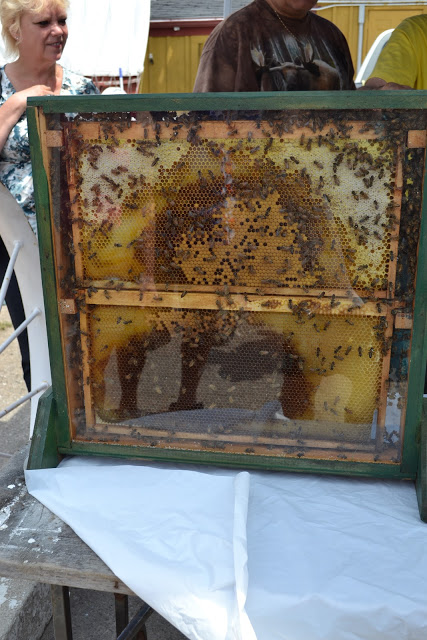 Nearby there was a honey stand with live bees! I took some photos, but I kept a safe distance. Since I've never been stung, I'm very wary of anything with a stinger.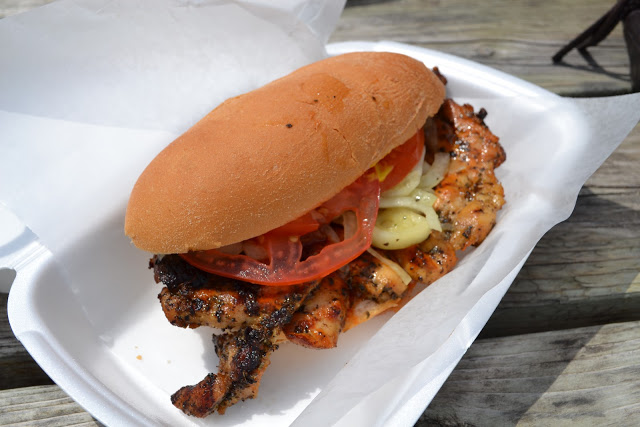 When our food was ready, all the picnic benches in the shade were taken, so we had to take our chance in the full, hot sun. Right after I took this photo, I had to scrap off the onions since I'm not a fan of onions on my sandwiches. Without onions, it was delicious – juicy and spicy chicken on a fresh, crunchy roll – the perfect food for enjoying outside. (Trevor said his tasted just as good with onions.)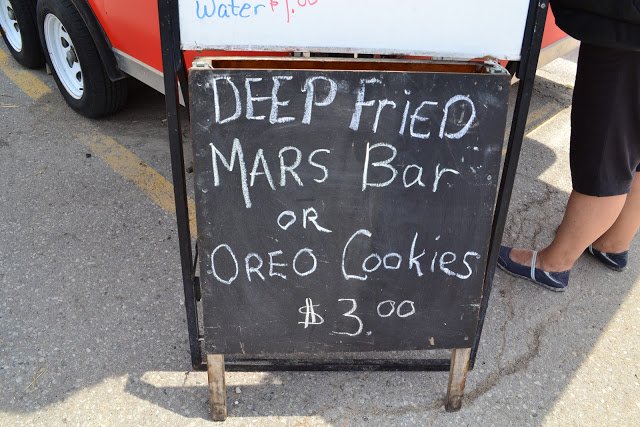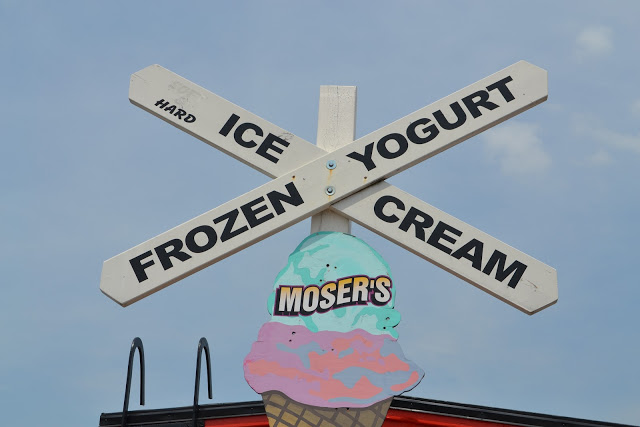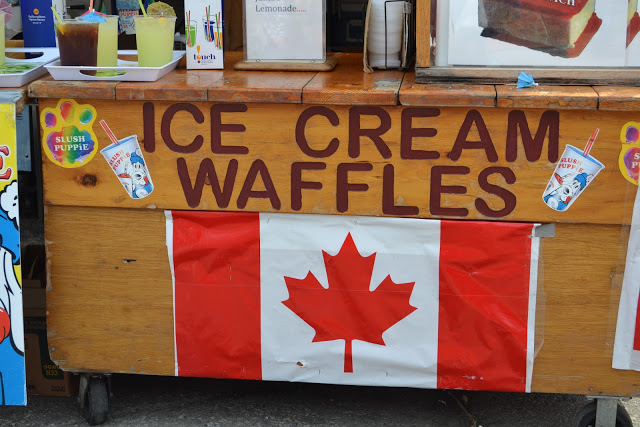 After our lunch, I knew I wanted something sweet for dessert. There were so many varieties that it was almost hard to choose. But once I saw what I wanted, there was no turning back….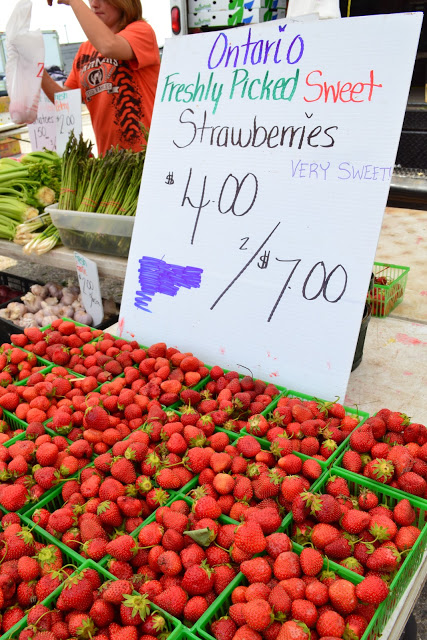 Very sweet indeed. These sweet strawberries put those flavourless grocery store ones to shame!
With our bellies full and the hot sun still beating down on us, we decided to check out the indoor market and give our skin a nice break.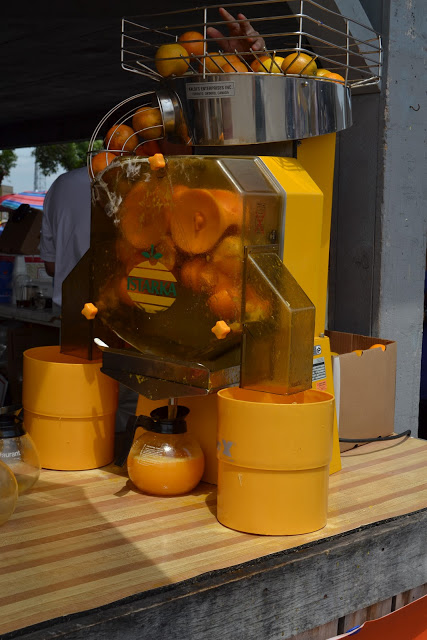 First we had to pick up some fresh-squeezed orange juice to quench our thirsts. Normally I'm not a big juice fan, but this orange juice had no added water, preservatives or sugar and I couldn't believe how fresh and flavourful it was. Trevor, a long time lover of orange juice, had the look of pure bliss on his first sip.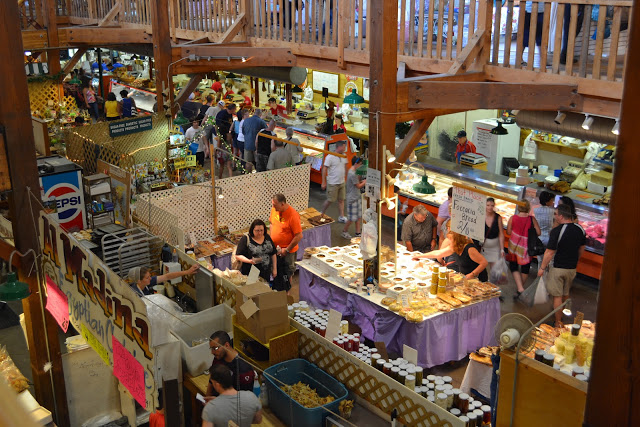 Inside the market building was two floors, the main floor still as a food market and the second with more stores for clothing, jewelry and shoe shopping. We didn't do much on the second floor as I was more interested in getting an aerial view of the bottom floor than looking at shoes.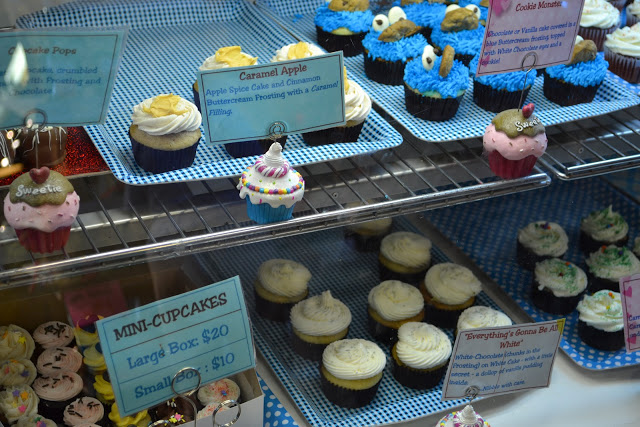 Back on the main floor, there were all kinds of little shops. Cupcakes galore (love the little Cookie Monster ones.)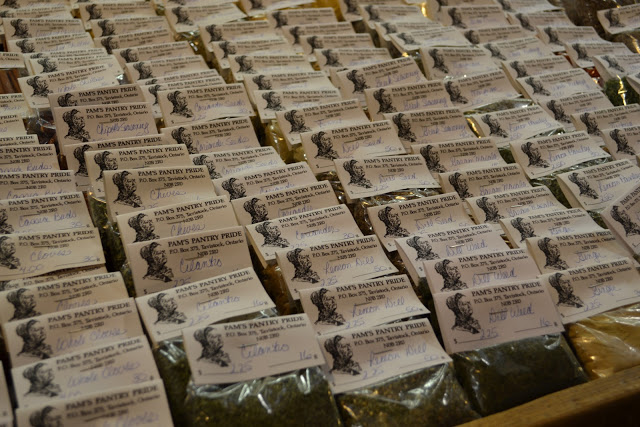 Spices in cute little individual bags. (I really should have stocked up.)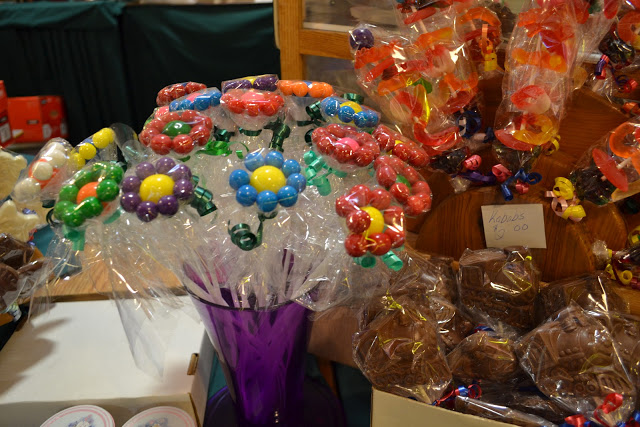 Every kind of candy imaginable, wrapped in the cutest little shapes.
When we finally got our fill of all the goodies indoors, we ventured back out to pick up what we initially came for.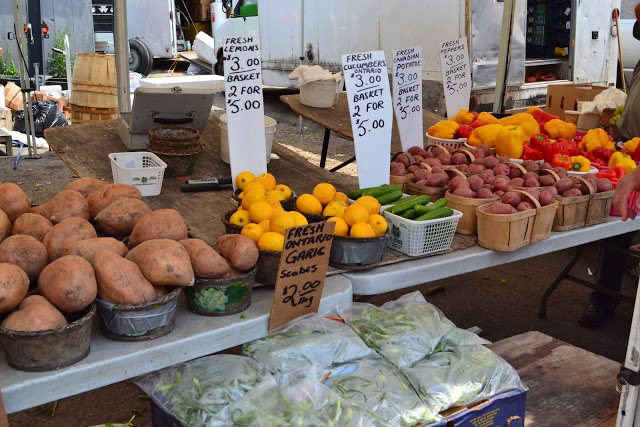 Delicious, delicious local Ontario produce.
Since it was nearing the end time for the market, the vendors were practically giving all what was left away. We didn't want to pick up too much since it's only Trevor and I, but we definitely wanted enough to last the week before we have to resort to the grocery store again.
One booth gave us two baskets of potatoes for the price of one. The gentleman winked at us and said that we were doing him a favour since he had to get rid of everything to start fresh for next week.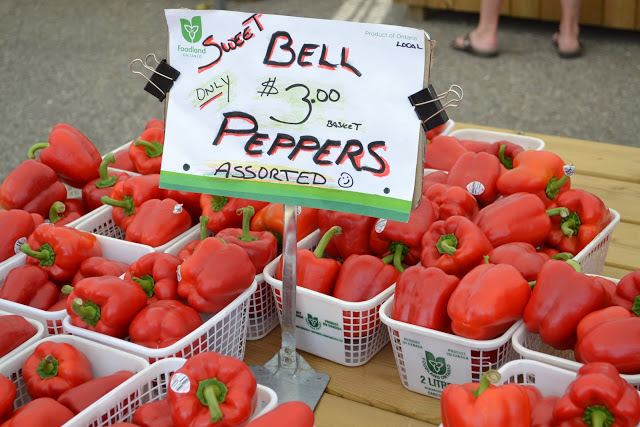 These red peppers were so cute and tiny compared to the ones we usually bought in the city. I held one in my hand and marveled at how it was no bigger than an apple.
So tiny, yet so full of flavour!
Trevor also picked up a basket of local tomatoes, mentioning that he was going to cook it with some steaks when we went back to the city.
We left the market with our wallets notably lighter, but with many bags of fresh produce. We weren't even at the car before I started rattling off the different suppers I was already planning in my head.
As far as farmer's markets go, St Jacob's is honestly the best. There is literally something for everyone and if buying food isn't your thing, you can check out the upstairs shops or even the St. Jacob's outlets across the street. For kids there's a petting zoo and a model train museum. It wouldn't be hard to spend the entire day here.
After St, Jacob's, we loaded up the car and were off to our next destination. Stay tuned!