Peanut Butter Chocolate Chip Thumbprint Cookies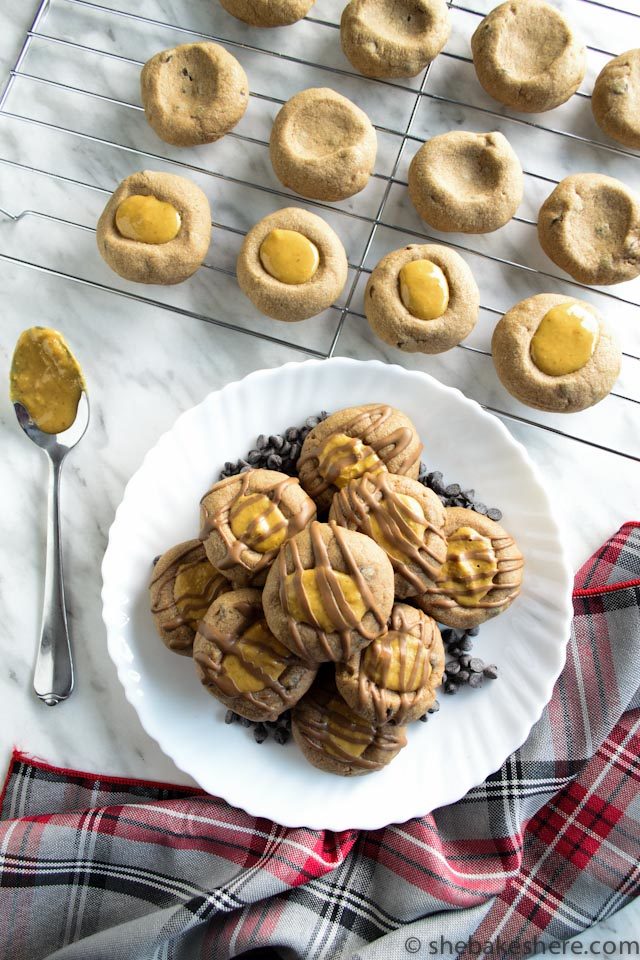 It feels really good to be back in the kitchen after a very busy couple of months. The rest of my summer was pretty much a write-off due to pregnancy fatigue, we were away for most of October due to our Italy trip and then I headed off to Ottawa to attend FBC2017. The beginning of November had us driving up to Newmarket for my brother's wedding and afterward, my parents stayed and visited for an extra couple of days. Mid-November, we finally enjoyed some long-awaited weekends that allowed us to do nothing but sleep-in and catch up on housework and laundry. Now, I can't believe we're approaching the last month of the year – seriously, where did 2017 go?
For Christmas this year, we'll be heading off to Calgary to visit my in-laws and remind ourselves of what a real Canadian winter feels like – ha! I'm not looking forward to being at the airport on Christmas Eve or the frigid -30 temperatures when we land out west, but it'll be nice to visit Trevor's side of the family for the holidays. Also, it'll give me a chance to pull out my seriously large ski jacket that is almost too warm for Toronto's "winters."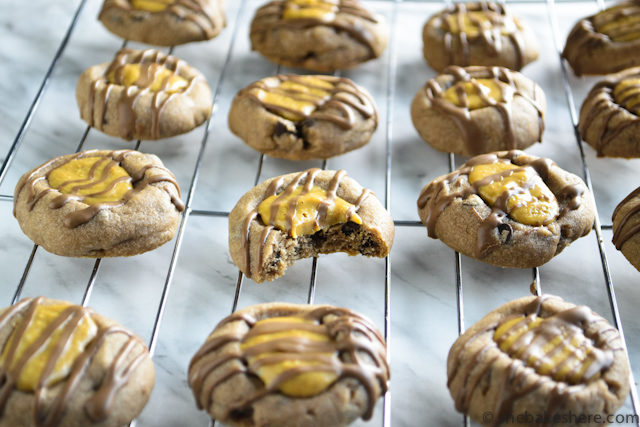 Since we're nearing December, I'm starting to plan out my holiday baking. Our condo building is having their annual Christmas party in a couple of days (we have to bring a dessert) and I'm starting to prep some cookie trays for gift giving. I love, love, love a good excuse to make something decedent and then give it all away, so December is always my favourite time to spend in the kitchen. So far, I'm planning to make my Grandma's snowball cookies, her Christmas shortbread cookies, a biscotti recipe I'm still working on, these ridiculously easy Rolo pecan pretzel bites that my Mom makes every year, possibly some homemade marshmallows, and more of these peanut butter chocolate chip thumbprint cookies if I can stop eating them straight from the freezer.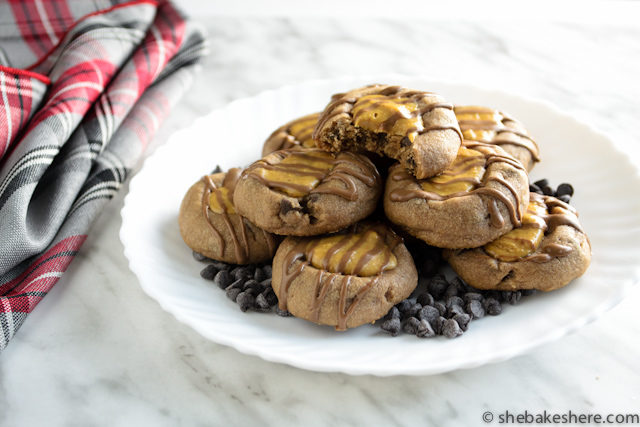 I love how easy the dough comes together for this recipe and the finished product looks pretty fancy, even though the whole recipe can be made in about an hour. Chocolate and peanut butter may not scream "Christmas" or "Holidays," but it's a great fuss-free flavour combination and everyone has these ingredients in their kitchen. No need to run to the store for that one specialty extract or hunt down a candy that is only available at this time of year. And if you're not a fan of peanut butter, almond butter or a nut-free butter of your choosing works pretty great too.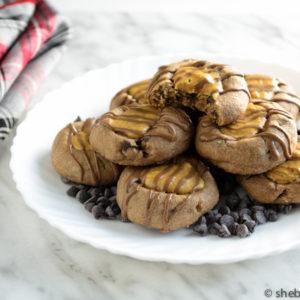 Peanut Butter Chocolate Chip Thumbprint Cookies
Ingredients:
1/2 cup butter/margarine
1/2 cup sugar
1 oz square unsweetened baking chocolate, melted and cooled slightly
1 egg yolk
1 tbsp almond milk (or dairy milk)
1 tsp vanilla
1 1/4 cup flour
1/4 tsp salt
1/3 cup mini chocolate chips
1/3 cup peanut butter
Melted chocolate, for drizzling
Directions:
Preheat oven to 350*F and line your cookie sheets with parchment paper or a non-stick silicone liner.
Cream together butter/margarine and sugar. Add melted baking chocolate, the egg yolk, almond milk (or dairy milk) and vanilla and mix until well combined. Add flour and salt, beating at a low speed until no more flour is visible. Stir in mini chocolate chips.
Shape the dough into 1-inch balls and place 2 inches apart on your prepared cookie sheets. Lightly indent each cookie with your thumb and bake for 10-12 minutes. Remove the cookies from the oven. Some of the indents may have filled in during baking, so I recommend immediately indenting each cookie again (note: they will be hot, so if you're superhuman you can use your thumb again or if you're regular human like me, the back of a spoon will do). Cool the cookies on a wired rack.
While the cookies are cooling, gently heat chocolate in a small pan over low heat until partially melted. Remove from heat, stir until the melted chocolate is completely smooth. Spoon 1/4 tsp of peanut butter into each cooled cookie and drizzle with melted chocolate. Let the chocolate harden before storing in an air-tight container.