Oatmeal Peanut Butter Cookies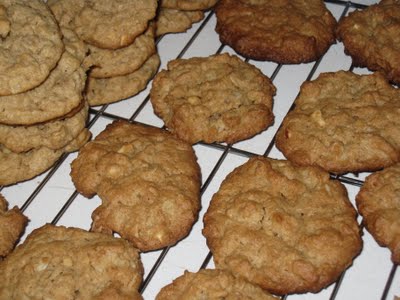 It's been a while since I've used my KitchenAid mixer. One glorious air-conditioned night a couple weeks ago, I had a vision of oatmeal peanut butter cookies, so dusted it off.
Paired with a cup of cold milk, these are possibly one of my favourite cookies to make (although I think I say that about every cookie recipe I post).
Chewy oatmeal, filling peanut butter, could you really ask for anything more in life?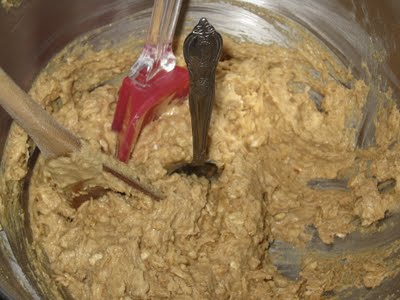 I love it when the margarine, peanut butter and sugars are whipped together, the results are so creamy and I usually have to prevent myself from licking the spatula in the end.
Must. Not. Lick. Spatula.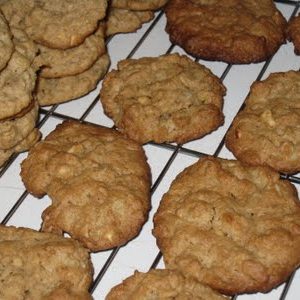 Oatmeal Peanut Butter Cookies
Ingredients:
1/2 cup butter/margarine, soften
3/4 cup brown sugar
1/2 cup white sugar
6 tbsp peanut butter
1 egg
2 tbsp water
1/2 tsp vanilla extract
1 cup flour
1 1/2 cup rolled oats
1/2 tsp baking soda
1/2 tsp baking powder
Dash salt
Directions:
Preheat the oven to 350*F.
Combine flour, oats, baking powder, baking soda and salt in a bowl.
In another bowl, cream together the butter/margarine, white sugar, brown sugar and peanut butter. Add egg, water and vanilla.
Gradually add the dry ingredients to the wet ingredients and mix well.
Drop batter on a greased baking sheet in tablespoon sized mounds and bake 12-15 minutes until the edges are golden brown.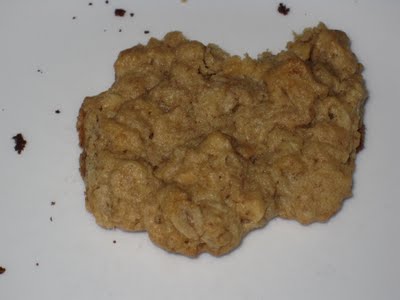 Enjoy!