Chocolate Dipped Vanilla Bean Shortbread Cookies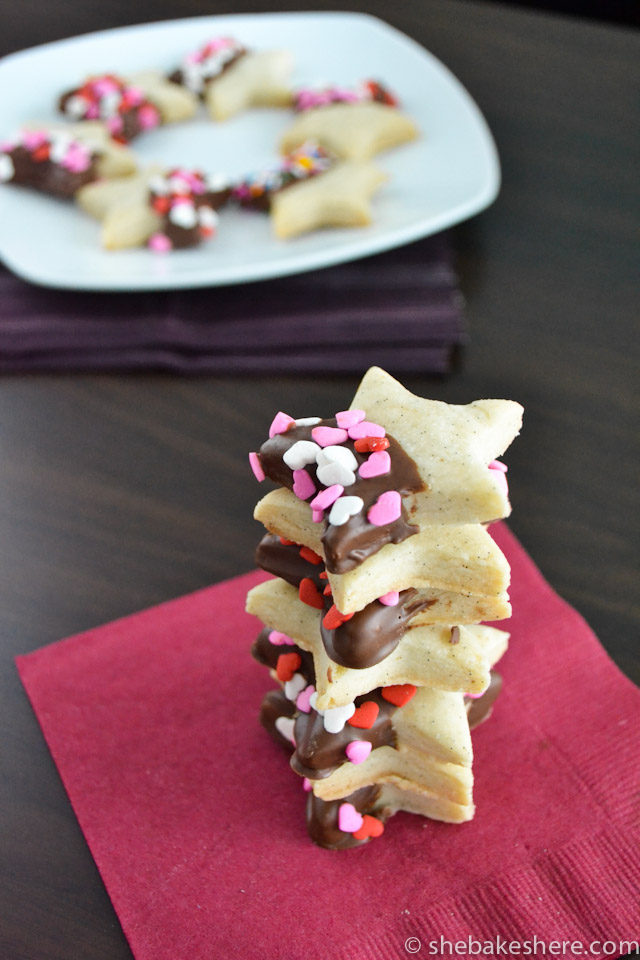 It seems a little weird to be posting Valentine's Day-themed sprinkled cookies this close to Halloween, but I'm going to let it slide just this once. The reason behind all the red, pink and white hearts is that my office recently held a surprise wedding shower for a co-worker who is getting married this weekend and I offered to bake something for the treats table. These cookies turned out so well that I just had to share them. Normally I don't use real butter or white flour in my baking, but it's shortbread and I really like to pull out all the stops when I'm baking for other people (aka not just for me and Trevor).
These cookies came together so well that I was almost surprised how quick and easy they were. The biggest pain was probably waiting most of the evening for the butter to soften to room temperature. I'm not really known for being patient and I hate the idea of dirtying another bowl just to zap the butter in the microwave for a few moments (my KitchenAid mixer bowl is metal).
Once the butter was soft enough to use, these cookies were almost effortless to mix, chill, roll, cut, bake, cool and dip in delicious melted chocolate. Did I mention that I was baking for other people? Luckily this recipe made a lot of cookies – I may have sneaked a few out of the freezer to make sure they were delicious enough to serve.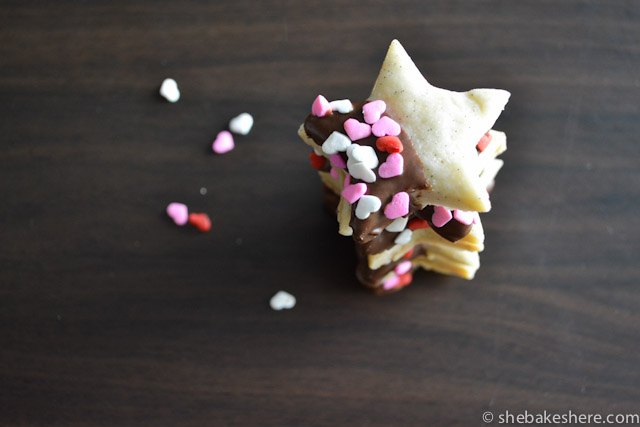 The vanilla beans are a fun visual additional to these cookies, but if you are not a fan of slicing and scrapping out vanilla bean pods you can substitute a teaspoon of vanilla extract or a flavoured extract of your choosing (an almond extract would be nice). Since these cookies were for a wedding shower, I used red, white and pink heart sprinkles, but the opportunities are endless. If you still have a couple Halloween parties coming up, you can use Halloween-themed sprinkles, Christmas sprinkles for upcoming holiday parties and cookie-swaps and even chopped nuts or shredded coconut for a simple non-themed cookie. Just don't skip on using good-quality chocolate for that extra "wow" factor. The chocolate will also become soft at room temperature, so make sure that the cookies are slightly chilled before serving.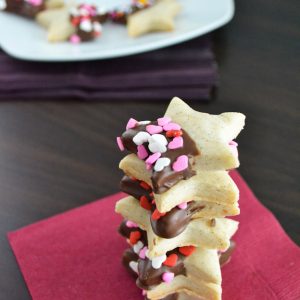 Chocolate Dipped Vanilla Bean Shortbread Cookies
Ingredients:
Cookies:
1 cup butter, softened
3/4 powdered icing sugar
2 vanilla beans
2 1/4 cups flour
1/4 tsp salt
Chocolate Mixture:
1/2 cup milk chocolate chips
2 tsp coconut oil
Optional Toppings:
Coloured sprinkles, chopped nuts or shredded coconut
Directions:
In a large mixing bowl, beat the butter and icing sugar together until smooth. While the mixture is beating, slice open the vanilla bean pods into two halves and scrape out the seeds.
Remove the mixing bowl from your mixer. Using a wooden spoon, lightly fold the vanilla bean seeds into butter and sugar mixture until the seeds are well dispersed.
Add flour and salt and stir until the flour is well incorporated. With clean hands, gently press the dough into a large disk shape and wrap in plastic wrap. Chill in the fridge for about 2 hours or up to 24 hours.
Preheat oven to 300*F and line your baking sheets with parchment paper or a silicone baking liner.
Roll out chilled cookie dough between two pieces of parchment or wax paper. I use 1/4 inch boards (from my decorative cookie days) on either side of my rolling pin to ensure that the dough was the same thickness all the way through. Cut out shapes with your desired cookie cutter and place on prepared baking sheets.
Bake for 12-15 minutes until the cookies are lightly brown around the edges. Baking time will vary depending on the size of your cookies. Remove from baking sheet and cookies let cool on a wired rack.
In a microwavable safe bowl, gently melt chocolate chips and coconut oil and mix until smooth. Line another baking sheet with parchment paper. Dip each cookie halfway into the chocolate mixture and let the excess chocolate drip back into the bowl. Place dipped cookies on the new baking sheet and add sprinkles (if using).
Place a full baking sheet of cookies in the freezer for 5 minutes to allow the chocolate to harden.
Store cookies in an airtight plastic container in the fridge. Chocolate with soften at room temperature.