Pumpkin Spiced Sandwich Cookies with Cream Cheese Icing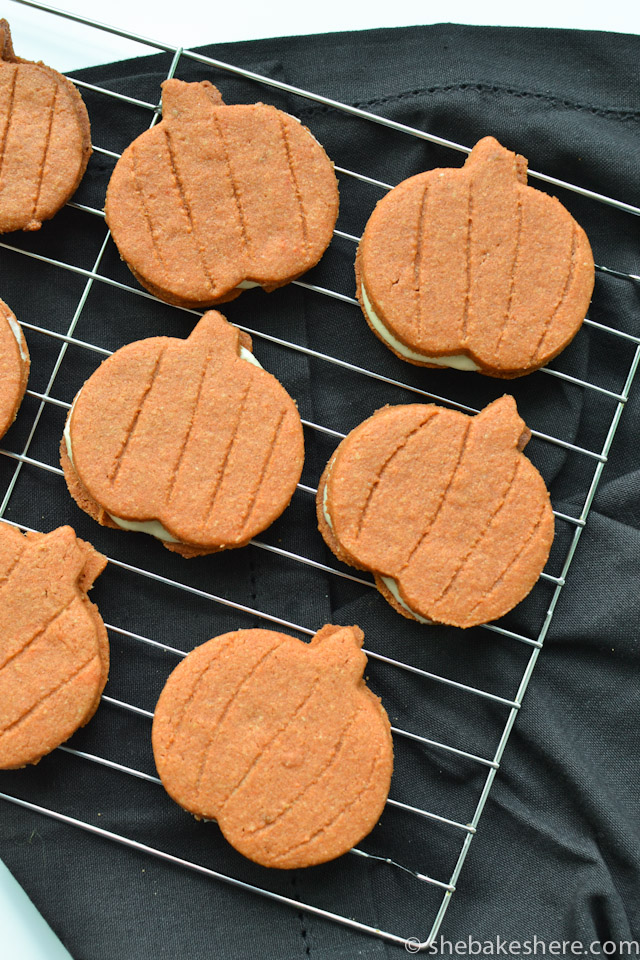 With all the pumpkin I've been eating this month, it's a miracle my head hasn't turned into one. I'm yet to make a pumpkin pie, but I've been making lots of pumpkin pie oatmeal for chilly morning breakfast (recipe here) and we finished off the pumpkin cake a couple weeks ago. As I type this, I have another little guy sitting on my desk that will likely be roasted and baked into something delicious. It may seem like I'm eating a lot of pumpkins now, but I know I'm really going to miss squash season once we're knee deep in gingerbread and peppermint season.
These cookies are not made with pumpkin per say, but they have all the lovely spices that remind me of pumpkin pie and I couldn't resist the chance to break into my food colouring and use my little pumpkin-shaped cookie cutter. My sister was visiting over the weekend and she kept commenting on how great the condo smelled every time we opened the oven door. I cheated and used a container of pumpkin pie spice, but you can use a mixture of cinnamon, nutmeg, ginger and allspice if you don't have any on hand.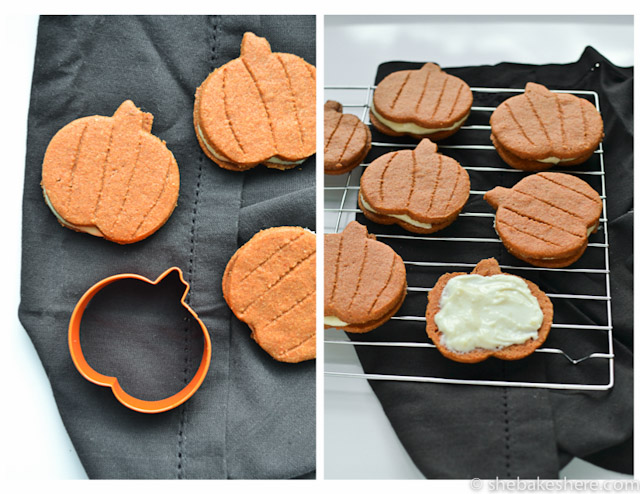 The cream cheese icing was a last minute idea, but I'm glad I make the extra effort (read: extra dishes) because it compliments the cookies nicely and I really think it takes them to the next level. At first I was a little worried that the icing would be too soft and essentially squish out the sides after each bite, however, this fear was diminished once the cookies spent the night in the fridge to firm up. I recommend making these cookies the night before you plan on serving or eating them because they can be a little tedious what with all the rolling and cutting. Plus, I found that they tasted better once the cookies have a chance to soften and meld with the cream cheese icing.
Last note: the little pumpkin lines were drawn in with a toothpick right before the cookies went into the oven, but I would also suggest using sprinkles or luster dust if you are feeling a little fancy.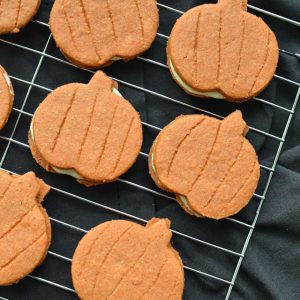 Pumpkin Spiced Sandwich Cookies with Cream Cheese Icing
Ingredients:
Cookies
3 cups flour
1/2 tsp pumpkin pie spice
1/2 tsp salt
1 cup butter, softened
1 cup brown sugar
1 large egg
2 tsp vanilla
Orange food colouring
Cream Cheese Icing
1/4 cup butter, softened
Half of a 250g package of cream cheese, softened
1 cup icing sugar
1 tsp vanilla extract
Directions:
In a small bowl, whisk together flour, pumpkin pie spice and salt. Set aside.
Using a stand-up mixer or handheld electric beaters, cream butter and brown sugar together until fluffy. Add egg and vanilla. On a low mixer setting, add the flour mixture to butter mixture until well incorporated. Add orange food colouring and continue mixing until the dough is a light shade of orange.
Preheat your oven to 350*F and line your cookie sheets with parchment paper or a silicone baking mat. Roll out dough on a flat, well-floured surface and cut into shapes with a cookie cutter. (Hint: it's easier to roll the dough and chill in the fridge for 5 minutes prior to cutting out the shapes).
Bake for 12-15 minutes until the cookies are golden around the edges. Let cool on a wired rack.
To make the cream cheese icing, cream together butter, cream cheese and vanilla. Slowly, 1/4 cup at a time, add icing sugar until the icing is creamy and slightly stiff.
Pair up cookies and spread cream cheese icing on the flat side on half of the cookies. Top with remaining cookies. Store in the fridge in an air-tight container.