Pumpkin Chocolate Chip Oatmeal Cake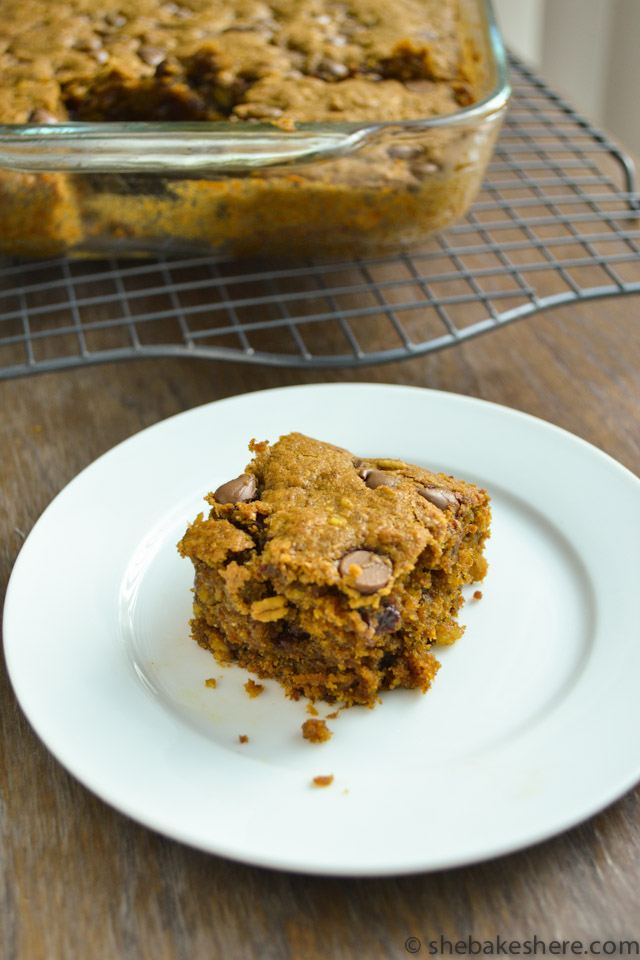 Living in a large highrise building means that there are lots of people moving in and out on a regular basis. In the 14 months since we moved in, we've watched lots of moving trucks come and go. Having moved many, many times, I understand the stress of packing up your personal belongings and entrusting movers (or close friends) to take care of your things as you move your life from Point A to Point B.
Besides packing for a move, you have to make the conscious decision of what to keep verses what to throw out, give away or donate. Is it really worth it to move our 7-year old broken couch when we plan on purchasing a new one in the near future? Do we even have room for this extra bookshelf? These were definitely things I had to keep in mind when we moved downtown since we were swapping a larger living space for a shorter commute (still one of the best decisions we've made).
When we moved last fall we still had a car, so most of our unwanted stuff was dropped off at a nearby Value Village or left on the curbside for someone to pick up. Since we now live in a traffic-dense area, curb-size drop-offs are not exactly ideal (and most likely frowned upon by the city). Luckily our building has a little drop-off area on the first floor by the move-in elevators and recycling bins. For the first few months I never thought much of it, but now it's become my favourite place to find tables and other surfaces for food photography. In fact, my best find has been this table for my plants. I originally thought it would be too narrow for photos, but after today you might start seeing a little more of it here on the blog.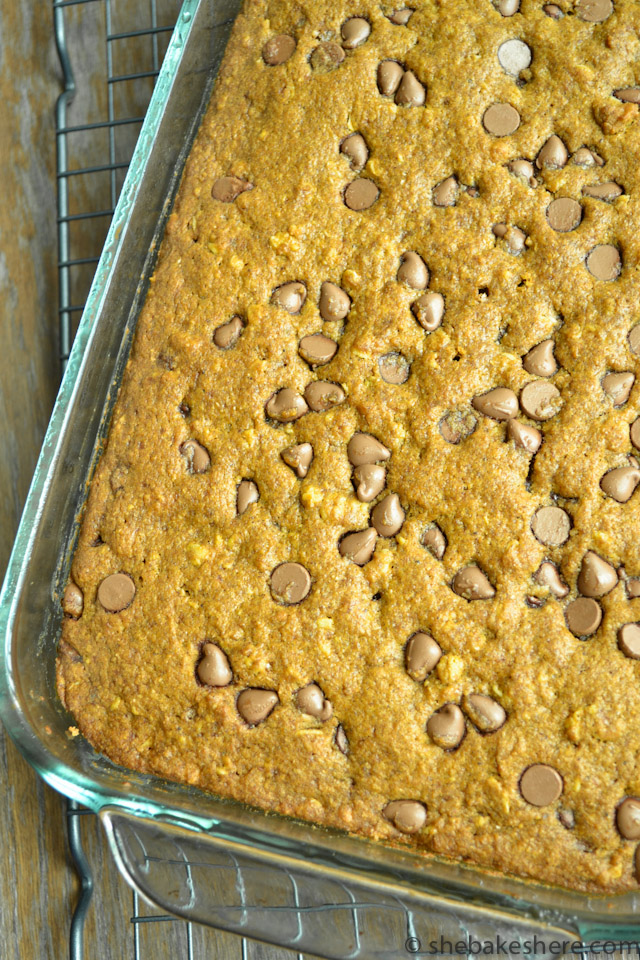 This time of year always reminds me of our big move from Saskatchewan to Toronto back in 2010 (hence all the ramblings of packing and moving). As a celebration of our 5 years as Ontario residents and over a year since we moved downtown, I whipped up this light, pumpkin chocolate chip oatmeal cake. I enjoyed mine plain on the first day, but Trevor's favourite way to eat it is with a scoop of homemade dairy-free vanilla bean ice cream (still testing that recipe). I also think it would be good drizzled with a touch of maple syrup. Be sure to use real pumpkin puree and take advantage of this season before it ends!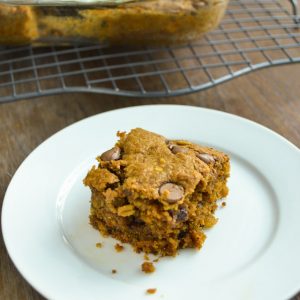 Pumpkin Chocolate Chip Oatmeal Cake
Ingredients:
2 cups whole wheat pastry flour*
1/2 cup old-fashioned rolled oats
2 tsp cinnamon
1/2 tsp ginger
1/2 tsp nutmeg
1/2 tsp ground cloves
1/2 tsp allspice
1 tsp baking soda
1/4 tsp salt
1 cup coconut oil
3/4 cup brown sugar
1 large egg
2 tsp vanilla extract
1 cup pumpkin puree (not pumpkin pie filling)
3/4 cup milk chocolate chips
Directions:
Preheat your oven to 350*F. Lightly grease a 9×13 pan.
In a large bowl, whisk together whole wheat pastry flour, old-fashioned rolled oats, spices, baking soda, and salt. Set aside.
Using a stand-up or handheld mixer, cream together coconut oil and brown sugar. Add the egg and vanilla extract, continue mixing and then add pumpkin puree. On a low speed, add the flour mixture. Fold in 1/2 cup of the chocolate chips.
Spread the batter evenly in the prepared pan and sprinkle with remaining 1/4 cup of chocolate chips. Bake for 25-30 minutes until the edges are a golden brown and a toothpick entered into the center comes out mostly clean (a few crumbs is fine). Remove from the oven and let cool in the pan. Cut into squares and serve.
*Can substitute all-purpose flour in place of whole wheat pastry flour.