Matcha Almond Pinwheel Cookies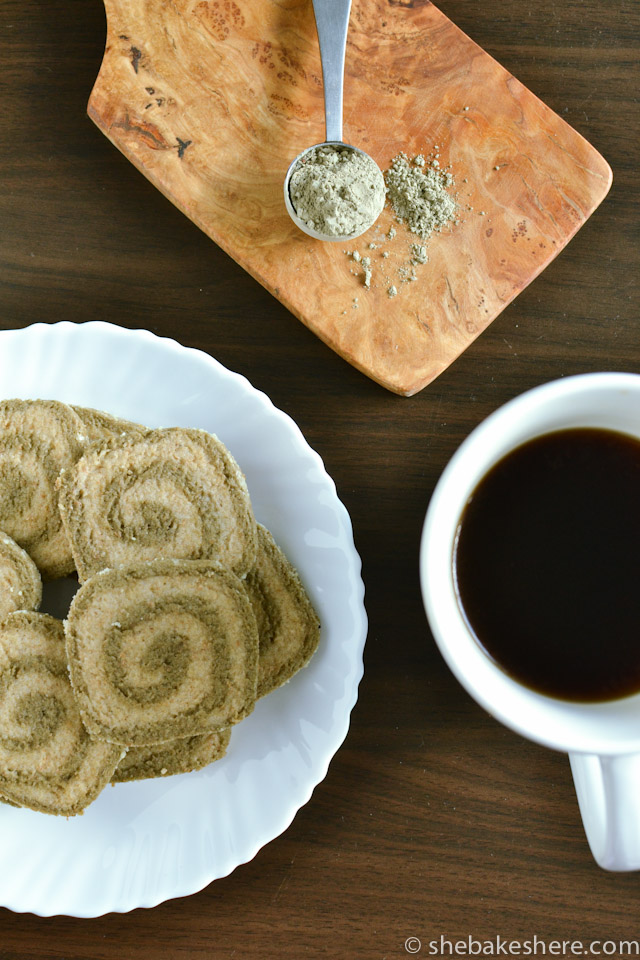 Happy Christmas cookie season! Now, I realize that it's still November, but I couldn't wait to post this recipe. Matcha is not really a holiday season flavour, but I couldn't resist trying a more grown-up approach for these pinwheel cookies. Many recipes like to dye the cookie dough red and green, but I like to keep things simple. Plus I had some matcha powder to use up and matcha-flavoured anything is always a win in my books.
Trevor and I have plans to visit my family for Christmas this year and one of the presents I'm making is a cookbook of all of our family's favourite recipes. My uncle's favourite cookies are these pinwheel cookies and when my mom sent me this recipe, I knew I had to make them. These cookies always look really impressive on a cookie tray and the flavour possibilities are endless. Plus it's a super handy recipe to make if you only have 2/3 cup of butter or margarine hanging around. I don't know about you, but I'm always looking for ways to use up all those extra ends that take over my fridge at this time of year.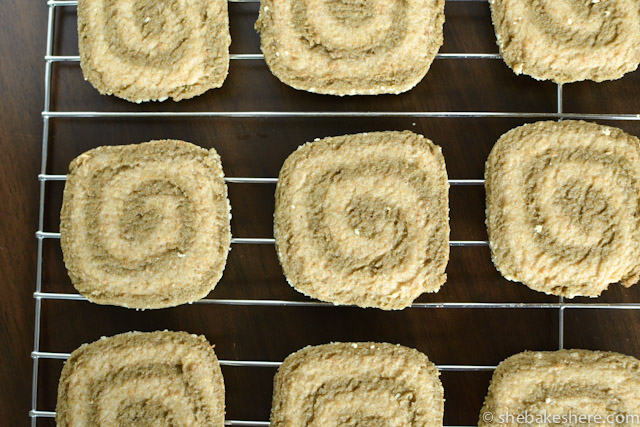 One thing to keep in mind when making these cookies is how much they will spread during the baking process. The cookies may not look like much when you are slicing the chilled log and placing them on the baking sheet, but I promise that the swirls will become much more pronounced once they come out of the oven. It's also good to try and roll the log as tightly as possible to ensure that there are no gaps between the two different coloured doughs. As you can tell in the photo above, some of the edges will not be perfect and may crumble during the slicing. I say it helped it gives the cookies a more homemade look and as a bonus, you can gather the loose edges to make one last "test-tasting cookie" to enjoy.
*Not pictured – the crazy looking cookie that I inhaled while taking these photos.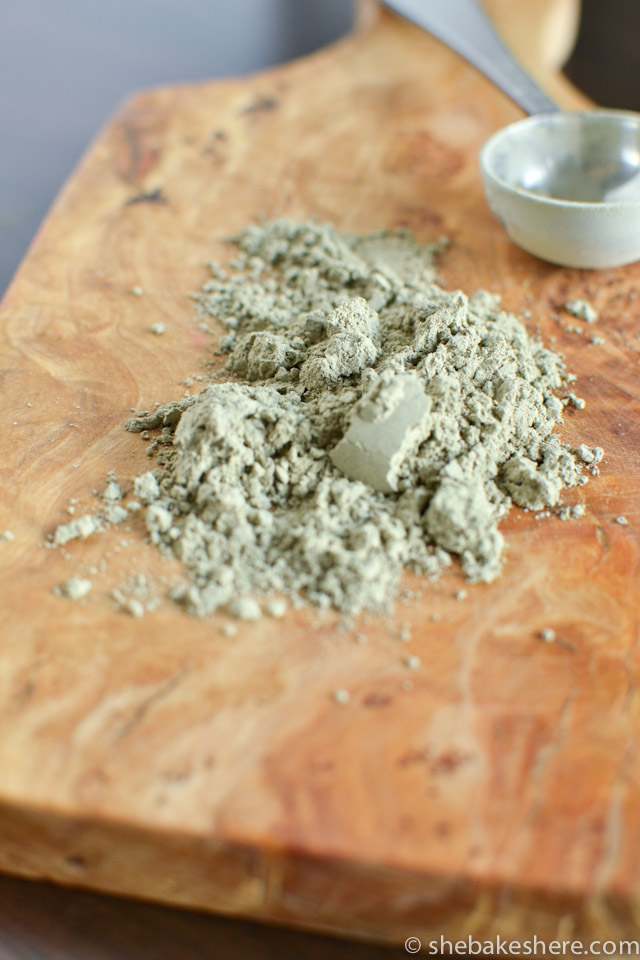 Here is to a great start to the holiday baking season! I can't wait to see what other recipes my favourite blogs will be posting.
Matcha Almond Pinwheel Cookies
Ingredients:
2/3 cup butter/margarine
1 cup sugar
1 egg
1 tsp vanilla
2 cups flour
1/2 tsp baking soda
1/4 tsp salt
1 tbsp matcha powder
1/3 cup ground almonds
Directions:
In a large mixing bowl, cream butter/margarine and sugar. Add eggs and vanilla and continue to mix until well-combined.
In a separate bowl, whisk together flour, baking soda, and salt. Slowly add flour mixture to wet mixture, scraping the sides of the bowl. Make sure that no more flour is visible.
Take half the dough and roll out on a non-stick surface. The dough should be about 1/4 inch in thickness. Chill in the flattened dough in the fridge for a few minutes.
Mix the matcha powder with the remaining dough. Roll the matcha dough out on a non-stick surface. Place the chilled, white dough on top and roll both doughs tightly together to create a log (the two will spiral inside each other). Gently continue rolling the dough in ground almonds and wrap in plastic wrap and a tea towel. Chill in the fridge for at least 2 hours, no longer than 8 hours.
Preheat oven to 350*F and line your baking sheets with parchment paper or a non-stick silicone baking sheet.
Thinly slice the log into 1/8 inch thick rounds and place on the prepared baking sheets. Bake for 8 – 10 minutes until the cookies are a light, golden brown. Cool on a wired rack and store in an air-tight container.
* Log can be kept round or gently shaped as a square prior to chilling. To shape as a square, gently press the log to create four equal sides. Wrap and chill as instructed.