Spicy Chocolate Chili Biscotti Cookies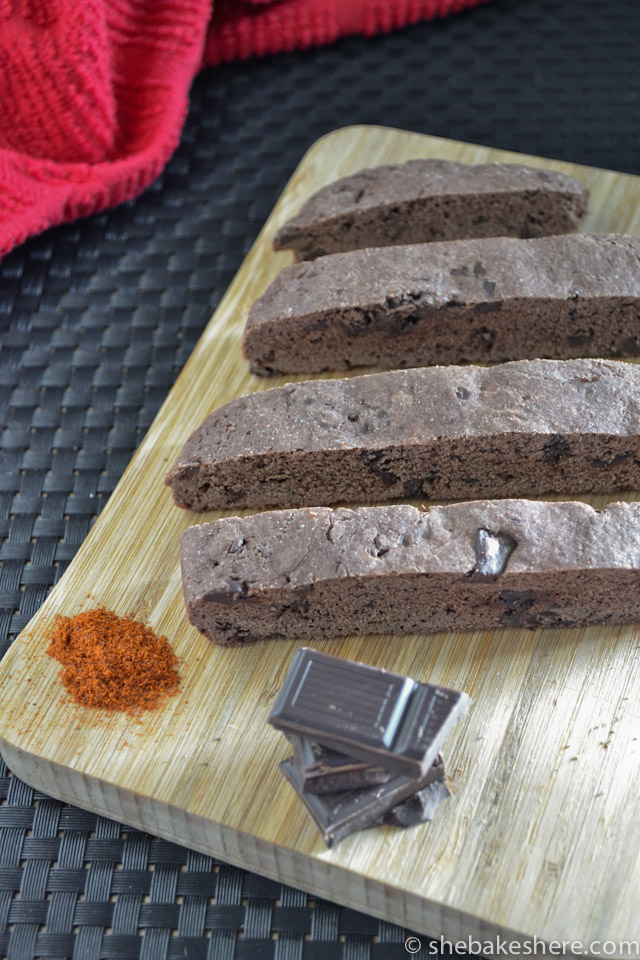 I can't believe it's the end of 2014. I feel like this was definitely a "blink-and-you'll-miss-it" kind of year. So much happened and yet at the same time I feel like the last 12 months have just flown by, completely undetected. How is it almost 2015? Isn't 2015 the year that Marty McFly and Doc go to visit his future self? How did this sneak up on us so quickly??? (Yes, Trevor and I re-watched the Back to the Future trilogy over Christmas break. Best movies ever).
To mark the end of another year, I've been re-reading posts from the beginning of 2014 and it's been pretty fun to look back and see where my headspace was 12 months ago. In my first post of 2014, I wrote about my resolution to be more organized with my blogging and I wish I could be more optimistic about how this turned out. One thing I'm terrible at is planning ahead, especially when it comes to special themed posts for birthdays, anniversaries, etc. If you've been a long-time She Bakes Here reader, this is probably not news to you and I even wrote about it in length earlier this year. At this point, it seems like my vague January "She Bakes Here" blog-anniversary mention has pretty much become a joke in itself, so I'll be sure to squish it in an upcoming blog post in the near future. Four years, hurrah!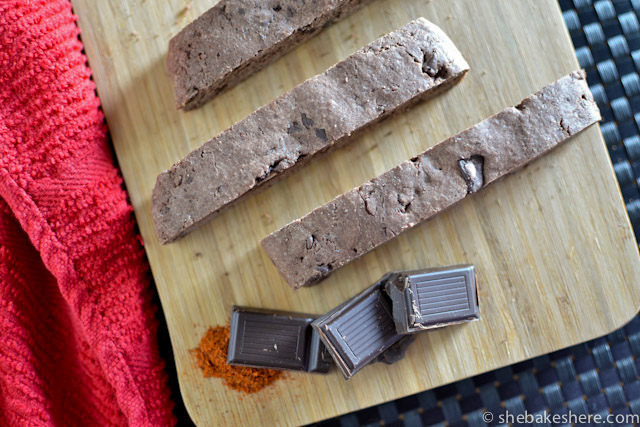 Seeing as how it's the last day of the year, I probably should have come up with a more festive New Year Eve treat, but I'm not worried since I'm sure that most of the blog-sphere has already got that covered. Instead you get these fantastic, lightly spiced chocolate chili biscotti cookies. You'd also think by now that you and everyone you love would be all cookie'd out after the holidays, but these crunchy chocolate cookies are not your typical biscotti. Delicately spiced with chunks of chili chocolate and a teaspoon of cayenne pepper, they are the spicy kick you will definitely need with your coffee the morning after your NYE celebrations.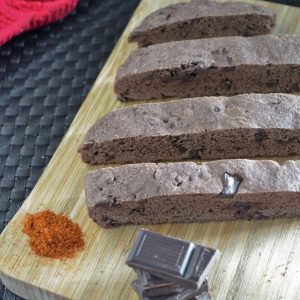 Spicy Chocolate Chili Biscotti Cookies
Ingredients:
1/2 cup butter/margarine, soften
3/4 cup sugar
3 eggs
1 tsp vanilla extract
3 cups all-purpose flour
1/2 cup whole wheat pastry (or more all-purpose flour)
1 tsp baking powder
1 tsp cinnamon
1 tsp cayenne pepper
1/4 tsp salt
1/2 cup mini chocolate chip cookies
100g chili chocolate bar*, chopped up
Directions:
Preheat oven to 350*F. Line a baking sheet with parchment paper or a silicone baking mat.
In a large mixing bowl, cream butter/margarine and sugar. Add eggs and vanilla and continue to mix until well-combined.
In a separate bowl, whisk together all-purpose flour, whole wheat pastry flour (if using), cinnamon, cayene pepper, baking powder and salt. With your mixer is on low, gradually add flour mixture to the wet mixture.
Using a wooden spoon, stir in mini chocolate chips and chopped chili chocolate bar.
Take half of the dough and shape into a 12-inch long roll on your baking sheet (flatten to about 1-inch thick). Do the same with remaining dough, leaving 3-4 inches between the two rolls. Bake for 25-30 minutes until they are a light brown and firm to the touch. Gently transfer the rolls to a wired rack and let cool to room temperature.
Once the rolls have cooled, use a sharp knife to slice diagonally in 1 inch wide sections. Place the sliced biscotti back on your baking sheet and bake for more 10 minutes, flipping the cookies halfway through. Cool on a wired rack and store in an air-tight container.
*Chili chocolate can be found at any specialty grocery store or a grocery store with a decent candy selection. I'm hear that Lindt also makes a pretty decent chili chocolate bar.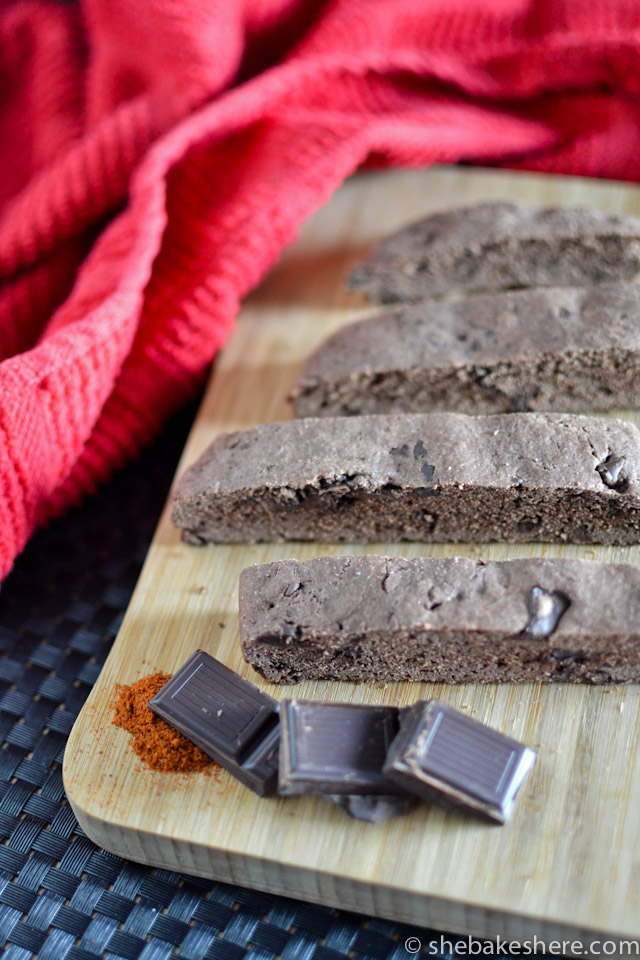 In other news, happy 18th birthday to my baby sister Kacie! See, I am terrible with planning special celebration posts, but at least I mentioned it on Instagram!