Mint Candy Cane Cookies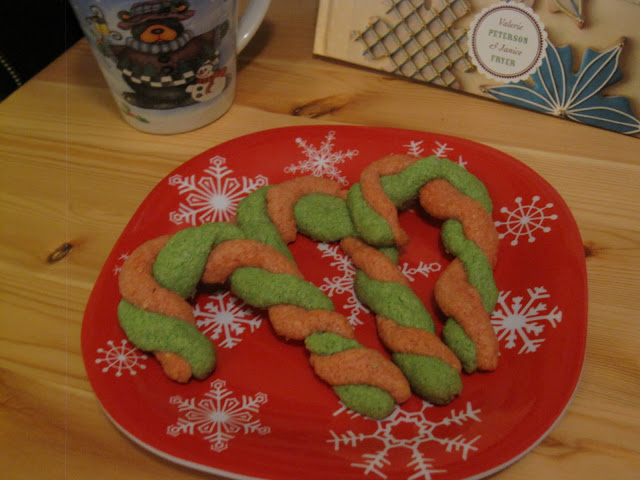 I am full-fledged into the Christmas spirit! Trevor and I have been watching holiday films all for the last two weeks to get in the mood and we haven't slowed down. We started with the "our generation's" classics (Elf, Home Alone, Love Actually), we've burned through our favourite TV show's holiday episodes (Modern Family, Community, Glee, The Simpsons) and now we're prepping for the "old classics" (White Christmas, It's a Wonderful Life, A Christmas Carol). The last ones don't usually air until closer to the 25th, so chances are better that we'll catch them at my parents' place.
To get us through these films, I've been prepping holiday-themed treats to be paired with our hot drinks. Trevor raved about this recipe, so I figured it was worth posting and remembering for next year.
I would also like to apologize in advance for the low light in these photos. I thought I would have enough time to do the photoshoot before the sun set, but I ran out of time. And I knew that if I didn't shoot them the night I made them, there was no guarantee that the best looking ones (or any for that matter) would be available the next day.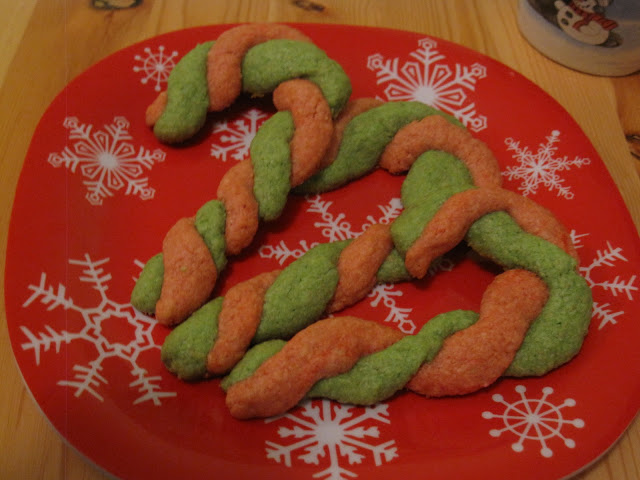 These mint candy cane cookies are pretty, but prepare to be elbow deep in batter when making them. They require a lot of handling of the dough, so once you mix your colours it's best to let the batter chill in the fridge for a few minutes to firm up. I learned this the hard way, so my first few turned out a little rough looking.
I like to think that the rough ones add a little character any batch. Bonus, you can give them away when you are mid-way through a cookie photo-shoot and your significant other is patiently watching and silently salivating.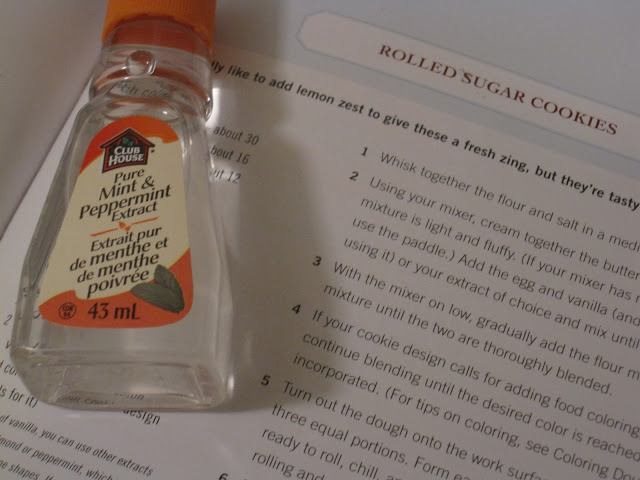 I find that any sugar cookie recipe works when making these and I'm a big fan of Cookie Craft, which is the same ones I use for my cookies on a stick. Since I'm never able to truly stick to the same recipe twice, my modifications are below.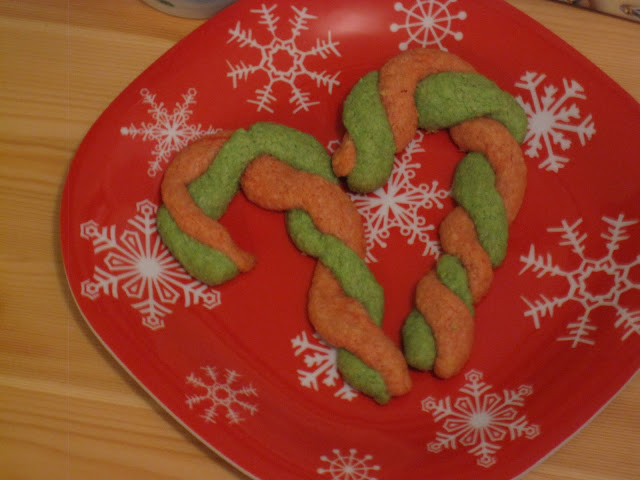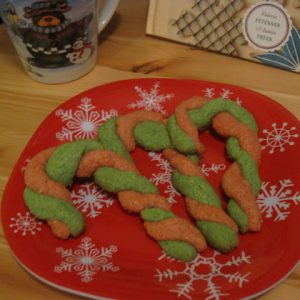 Mint Candy Cane Cookies
Ingredients:
3 cups flour
1/4 tsp salt
1 cup butter, softened
1 cup sugar
1 large egg
2 tsp mint extract
Red gel food colouring
Green gel food colouring
Directions:
Preheat oven to 350*F.
Mix together flour and salt, set aside. Cream together butter and sugar until smooth. Add egg and mint extract and mix thoroughly. Gradually add flour mixture until mixed.
Separate the dough into 2 bowls and add food colouring until desired colour is reached.
Let the dough chill in the fridge for a few minutes to make this next step easier. Next roll the dough into long strands to wrap around each other.
Rearrange on a greased cookie sheet and bake for 10-12 minutes. Let cool on the cookie sheet for a few minutes before transferring to a wire rack.
Recipe adapted from the Rolled Sugar Cookie recipe from Cookie Craft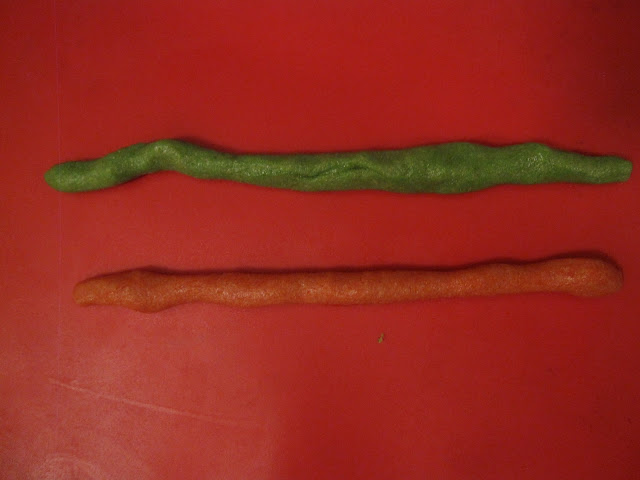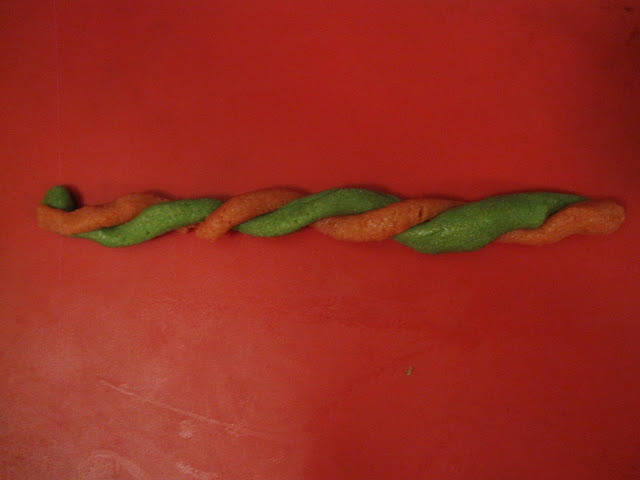 Try not to worry to much about the cracks. I like to think that it adds character. Don't forget to gently bend the top to create that signature candy cane look before you put them in the oven.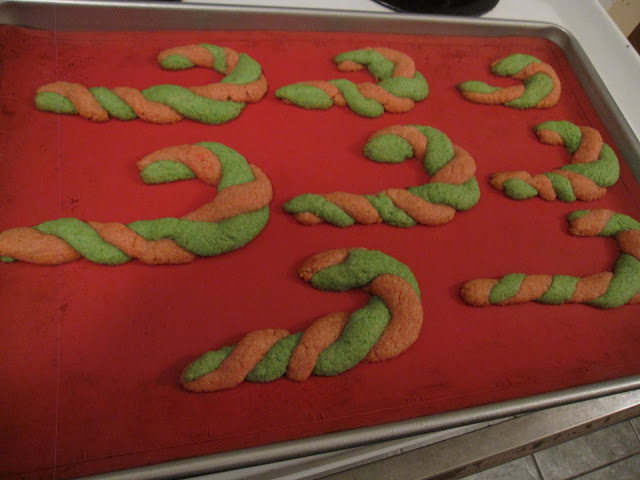 I had a hard time keeping them the same size. Hopefully you'll have more patience then me. 🙂
Enjoy!