Chocolate Toffee Chip Cookies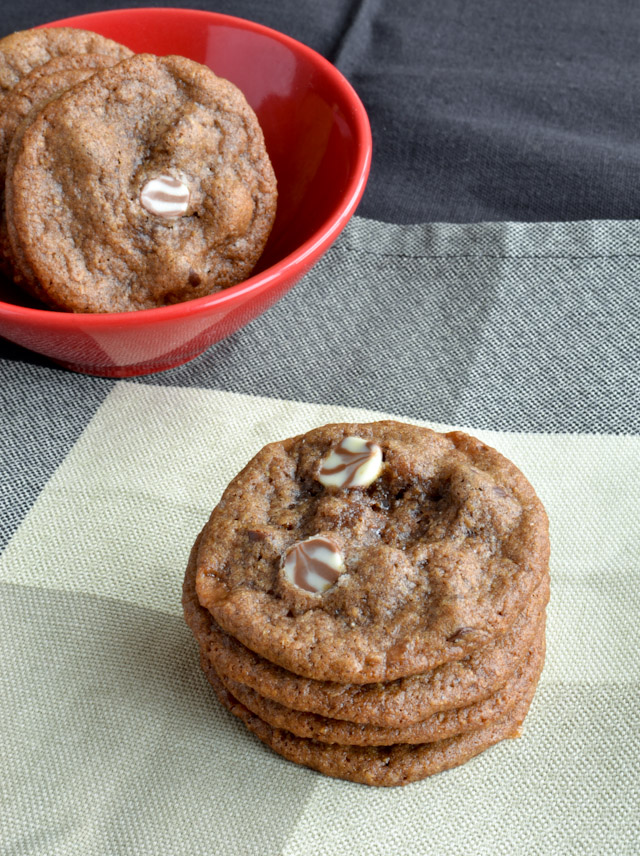 I must have stopped and restarted this post a thousand times.
Well, that's obviously an exaggeration, but it was at least 20 times. I've pushed and held the delete button so much that I have a permanent dent on my middle finger. And yes, I use my middle finger rather than my index finger to delete text on my keyboard. I was definitely that kid in your class who cheated and on all her typing tests in computer class.
The reason I've re-written this post so many time is because I came to the realization that this was going to be my final write-up for 2013 and that I didn't want to end the year on a negative post. I didn't want my last post of the year to be about how our oven in our rental apartment malfunctioned and completely fried the first batch of these cookies. I also didn't want to mention how everyday this week I went to bed at 9:30pm because of how exhausted I was from work. And lastly I didn't want to complain about how these cookies didn't really turn out the way I originally planned, but ended up being everything I needed in a snack when I was grumpy, tired and deleting paragraph after paragraph of this blog post.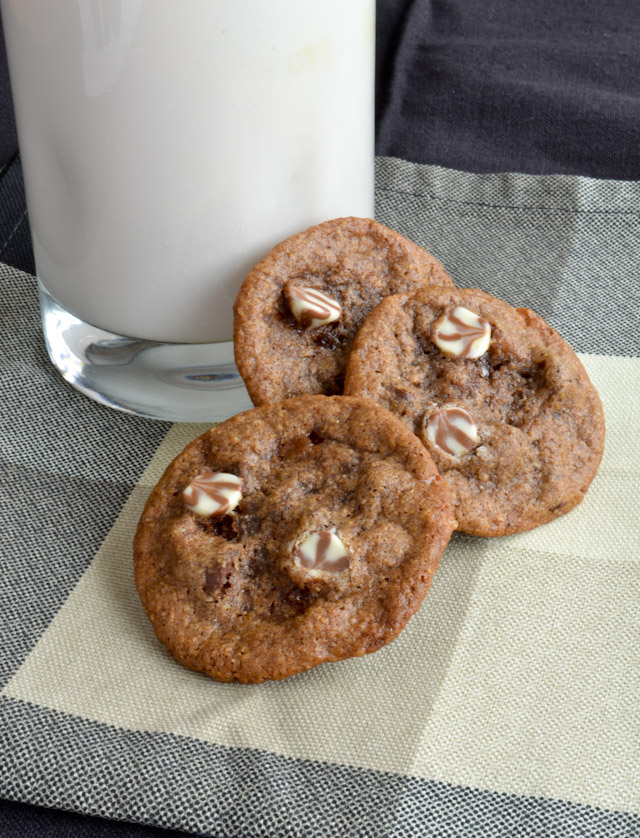 My original plan for these cookies was a chewy chocolate cookie, loaded with chocolate chips and toffee bits and I remember being so disappointed with how flat they turned out and how crispy the edges were. I chalked it up to being the fault of our old, broken oven. Still, Sundays are the only days where I can take photos in natural light, so I snapped a few quick photos for my photo-log and stored the cookies in an air-tight container in hopes that Trevor would eat them and I wouldn't have to look at them anymore. By Sunday night, I was already brain-storming new, alternate ideas.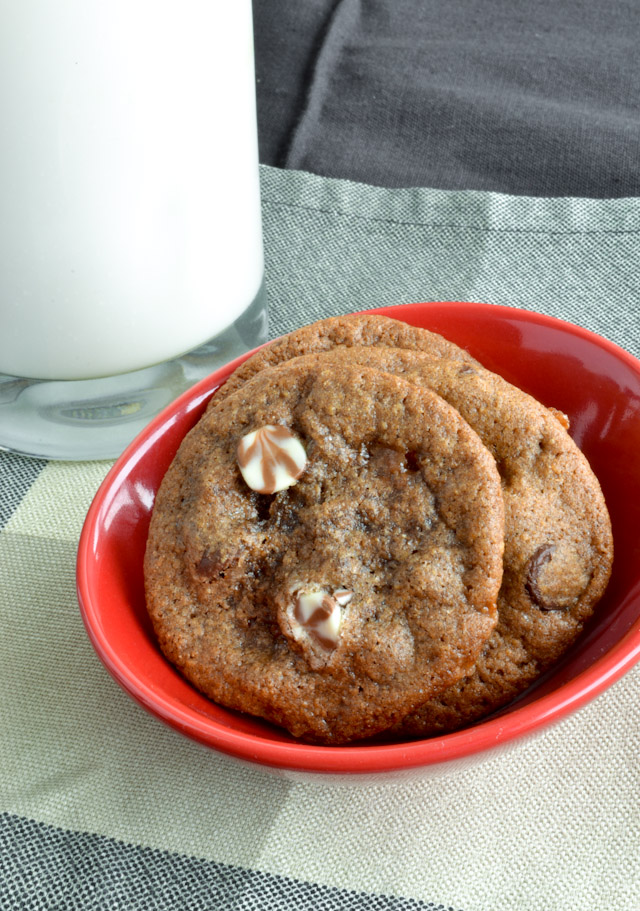 The cookies were still untouched by Tuesday and I came home from work grumpy and famished. Without thinking, I reached for the closest edible thing on the counter and was pleasantly surprised by the chewy texture of these cookies. I had underbaked most of cookies for fear of having the oven overheat on me again and after living in the air-tight containers for a few days, even the edges had softened up. The chocolate chips were plentiful and the toffee bits had spread and hardened into a chewy goodness that reached every cookie edge and every bite. I wish I had another word besides chewy to describe these cookies, but my brain is tired and I wish I had more of them in my possession.
I think the moral of this is that goodness can come out of things you may have otherwise given up on. Yeah, something like that.
Happy holidays to everyone and I will see you in the 2014 after I've had a long nap.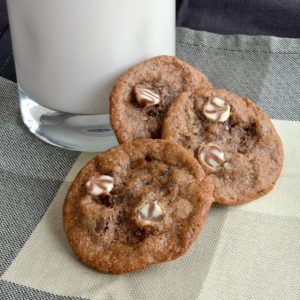 Chocolate Toffee Chip Cookies
Ingredients:
1/2 cup butter/margarine
1 cup packed brown sugar
1 tsp vanilla extract
1 large egg, room temperature
1 1/2 cups flour
2 tbsp dark cocoa powder
1 1/2 tsp corn starch
1 tsp baking soda
1/2 tsp salt
1/4 cup chocolate swirl chips
1/4 cup mini chocolate chips
1/4 cup milk chocolate chips
1/4 cup Skor toffee bits
Directions:
Turn on your oven to the lowest heat temperature. Place the butter/margarine in an oven-safe bowl (I used a glass bowl) and gently melt in the oven for a few minutes until about 1/4 of the butter/margarine is melted. Using oven mitts, carefully remove the bowl from the oven and let the butter/margarine cool.
In a separate bowl, whisk together flour, dark cocoa powder, corn starch, baking soda and salt.
Once the butter/margarine has reached room temperature, mix into brown sugar and vanilla extract with a wooden spoon. Add the egg and lightly stir until just mixed. Stir in flour mixture, chocolate chips and Skor toffee bits. Do not overmix, stir until the dough just comes together.
Place plastic wrap over the bowl and refrigerate the dough for a couple hours, no more than 24 hours.
Preheat oven to 350*F and prep your baking sheets with parchment paper or silicone liners.
Roll the chilled cookie dough in 1/2 tablespoon round balls and place on the prepared baking sheets. Bake for 8 minutes until the cookies are a light brown, but are still slightly underbaked.
Remove from the oven and let cool on a wired rack. Serve warm or store in an air-tight container.