Grandma Kay's Monster Cookies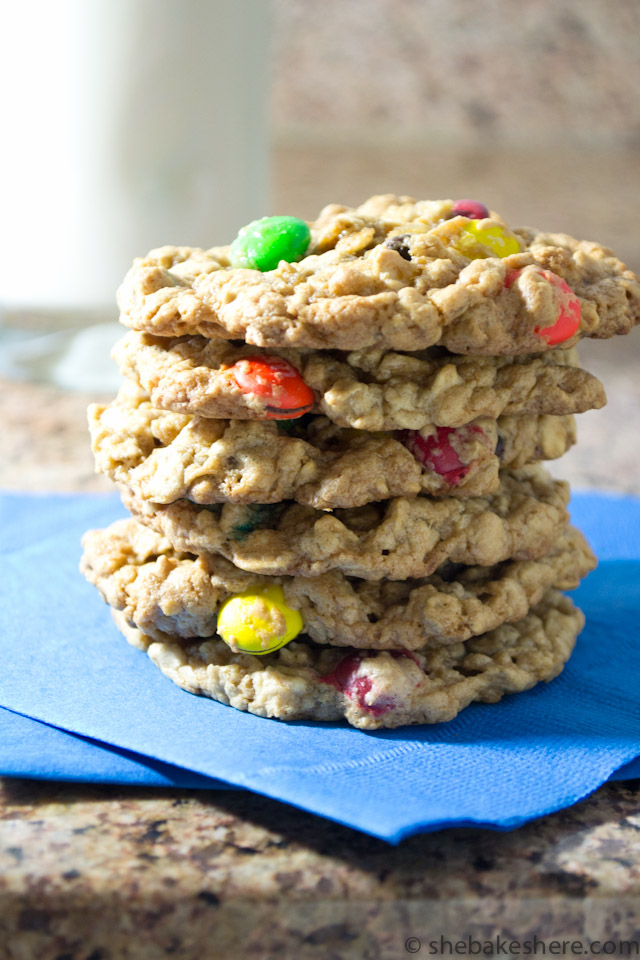 For the past month I've been making a point of going through and cleaning up old files on my computer (call it spring cleaning if you will) and a couple days ago I came across the cookbook I made for my Grandma. I filled it with family photos, fun little snippets and of course, a round-up of her most loved, family favourite recipes. Last December I hounded my Mom to send me photos from her recipe notebook and then spent countless evenings transcribing her handwritten notes. The structure of each handwritten recipe was the same: title, ingredient list, oven temperature and then total minutes (i.e. 350*F – 11 minutes). That's it. Luckily I spent a lot of my childhood and teen years observing her in the kitchen, so I was able to understand the lack of instruction for the most part, along with the help of a little kitchen intuition and of course, advice from my Mom.
Over the years I've featured a couple of my Grandma's recipes here on the blog, but it wasn't until I started the cookbook project that I was able to get her recipe for monster cookies. And after having a blast stacking cookies, taking photos and getting crumbs everywhere, I can't believe it's taken me this long to finally share the recipe. Always a crowd pleaser, monster cookies are fun, chewy cookies that are notably made with peanut butter, rolled oats and filled with lots of chocolate chips and M& M's. As former peanut butter loathing child, I always wondered why my Grandma had jars of the stuff in her pantry and now I think I have my answer.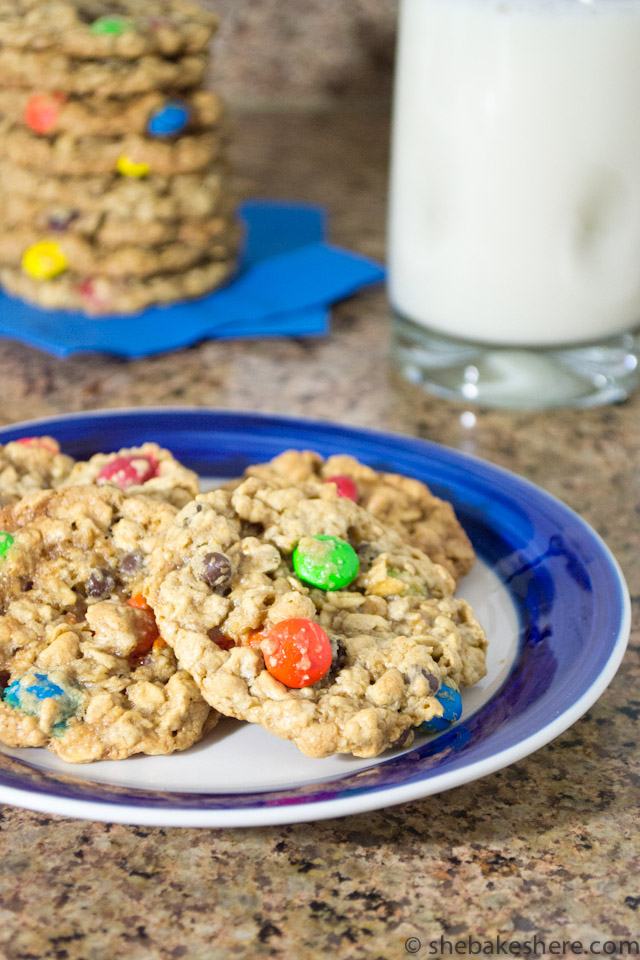 I've heard of people using ice cream scoops to make giant versions of these cookies (hence the name "monster cookies"), but I opted for normal size using a plain old cookie scoop. Of course, this resulted in over 7 dozen of the crazy things, but I just convinced myself that this way I would get to eat three cookies instead of one (three is always better than one when it comes to cookies). Since there are only two of us, I did end up taking a large container to my office on Monday morning for my co-workers to enjoy. Of course, this was after Trevor and I ate our fair share alongside a glass of milk (me) and a scoop of homemade coconut milk ice cream (him).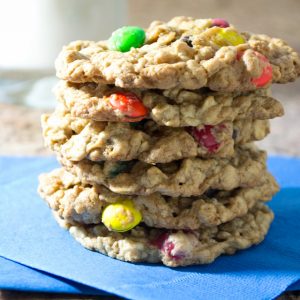 Grandma Kay's Monster Cookies
Ingredients:
1/4 lb butter/margarine (1/2 cup)
3/4 cup while sugar
1 1/4 cup brown sugar
3 large eggs
1 1/2 cup peanut butter
1 1/2 tsp corn syrup
1/2 tsp vanilla
4 cups rolled oats
2 tsp baking soda
1/2 pkg chocolate chips
1/2 cup plain M&M's
Directions:
Preheat oven to 350*F and line baking sheets with parchment paper or a non-stick silicone baking liner.
Using a stand-up mixer or hand-held beaters, cream together butter/margarine and sugars. Add eggs, one by one, peanut butter, corn syrup and vanilla.
In a separate bowl, whisk together rolled oats and baking soda. Add dry ingredients to wet ingredients until well-mixed. Stir in chocolate chips and M&M's.
Using a cookie scoop, drop dough into mounds on baking sheets, spaced 2 inches apart. Bake for 9-11 minutes until golden brown (cookies will spread). Remove from the oven and cool on a wired rack. Store in an air-tight container.