Healthy Green Tea Whoopie Pies (Toronto Bakes for Japan)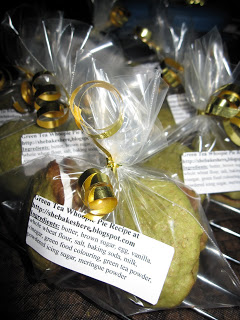 EDIT: Hundreds of bakers, dozens of volunteers, thousands of baked goodies, over the course of two days and six locations and word on the street is that we have surpassed our $10,000 goal. Thank you Toronto for opening your wallets and hearts to us in the name of helping people in Japan. In the next few days, there will be a more defined amount of money, but I am so proud to have been a part of this amazing event!
Here is the second item I have made for Toronto Bakes for Japan. Tomorrow morning, I'll be at the Amaranto Cafe to help sell these and many other goodies with the other volunteers.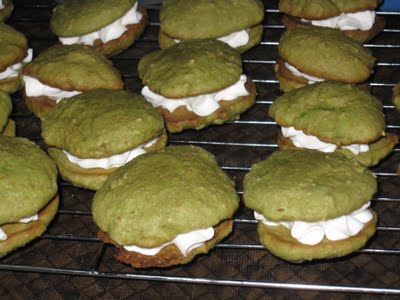 Although these aren't really deemed "healthy" with all the butter and icing, I decided to go with whole wheat flour again to offset all of the sugar. You are still welcome to use regular all-purpose or cake flour if that is what you prefer.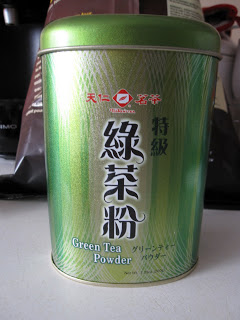 The green tea powder was purchased at Ten Ren, an excellent tea shop in the GTA.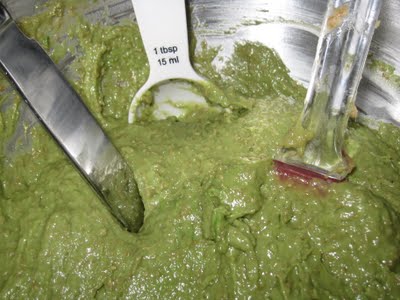 I added the green tea powder to a wonderful vanilla whoopie pie recipe from Petitechef.com I found while surfing around the internet. I only added a little bit as I was worried it would turn out too bitter and I had read that this can be a common problem when baking with green tea powder. The batter wasn't as green as I wanted and too much of the brown whole wheat flour was peeking through, so I cheated and added a touch of green food colouring to balance it out.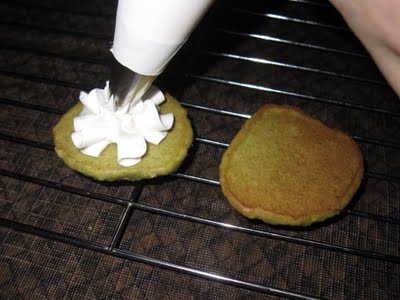 The icing I used was the Wilton's buttercream icing recipe I learned from my Michael's cake decorating class. I used a piping bag to the cookies, as I thought it would look prettier than just plopping it down with a spoon.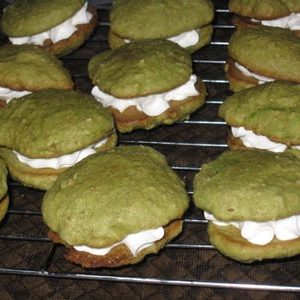 Green Tea Whoopie Pies
Ingredients:
2 cups whole wheat flour
1/2 tsp baking soda
1/4 tsp salt
1/2 cup butter, softened
1 cup brown sugar, packed
1 egg
1 tsp vanilla
3/4 cup buttermilk (or 3/4 cup milk, 1 tsp vinegar, let sit for 5 minutes)
2 tsp green tea powder
Green food colouring
Directions:
Whisk together dry ingredients.
In a separate bowl, mix butter and brown sugar until light and fluffy. Add egg and vanilla and mix until well incorporated.
Alternate adding dry mixture and buttermilk and beat after each addition until combined. Add green tea powder and green food colouring and mix well.
Drop in 1/2 tsp sized dollops on a parchment-lined cookie sheet (cookies with rise when baking).
Bake in preheated oven at 350*F for 10 minutes until tops are set and edges are slightly brown. Let cool on wired rack.
Pair up properly sized cookies together and fill one side with favourite choice filling. sandwich the cookies together.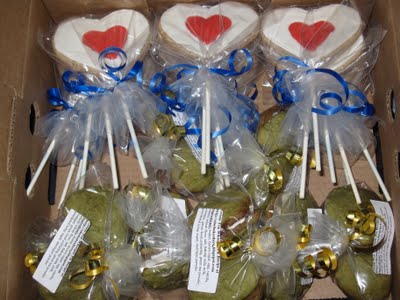 I'm all set for tomorrow! Today was the first day and over $5000 was raised! Hopefully if you are in Toronto, you can check out pictures here and clear your schedule for tomorrow's baking. Besides goodies, there will also be live bands playing at select places, raffles and a silent art auction.
Full list of locations are on the Toronto Bakes for Japan website.