Pumpkin Pie Meringue Cookies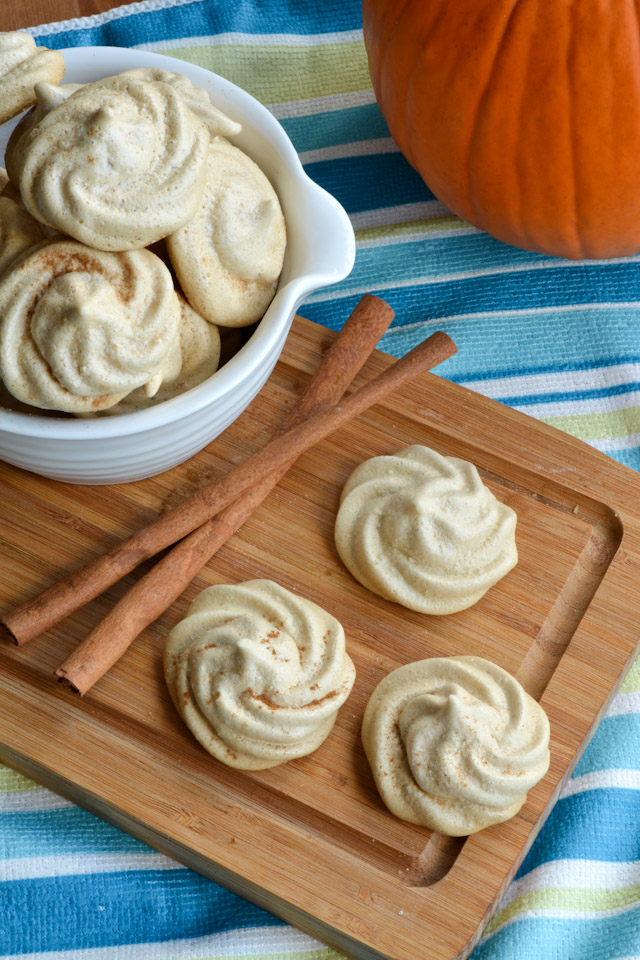 I'm pretty sure I've filled my apple baking quota for the year. Of course, we still have a fridge half full of apples, but now I'm setting my sights on my other favourite fall flavour – pumpkin. I only have two other pumpkin recipes on the blog and one of them wasn't even posted during the fall season. So for the remainder of fall (or at least until it turns bitterly cold), I'm going to attempt some more pumpkin recipes.
I realize now that in saying this, I'm actually cheating a bit on this first recipe. There is no actual pumpkin in these cookies because I wasn't sure how to combine egg whites and pureed pumpkin and come out with a meringue cookie that was still light, airy and look appealing enough to eat. Instead I made meringue cookies by replacing the white sugar with brown sugar and adding some pumpkin pie spices (cinnamon, cloves, ginger and nutmeg). Originally, I was a little worried that the egg whites wouldn't peak properly because of the higher moisture content in brown sugar verses white sugar, but I was pleasantly surprised when these cookies came together. While they were baking, the kitchen was wafted in a nice pumpkin pie smell and once they cooled, the first bite was sweet and chewy with a crisp outer shell. Perfection.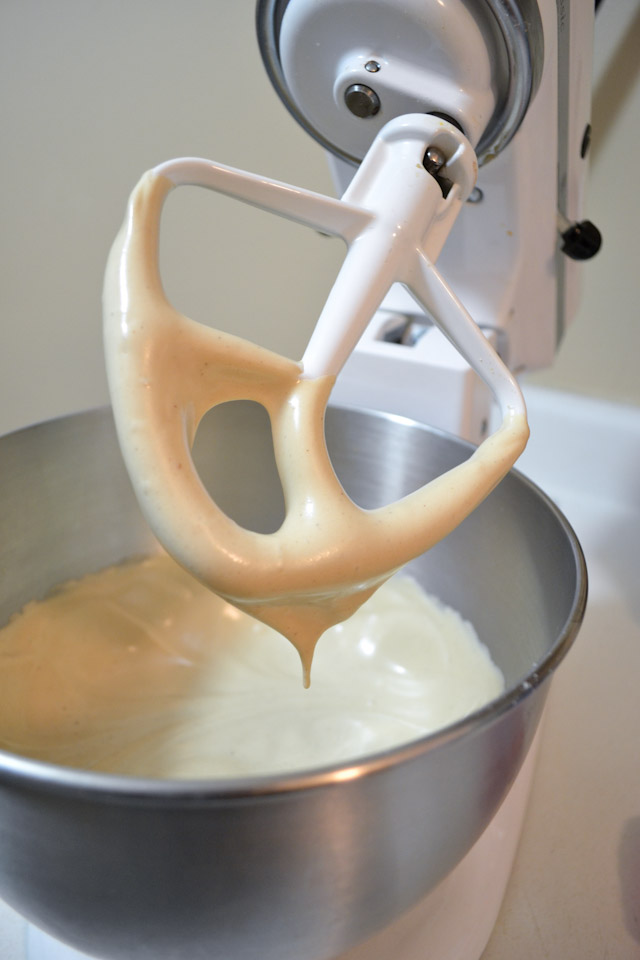 As much as I love meringue cookies, the last time I made them was during the first month of She Bakes Here. They are delicious, but I always find myself covered in a sticky mixture of sugar and egg whites. It could be because after almost 3 years, I'm still horrible with a piping bag. No matter how much I fill and twist it, in the end I always manage to get some of the bag's contents to run down my hands. I think it's really my own stubbornness. You don't need to use a piping bag to make meringue cookies, but I love the piped look so much that I always come back to it.
Besides, it's not really baking unless you make some kind of mess.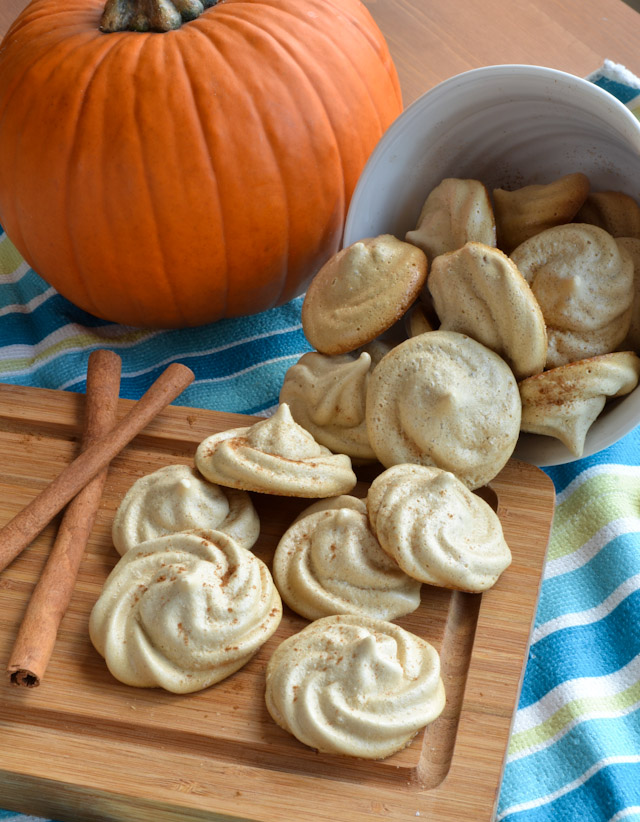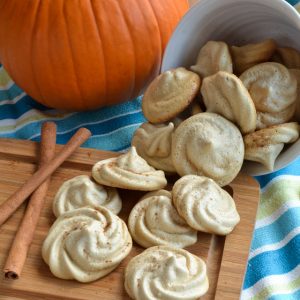 Pumpkin Pie Meringue Cookies
Ingredients:
4oz egg whites, room temperature
1/4 tsp cream of tartar
1 cup brown sugar
3/4 tsp pumpkin pie spice
Directions:
In a large mixing bowl, beat the egg whites until foamy. Add cream of tartar and continue beating at a high speed until the eggs are glossy and soft peaks foam.
Slowly add brown sugar, one tablespoon at a time. Continue beating at a high speed until stiff peaks form. Add pumpkin pie spice.
Preheat your oven to 200*F. Line your baking sheets with parchment paper or baking liners and fill your piping bag half full.
Pipe the cookies on the baking sheets and bake 1 hour 30 minutes until the cookies are hard. If you prefer your meringues to have a slight chewiness, turn off the heat and open the oven doors to cool. Otherwise bake for an additional 20-30 minutes. This baking times will also vary depending on how big you pipe your cookies.
Remove from the oven and continue cooling on the baking sheets for a few minutes. Cool completely on wired racks and store in air-tight containers.