Spiced Pumpkin Cookies with Walnuts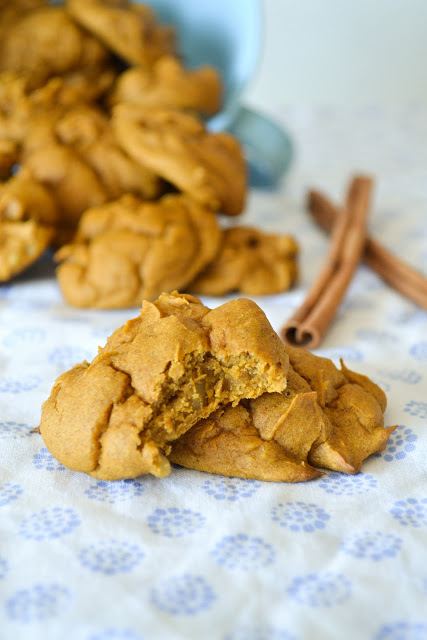 I seriously wanted to wait until September to share this recipe. The heavenly taste of these spiced pumpkin cookies made me daydream about walking through colourful, crunchy leaves, feeling the cool fall breezes on my face and seeing cute kids in Halloween costumes. I realize that last one is more of an October event, but if this was autumn now, I would have wanted to get this recipe out as soon as possible.
Hence the fact that its only May and I'm sharing this recipe now with all of you.
These cookies are amazing in so many different ways. Trevor was in the middle of doing laundry while I was baking these, and every time he re-entered he would comment on how awesome the apartment smelled. It was a mixture of pumpkin pie and spice cookies. As much as I love Bath and Body Works candles, their baking scented ones don't compare to the real thing.
(Side note: I hope that our neighbours were jealous. They always taunt us with the delicious smells coming out of their apartment just after 6:00pm every single day. This is around when I come home from work and am lamenting in front of an open fridge, frustrated with what to make because nothing in my kitchen looks appealing.)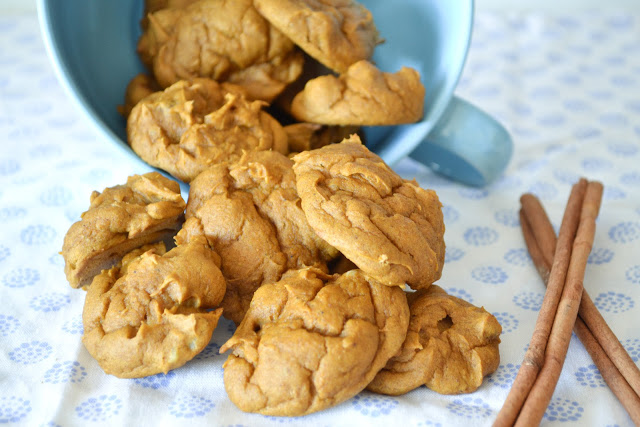 Besides the alluring smell that these cookies will generate in your kitchen, you also will not believe how easy they are to whip up. I'm talking 5 ingredients easy.
Yes, these cookies only have 5 ingredients. Whip up these 5 ingredients, you will have the most moist, soft and pillow-like pumpkin spiced cookies ever. Did I also mention how easy they are? Or how they will make your kitchen smell like you spent all morning making pumpkin pie, making you the envy of all your neighbours?
If that didn't sell you, I also want to mention that they taste like muffin tops. In my option, that is the best part of any muffins.
Now get baking!
Spiced Pumpkin Cookies with Walnuts
Ingredients:
1 box of spiced cake mix
1 large 796mL can of pureed pumpkin (NOT pumpkin pie filling)
1 tsp cinnamon
1/2 tsp nutmeg
1/2 cup chopped walnuts
Directions:
Preheat your oven to 350*F.
In a large bowl, whisk together the spiced cake mix, cinnamon, nutmeg and chopped walnuts. This will help break up the lumps in the dry cake mix.
Add the pumpkin puree and mix well, ensuring that there are no loose cake mix lumps in the batter.
Drop batter in tablespoon-sized mounds on a greased cookie sheet. The batter will hold its shape and not spread during baking, so you are welcome to crowd them.
Bake for 15-18 minutes until the cookies are slightly crackled and spring back when lightly touched. Cool on a wired rack. Store in an container in the fridge, as this will prevent them from turning soggy.