Maple Oatmeal Cookies with Chocolate & Butterscotch Chips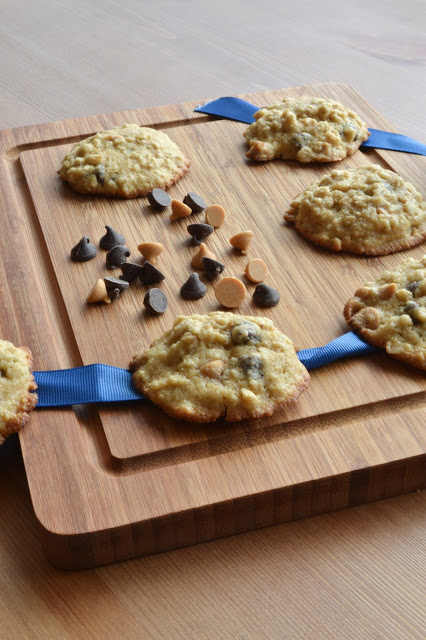 Weather wise, January has been a very confusing month. For a while, we had really unnaturally warm weather and then by the next day, it would turn on you. Sticky, wet snow. Strong, blustery winds. After a braving this weather each day after work, I've taken to spending my first hour at home curling up on the couch with a hot mug of tea, a good book and a warm blanket.
After a few days of enjoying this new routine, I knew I would have to bake something to enjoy with my tea. A girl can only eat so many snacks of carrots and apples before she starts salivating at every bakery she passes by.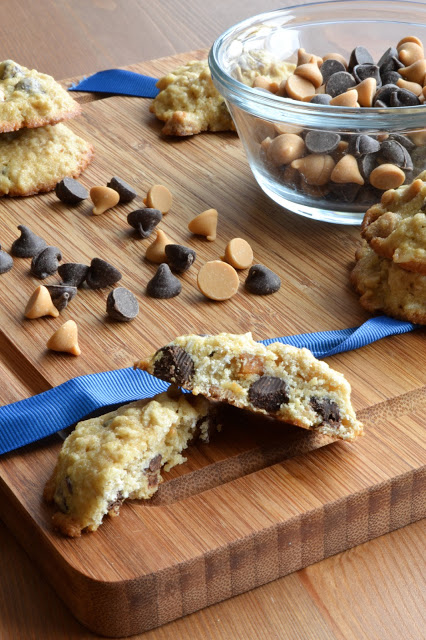 In making these cookies, I decided to try something new and this recipe marks my first attempt in baking with maple syrup.
A couple of tricks I learned when substituting maple syrup for sugar in baked goods.
– use 3/4 cup of maple syrup for every 1 cup of sugar
– reduce your oven temperature by 25*F
That last one is really important to remember since maple syrup will caramelize faster than white sugar and you don't want to have cookies with burnt edges before the middle is even set. The edges will always be a slight brown color due to the caramelized syrup, but this is normal and will not affect the overall taste in your baking.
Originally I wanted to call this recipe "Maple Oatmeal Cookies." However after making multiple batches, I realized that I had to include the chocolate and butterscotch chips in the title. Clearly they are the real stars of this recipe.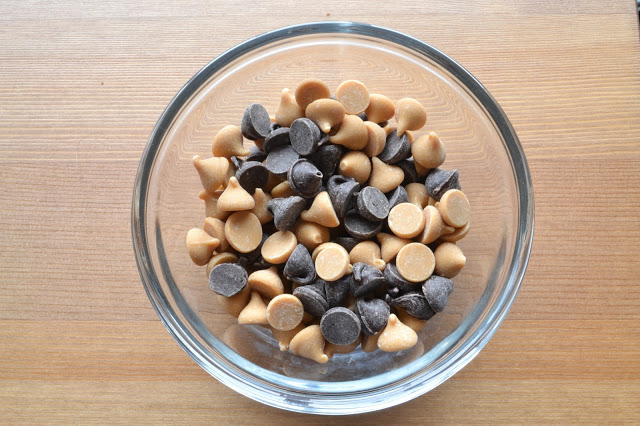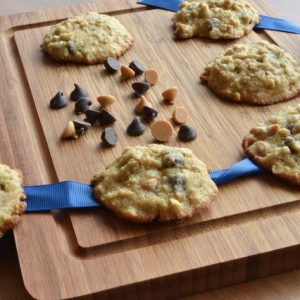 Maple Oatmeal Cookies with Chocolate & Butterscotch Chips
Ingredients:
1/2 cup butter/margarine, room temperature
3/4 cup real maple syrup
1 egg
1/2 tsp vanilla extract
1 cup flour
1 cup rolled or quick oats
1 tsp baking powder
1/4 tsp salt
1/2 cup chocolate chips
1/2 cup butterscotch chips
Directions:
Preheat your oven to 325*F.
In a large bowl, whisk together flour, oats, baking powder, salt, chocolate chips and butterscotch chips.
In a separate bowl, cream the butter/margarine. Add maple syrup, egg and vanilla.
Using a wooden spoon, gently incorporate the wet ingredients with the dry ingredients.
Drop batter by the spoonful (or cookie-scoop-ful) onto a greased or lined baking sheet. Bake for 15 minutes and allow the cookies to cool for a moment on the baking sheet before transferring to a wired rack to cool completely.