Apple and Blueberry Walnut Breakfast Quinoa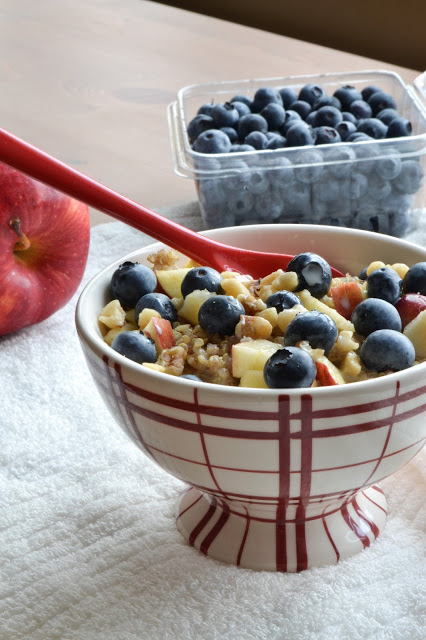 January is the month that I always find that I eat the healthiest. I stock up on portable fresh fruit and vegetables to take to work and I avoid junk food like the plague. I feel really good for about three-ish weeks and then as February starts to inch closer, I slowly fall off the wagon.
But like every year that I can remember doing this, I am thinking not this year. This year is a big wedding year, and with being a bridesmaid in one of my best friend's wedding in July and our wedding in August, I figure that this alone is enough motivation to keep on eating better.
This is one of the challenges I've faced since starting a food blog – trying to eat healthier. Since I bake something new at least once a week, its almost a guarantee that there will always be baked goods in our kitchen. That's not a lot of willpower for someone who wants to keep fitting into both a bridesmaid dress and her wedding dress in less than 8 months.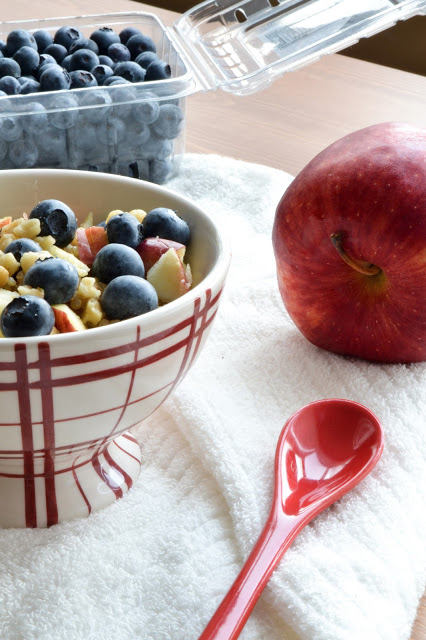 However, this is a challenge I am willing to take head on. Although I cannot completely avoid baked goods while maintaining this blog, I will try to attempt to post at least one or two healthier recipes each month. And to completely bore you, I also most likely throw in some wedding talk here and there. 🙂
To kick off a healthy recipe for the month of January, I bring you my new favourite breakfast option – breakfast quinoa! As you may know, I'm no stranger to quinoa or it's health benefits, although I think making them into cookies kind of defeats the purpose. Lately, I've been stuck in a mushy-oatmeal-every-morning-before-work rut and this recipe was just the thing to break me out of it.
The best part of this recipe is that the toppings are endless and can easily be adapted to suit your tastebuds and the variety of fresh fruit that is available. Just don't skimp on the real maple syrup, it brings out the "wow" in this recipe.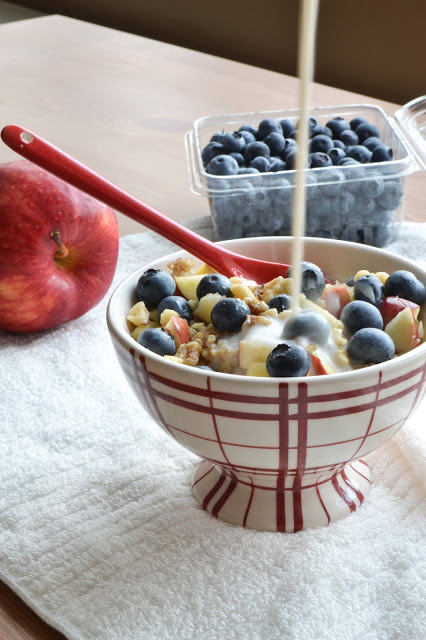 Apple and Blueberry Walnut Breakfast Quinoa
Ingredients:
Quinoa
1 cup uncooked quinoa, rinsed well
1 1/2 cups water
1 tsp cinammon
1/2 tsp nutmeg
1 1/2 tsp vanilla extract
Topping
4 tbsp real maple syrup
1 cup warm almond milk
1/4 cup chopped walnuts
1/4 cup blueberries
1 large diced apple
Directions:
Rinse quinoa very well through a strainer. Combine quinoa, water, cinnamon, nutmeg and vanilla extract in a saucepan and bring to a boil.
Reduce the heat and let simmer for 15 minutes until there is little to no liquid and the quinoa can be fluffed up with a fork.
Spoon quinoa into four bowls and drizzle with maple syrup. Sprinkle diced apple, blueberries and walnuts and add warm milk.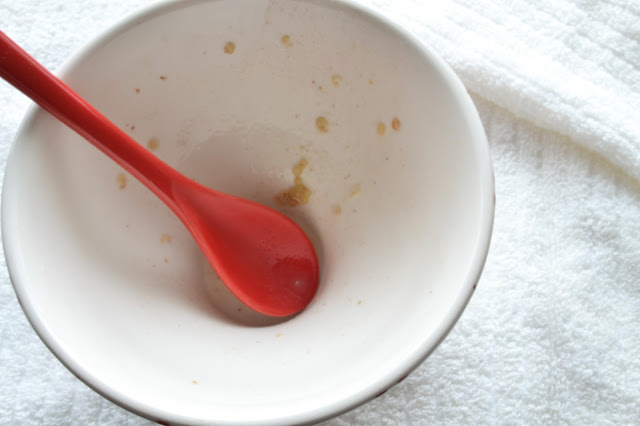 Naturally, I pretty much wanted to lick the bowl clean, but I resisted. So much crunch and texture, I may never want to eat oatmeal again! Since the recipe makes four servings, the quinoa can be refrigerated and eaten throughout the week. Just lightly reheat and throw on your toppings and you have an easy and nutritional weekday breakfast.
Note to self – schedule wedding dress appointment sometime in February.