Easy Overnight Yogurt Chia Seed Breakfast Bowl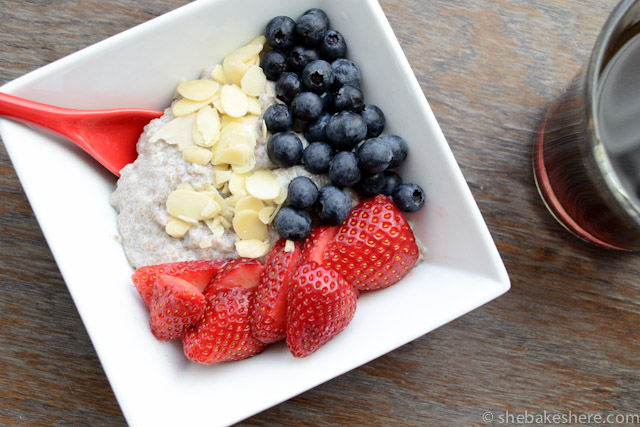 Over the years, the most popular post has been my recipe for Easy Yogurt Overnight Oats (thanks, Buzzfeed) and as the temperature continues to go up, it's easy to see why. They are super easy to make because all the prep is done the night before and you get to wake up to a cold, creamy breakfast that can be dressed up with all the fruit and toppings your heart desires. A definite plus for me because I tend to be very zombie-like first thing in the morning and the window between waking up and leaving for work tends to feel very short.
Lately, I've been posting a quick photo of my weekday breakfasts on Snapchat and it's helped me become a little more creative with what I eat. When I was a teenager, I was perfectly happy with a large bowl of Cheerios or another kind of cereal, but over the last years I've discovered that boxed cereal doesn't fill me up the same way. Right now, I'm really into simple foods with lots of veggies or fruit (hello berry season!) and anything that doesn't take a lot of time to put together.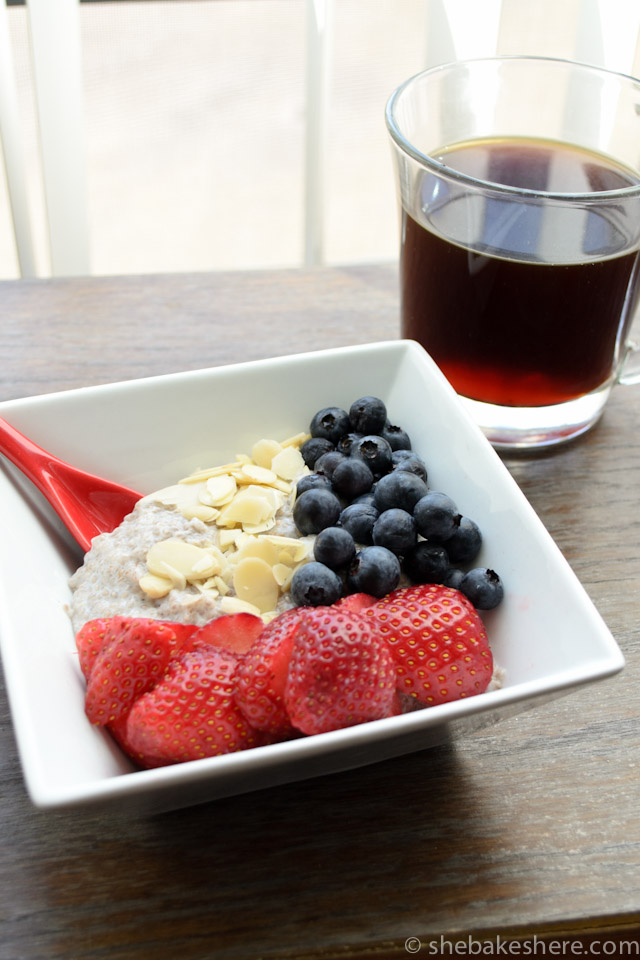 I discovered chia breakfast bowls earlier this year, but I didn't fall head over heels for them until the weather started to warm up. Chia breakfast bowls are a lot like overnight oats, only instead of soaking rolled oats, you are soaking omega-3 rich chia seeds. I was used to adding a small amount to my overnight oats, but the gel-like texture of only chia seeds in liquid took a little getting used to. You either love it or you hate it.
To make my version, I took my base recipe for my overnight oats and make a couple tweaks. Since chia seeds absorb a lot more liquid than rolled oats, I upped the almond milk to 1/3 cup and added a 100gram container of yogurt. A lot of recipes on the web tend to use milk only, but I'm a big fan of eating yogurt in the morning and a little probiotics never hurt anyone. Once the chia seeds have soaked in the fridge overnight, I stirred in some cinnamon and added my favourite fruit toppings. The toppings tend to change depending on whatever I have on hand, but some of my favourites are strawberries, blueberries, bananas, sliced almonds and chopped pecans.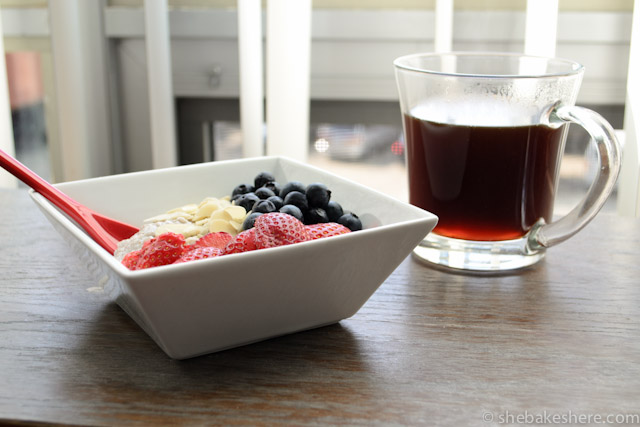 Since moving downtown and giving up my Costco membership, I've been on the lookout for a good place where I can buy large bags of chia seeds for a decent price. If anyone in the Greater Toronto Area knows of a place, please let me know. The little bags I've been buying at health food stores don't seem to last as long as I would like!
Easy Overnight Yogurt Chia Seed Breakfast Bowl
Ingredients:
3 tbsp chia seeds
100 gram yogurt cup, any flavour
1/3 cup almond milk
1/2 tsp cinnamon
Suggested Toppings
Directions:
In a small bowl, Tupperware container or mason jar, stir together chia seeds, yogurt, and almond milk. Cover and place in your fridge for a minimum of 6 hours to let the chia seeds soak up some of the liquid.
Remove the chia seed mixture from fridge and stir in the cinnamon. Add desired fruit and nuts. If the mixture is too thick for your liking, feel free to add an extra tablespoon of almond milk prior to adding the toppings.