Two Hour Homemade Cinnamon Rolls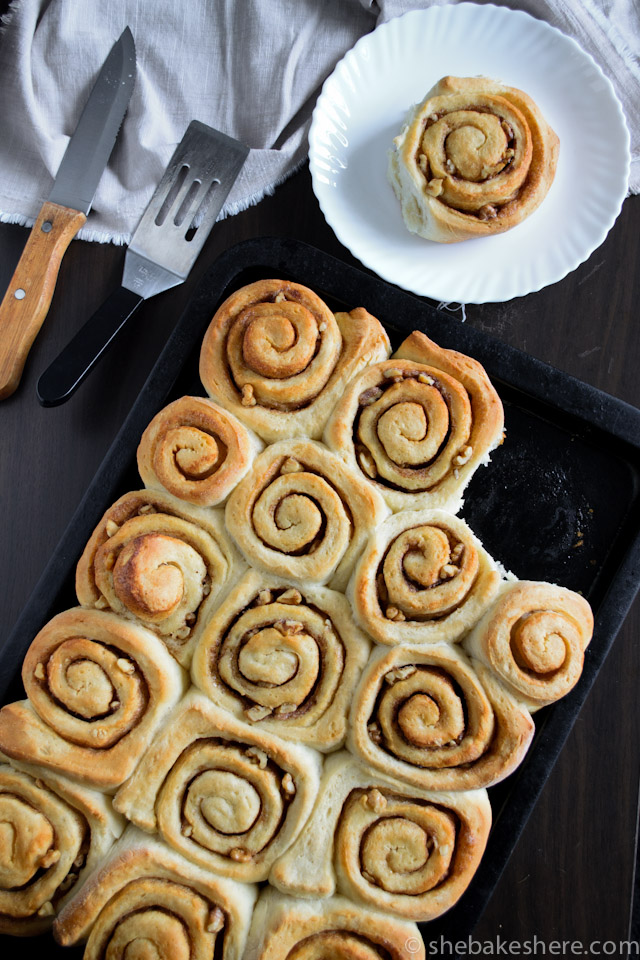 Whenever I think of my greatest food weakness, I always narrow it down to freshly baked bread. The delirious, glorious smell of fresh bread has always sent me into a complete tailspin. During my early twenties, I spent a summer during university working the storefront of a family-run bakery in Regina and it was pretty much a dream come true for me and my deep love of carbs. A good portion of my summer paycheck went back to that bakery and I would stock up on their homemade bread, dinner rolls, poppy seed loaf, and their daily cinnamon buns.
While I do love all things bread, I don't make it at home very often because I have the worst luck with homemade dough. It always ends up being too sticky or too heavy and then it would be even more temperamental when I got the rolling pin involved. You name a problem, I went through it. And when you've dealt with as many bad batches of homemade dough as I have, it becomes very discouraging very quickly.
BUT, let me tell you about this phenomenal Two Hour Homemade Cinnamon Rolls recipe I found in my Grandma's handwritten notebook. Against all odds, I could not believe how ridiculously easy it was to make. And that's coming from me, someone who has suffered through countless, horribly, sticky "what the heck did I do wrong?" batches of dough. This dough came together so quickly, rose beautiful and I almost cried tears of sheer happiness when I was able to roll and slice each perfect little cinnamon roll with ease. It was such a crazy miracle to me that I had to take photos before the second rise (below and on Instagram) to document the historic moment. My dough curse is (possibly? likely!) broken!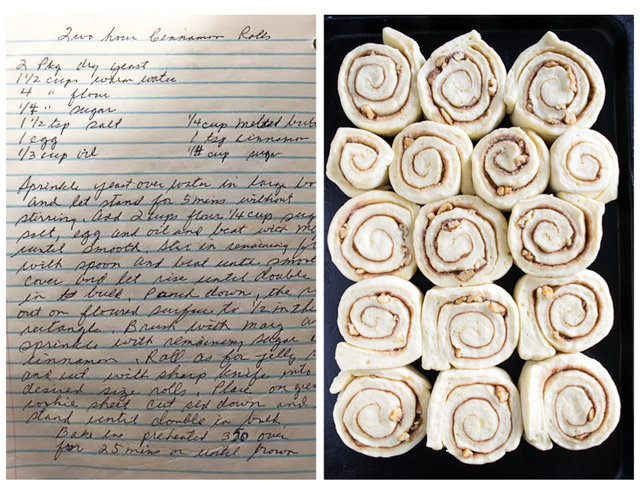 Another thing I really liked about my Grandma's recipe is that the instructions said to make the cinnamon rolls on large cookie sheet (i.e. baking sheet) rather than squished together in a pan. More room to rise and bake evenly! I'm also pretty "take it or leave it" when it comes to icing, and I wasn't in the mood to dirty up more dishes, so I didn't bother with this batch. However, if icing is your jam, my go to recipe is 2 cups of icing sugar, 1 tablespoon of butter/margarine and 2 tablespoons of milk.
Two Hour Homemade Cinnamon Rolls
Ingredients:
Dough
2 packages (1 1/2 tbsp) of dry active yeast
1 1/2 cups warm water
4 cups flour
1/4 cup sugar
1 1/2 tsp salt
1 large egg
1/3 cup oil
Filling
1/4 cup melted butter/margarine
1 tsp cinnamon
1/4 cup sugar
Optional
Directions:
In a large mixing bowl, sprinkle the yeast over the warm water. Do not mix. Let sit for 5 minutes.
Add 2 cups of the flour, the sugar, salt, egg and oil to the yeast mixture. Using a standup mixer or handheld beaters, beat the mixture until smooth. Add remaining 2 cups of flour and continue mixing until a soft dough forms. Cover the bowl with plastic wrap and a towel and place in a warm area away from drafts for 40-45 minutes until the dough is double in size. My favourite place to let dough rise is in the oven (just don't turn it on).
Punch down the dough, remove from the bowl and knead once or twice on a clean, floured surface. Using a rolling pin, roll the dough out into a large rectangle that is roughly 1/2 inch thick. Brush the rectangle with melted butter/margarine and sprinkle with sugar/cinnamon mixture. If using, add chopped walnuts.
Roll the rectangle into a log tightly towards yourself (starting with the edge farthest away) and pinch the edges together when you reach the end. Slice the log into 12-15 rolls and place on a large, lightly greased baking sheet. Cover and let rise for another 25 minutes until the rolls have double in sized. During this second rise, begin preheating the oven to 350*F.
Bake the cinnamon rolls for 25 minutes until they are golden brown. Remove from oven and let cool. Serve immediately.