Whole Wheat Cookie Dough Bites (No-Bake)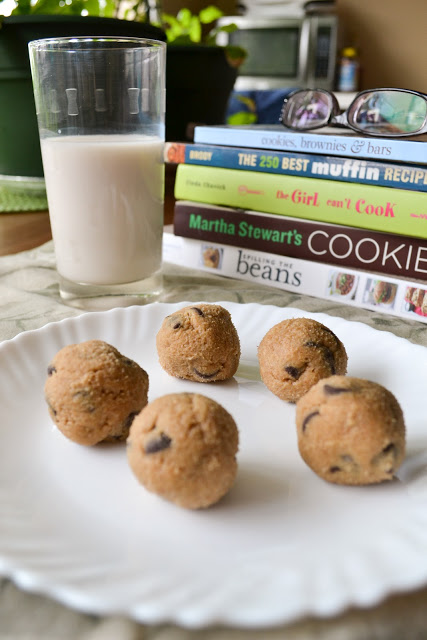 Of course, once the heat wave was here, it left almost immediately. Ever since Friday, we've had nothing but cloudy skies with cold blasts of wind and rain. Oh, there will be the odd moment the sun will peak out of the clouds, but now it's like someone turned the dial back on summer and now we're experiencing the spring weather we missed for most of May.
Um….yay!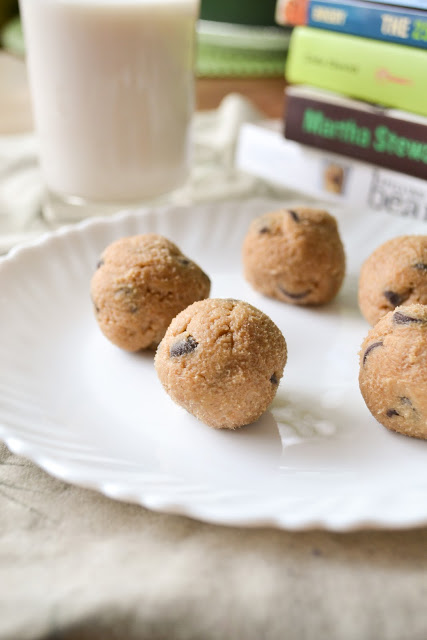 Even though it was cold afternoon and there was nothing stopping me from turning on my oven, I still wanted to make this recipe. The rainy weather had me craving cookies, milk and a good book to curl up with. Of course, I ended up doing things a little differently with cookie dough balls, almond milk and cookbooks. 🙂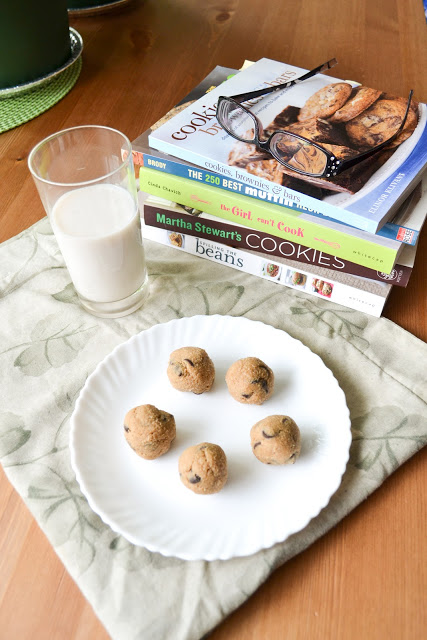 Trevor raved about these cookie dough bites and he even said they tasted like the bits of cookie dough in cookie dough ice cream. Of course that meant that I had to try making it, but that of course is a recipe for a later date.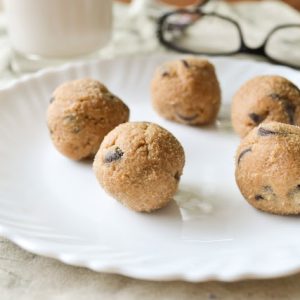 Whole Wheat Cookie Dough Bites (No Bake)
Ingredients:
1/2 cup butter/margarine, room temperature
3/4 cup brown sugar
1 tsp vanilla
3 tbsp almond milk (or milk of your choice)
1 cup whole wheat pastry flour
Dash of salt
3/4 cup chocolate chips (I used carob chips)
Directions:
Line a baking sheet with wax or parchment paper.
In your mixing bowl, cream together butter/margarine, brown sugar, vanilla and almond milk.
Using a wooden spoon, add whole wheat pastry flour, salt and chocolate chips. Dough will be a little sticky.
Form into tablespoon-sized balls and place on baking sheet. Place in the freezer for about 30 minutes to firm up.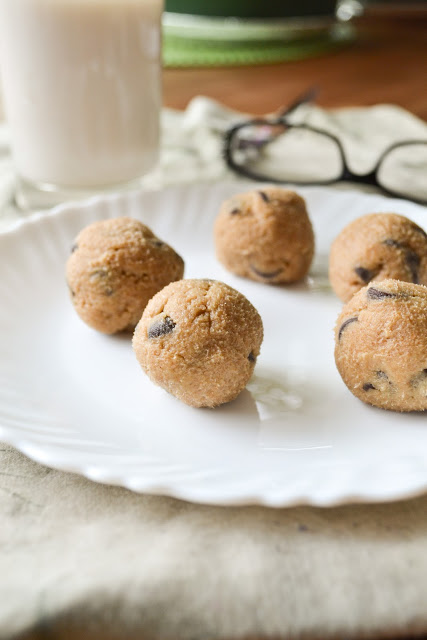 I have to admit, I'm really enjoying doing this whole "no bake" thing and leaving my oven off for the summer. I'm starting to discover a whole new world of desserts and treats. It's been so much fun, I'm almost tempted to rename the blog "no-bakes here!" (or she no-bakes here!)
Okay, I'm done now. 🙂