Peanut Butter Thumbprints with Raspberry & Blueberry Jam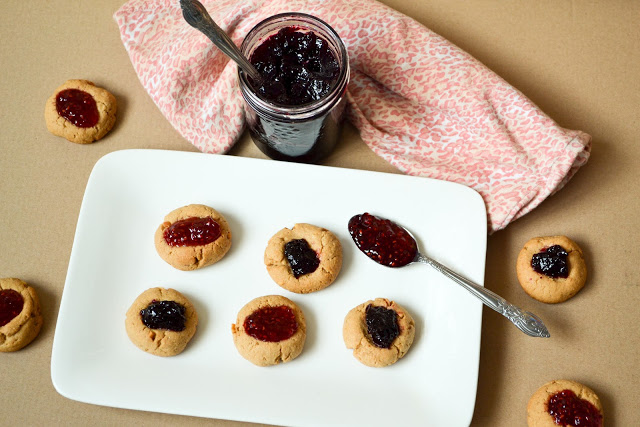 Now that it is the middle (and almost the end) of September, I realize that this back-to-school themed treat may be a little late. I made these almost a week ago, but it's only now that I've finally found the time to sit down and write about them.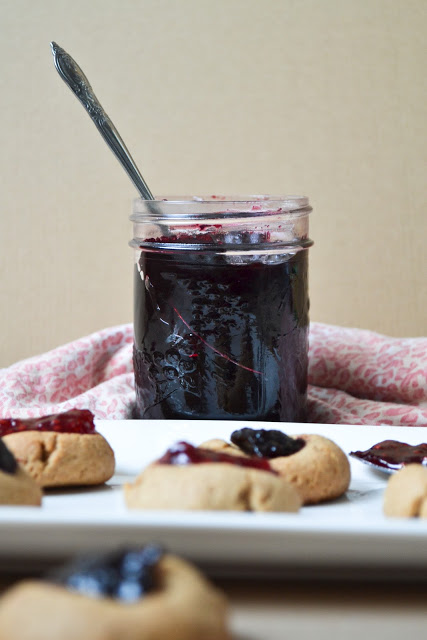 The funny thing is that in October, my life about to get even busier (more about that at the bottom of the post.) I had every intention to bake/shoot/post these delicious morsels a few weeks ago, but between helping move my brother back to university, Trevor's sister Erin visiting, and planning my October (again, bottom of post), I feel fortunate enough to have found time to get enough sleep.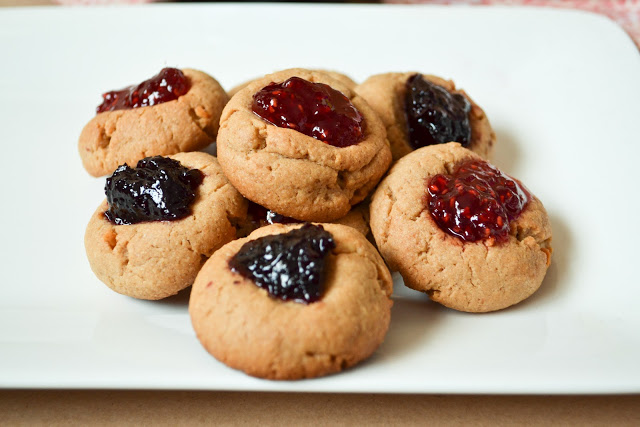 The peanut-buttery and sweet jam taste of these cookies have always make me nostalgic for back-to-school season. It may be because peanut butter and jam sandwiches were all the rage in my grade school. The funny thing is that I didn't have a pb&j sandwich until my first year of university, where the dorm food was bland and colourless, and homemade meals were best made cheap, portable and in advance. The moment this sweet and crunchy combination hit my lips for the first time, I was in shock and awe over how much I had been missing out on over these years. Who knew that a squished, brown and red (strawberry jam) sandwich could be so heavenly and delicious?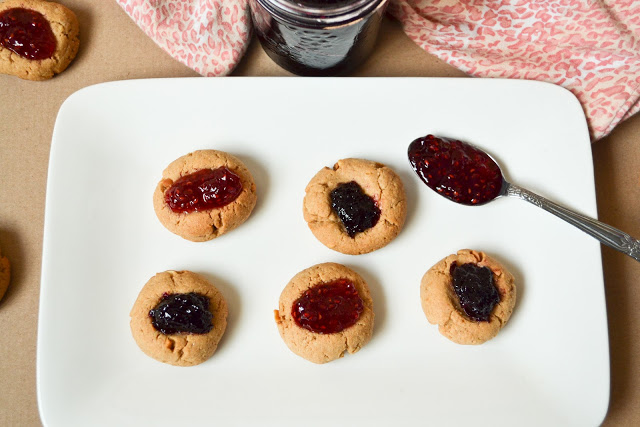 Although peanut butter is banned from most school lunches now (for good reason, of course), I knew that I wanted to recapture this nostalgic feeling in an awesome, portable snack. Thumbprint cookies are not a new or clever thing to blog about by all means, but with a delicious glass of cold milk, I dare you to find someone to turn them down.
What really makes this recipe shine is the homemade jam I received from my Grandma. Trevor and I burn through this stuff like crazy, so I had to put aside a few jars especially for this recipe. Well worth the sacrifice.
Peanut Butter Thumbprints with Raspberry and Blueberry Jam
Ingredients:
1/4 cup butter/margarine
1/2 cup packed brown sugar
1/2 cup of chunky peanut butter
2 large eggs
1 tsp vanilla extract
2 cups flour
1/4 tsp salt
Raspberry jam
Blueberry jam
Directions:
Using a standard mixer, beat together butter/margarine, brown sugar and peanut butter until well combined. Add the eggs, one at a time, beating well after each addition. Add vanilla extract.
In a separate bowl, whisk together flour and salt. Gradually add flour mixture to wet mixture and beat on low speed until well combined.
Cover bowl with plastic wrap and refrigerate for approximately 1 hour. Just before you remove the dough from the fridge, begin preheating the oven to 350*F.
Shape the chilled dough into balls, approximately 2 tablespoons in size. Place the dough balls on baking sheets and lightly press your thumb into each ball to leave an indentation.
Bake for 12 minutes or until lightly browned. Remove the cookies from the baking sheet and cool on a wired rack.
Spoon about 1/2 teaspoon of jam into the indented center of each peanut butter cookie.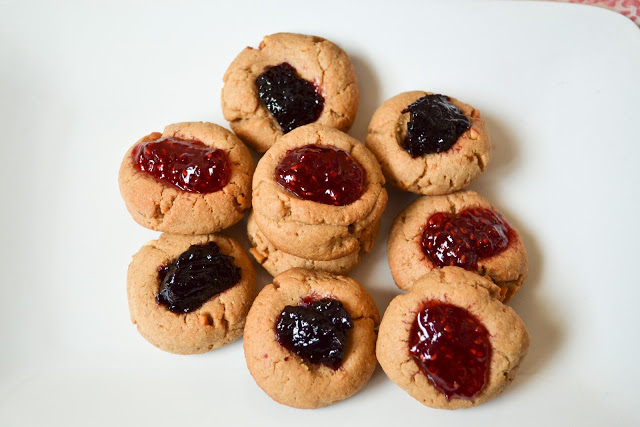 So here is my crazy October news: I'm going on a trip to Japan! I honestly can't believe it, but it's true! Starting October 1st, I'll be in Japan for three weeks with my Grandma and my Mom and we'll be visiting relatives, eating fantastic food and soaking up the Japanese culture. I've never been to Japan before, so this is very crazy and exciting for me. My Japanese is very limited to what I can remember learning in university class, but luckily I still have my textbooks so I'll have something to read on the plane.
I hope to keep She Bakes Here updated during that time, although it may be more about the food I'll be eating rather than the food I'll be baking. I need to find a camera bag for my beloved Nikon, so I may just be posting photos from time to time while I'm there. Another way to keep up with my travels during this time is to follow me on Instagram, as I'll will definitely keep everyone updated with new photos.
Enjoy the cookies everyone!