Chocolate Espresso Graham Crackers (Whole Wheat)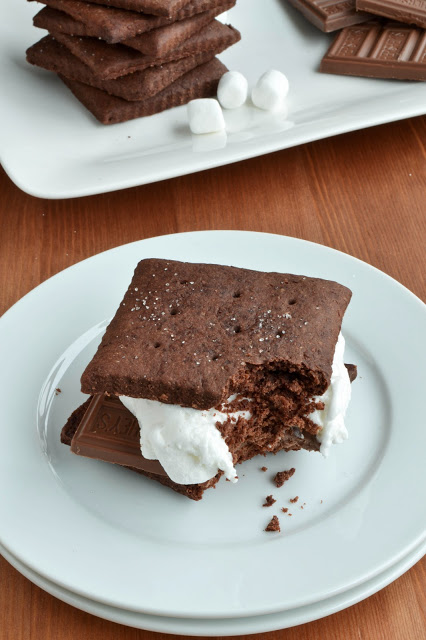 Do you ever have days where you just want to stay home and eat chocolate?
I feel like I've been having those kind of days a lot lately, especially on the weekends. Sometimes I crave a good stay home day where I get to lounge around in my pjs and catch up my reading. Or my tv shows. Or even my blog reading. I swear, I'm so behind on my favourite baking blogs. What's the cool thing to make these days? I need to know because I feel like summer is approaching and I'm running out of days where I can use my oven.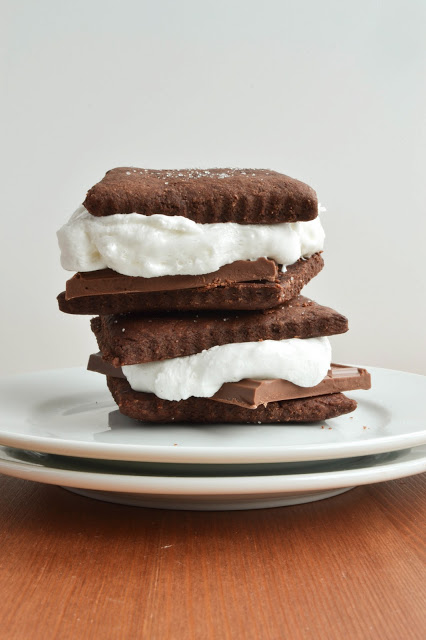 Now that summer is approaching and with the weather warming up, I'm being brought back to the mindset of finishing school for another year and looking forward to the summer ahead. It's been 10 years since I graduated from high school and 5 years since I graduated from university, so I find it kind of funny that this time of year always brings out this kind of nostalgia.
The warm weather also brings me back memories of camping with my family. We had a fifth-wheel trailer and I remember during the summer we took it around British Columbia and later Southern Ontario. One of my favourite memories of camping was spending the evening by the fire-pit cooking s'mores. The chocolate bar of choice was always Hershey Milk Chocolate and teenager me always thought it was stingy to only use one square since the melted chocolate would barely cover the entire graham cracker. Now that I'm a responsible adult, I find it perfectly acceptable to use more.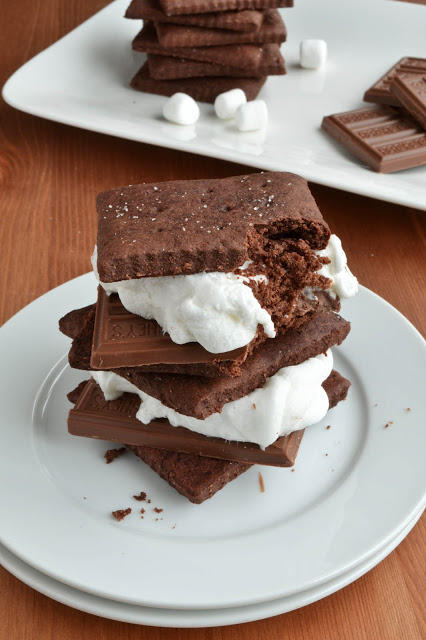 Although we live in the city now and we do not own a fire-pit, this didn't stop me from making my own s'mores and this started with making my own graham cookies. To encompass my "grown-up" tastes (ha!) I substituted some of the flour for cocoa powder and added a touch of espresso powder to really bring out the chocolate-y goodness I bet you thought I was kidding when I said I wanted to stay home and eat chocolate. When I want chocolate, I really want chocolate and these really fit the bill on my craving.
I hesitated to call these true graham crackers because the result is more of a soft cookie than a crunchy graham cracker. I rolled the dough as thin as I could manage without losing my mind (and without tearing the dough cut-outs) and it still ended up a little thicker than I expected. The photos also make them look very crumbly, but these guys were fresh out of the oven that morning when I was taking my photos. After hanging out overnight in a sealed container, I found that they hardened up a bit more and became a bit crisper.
Chocolate Espresso Graham Crackers
Ingredients:
2 1/2 cups soft whole-wheat flour
3/4 cup cocoa powder
1/2 cup brown sugar
1/2 teaspoon baking soda
1 tsp baking powder
1/2 tsp salt
1/4 tsp cinnamon
1/4 tsp espresso powder
1/2 cup cold butter/margarine, cut into cubes
2 tbsp honey
2 tbsp molasses
1 tsp vanilla extract
1/2 cup cold water
Granulated sugar for sprinkling
Directions:
In a large bowl, whisk together soft whole wheat flour, cocoa powder, brown sugar, baking soda, baking powder, salt, cinnamon and espresso powder until there are no clumps.
Using a pastry cutter and cut in the cold butter/margarine until it resembles fine crumbs in the flour mixture.Add honey, molasses, vanilla extract and cold water. Stir with a wooden spoon until the soft dough comes together. Wrap in plastic wrap and chill the dough for a couple hours (one hour at the most).
Preheat oven to 350*F and line your baking sheet with parchment paper or baking liners.
Remove chilled dough from the fridge and roll out on a floured surface. Cut out in your desired shapes and place on baking sheet. Before placing in the oven, poke holes in the cookies to let them breathe and sprinkle with granulated sugar.
Bake for 12-14 minutes until the edges are lightly browned. Remove from oven and let cool on a wired rack.