Berry Blasted White Chocolate Cookies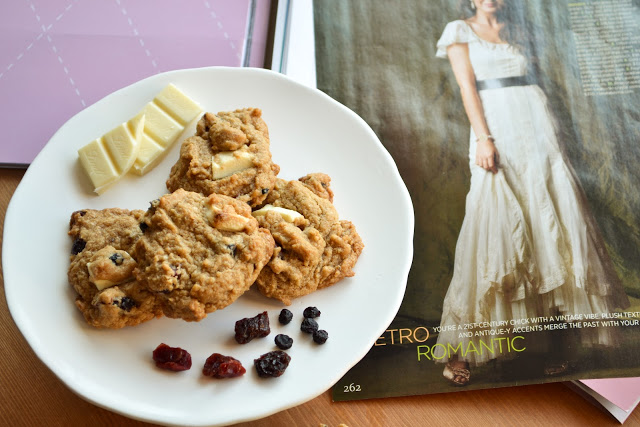 I apologize for the next upcoming year. I have a feeling that there is going to be a lot more wedding talk on She Bakes Here. 🙂
Don't worry, there will still be cookies, muffins and lots of photos of other baked goods. Recipe postings will still continue, only now there might be an update here and there about our wedding plans. With less than a year left, we really have to get a move on, seeing as how we barely know what we're doing and even if we're doing it right.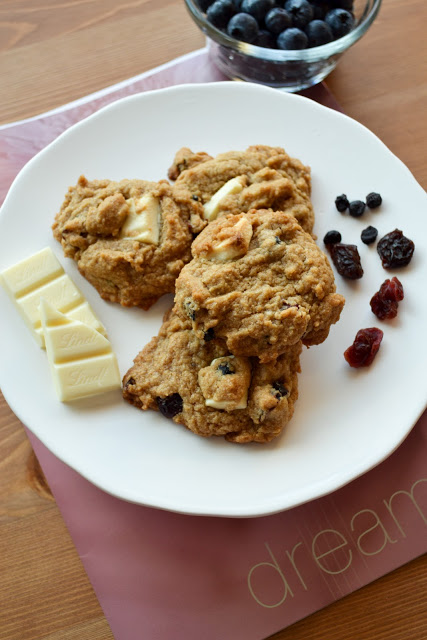 August was a very busy month in terms of contacting and meeting with potential vendors. We took a weekend trip to visit some out-of-town venues and now we're in the final stages of securing our favourite place. I've been drooling over some wedding photography portfolios and now we're meeting a local photographer in October. He came highly recommended by another person we contacted who ended up being unavailable for our date and if we end up booking through this referral, we've been told that we can get a free engagement photoshoot (still trying to convince Trevor on this one.)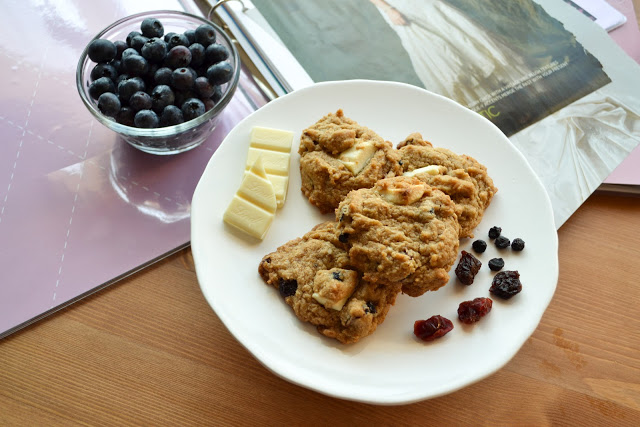 Speaking of Trevor, he's been really sweet through all of this. He was quiet through most of the venue meetings, but he enjoyed the freebies we received, like coffee, cookies, flowers and champagne. He's even looking forward to the meeting with the photographer, although I suspect that this more of the visual effects side of him talking. Most of the time I suspect that he's a moment away from rolling his eyes over my constant wedding chatter.
A couple nights ago, I managed to do the impossible and had him help pick out wedding invitations. A few weeks ago, I ordered some sample designs from Wedding Paper Divas and when the package arrived on Wednesday, we spent the evening flipping through them. Most of the ones I ordered I'm not too fond of anymore (it's amazing how much can change in a few weeks), but we've narrowed it down to this one as a potential candidate. Nothing to fancy or floral, just simple like us
Also, that simple white dress in the above first picture? Currently my favourite one in the magazines I've managed to get my hands on. If I can find anything close to that design in a decent price range, I will be one happy camper.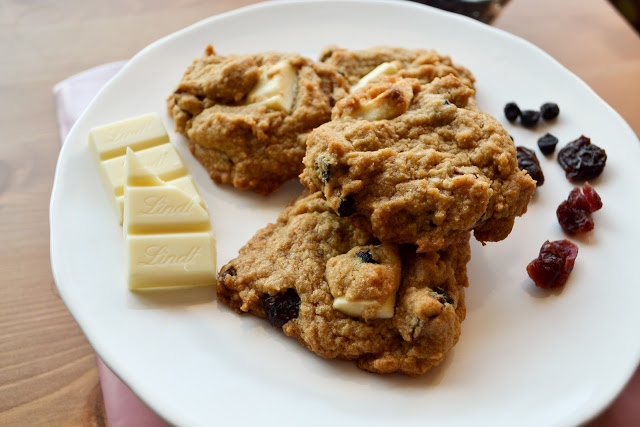 With all this wedding stuff going on, the weekends that I usually reserve for baking have slowly been eaten away. We've been coming back home with our hands full of booklets and our brains stuffed to the brim with information, completely exhausted and ready to just zone out in front of the TV. Plus with the heat wave in Toronto (uh, hello fall?!?), I've not really been in the mood to turn on my oven for something other than supper.
These cookies stemmed from an idea I've been sitting on for a while now. Originally I wanted to use just blueberries, but this changed when I found the package of dried fruit that also included dried cherries and cranberries. I was so excited that I rushed straight home from work to make them. Paired with huge chunks of melty white chocolate and you can't go wrong with this easy drop cookie recipe.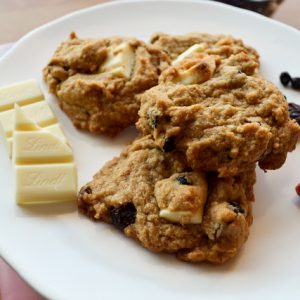 Berry Blasted White Chocolate Cookies
Ingredients:
2/3 cup sunflower oil
3/4 cup brown sugar
1/4 cup soy milk
1 tsp vanilla extract
1 tbsp flour
2 cups of flour
1/2 tsp baking soda
1/4 tsp salt
3/4 cup dried berry mix, chopped
1/2 cup white chocolate chunks
Directions:
Preheat the oven to 350*F.
Whisk together the oil, brown sugar, soy milk and 1 tbsp flour. You should do this for a few minutes until the mixture is caramelized. Add the vanilla extract.
Add half of the flour, baking soda and salt and mix well. Add the remaining 1 cup of flour, dried fruit, white chocolate and mix well until no more flour is visible.
Drop mounds approximately 1 1/2 tbsp in size on a greased baking sheet. Slightly flatten the dough to ensure the cookie will be cooked evenly.
Bake for 5-8 minutes until the edges are a golden brown. Leave on the baking sheet to cool for one minute before transferring to a wired rack to cool. Store in an air-tight container.