Peanut Butter Drizzled Banana Walnut Cookies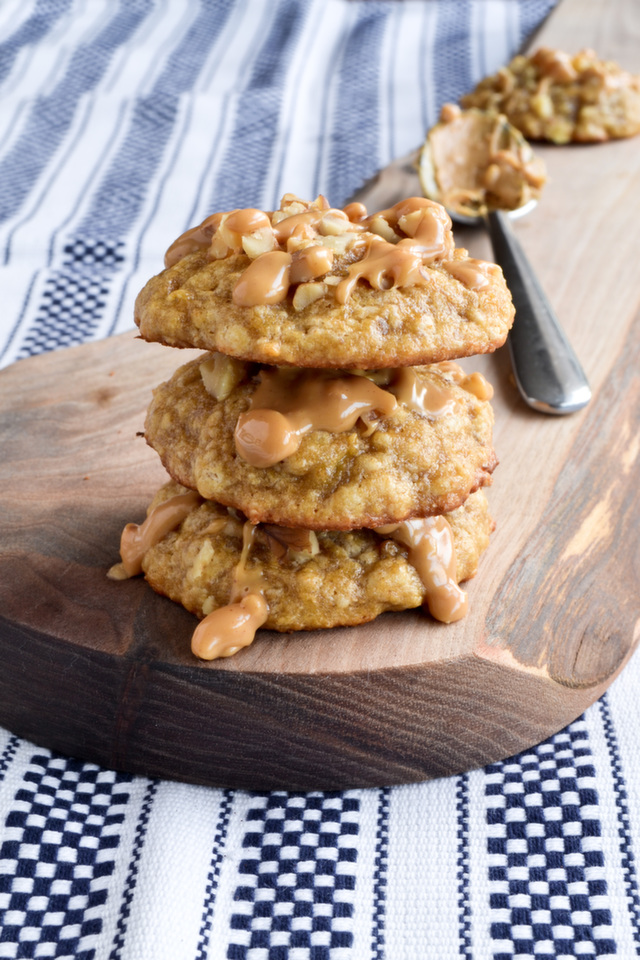 The fall season tends to give me two types of feelings. One is the need to organize all the things. This feeling is usually fulfilled with cleaning every inch of our apartment, sorting and donating a bunch of the stuff we no longer use (mostly clothing) and creating new organized ways to live our lives (i.e. cupboard organizers). Previously in our university days, this type of feeling used to be achieved by watching an Oprah special or a particularly depressing episode of Hoarders. Now, I find that the organization bug hits me twice a year: once in the spring and once in the fall. Our apartment has never looked better.
The other feeling that hits me is a weird type of nostalgia. I could blame it on the fact that its September and this time of year is usually reminiscent to those returning to school. However, it's been 5 years since I said goodbye to my post-secondary career and graduated my way out of tuition fees and overpriced "mandatory" textbooks purchases. Now that I think about it though, this feeling started last week when Trevor and I spent a rare, quiet evening at home enjoying some scotch (him), red wine (me) and flipping through old bands and songs generated from a recent BuzzFeed list. Sometimes I feel so muddled down with trying to keep track and remember things on a daily basis that I am shocked to find out that I can recall lyrics from songs I haven't listened to in probably a decade. It leaves me with a feeling of wondering "what part of my brain did I drag that information from?"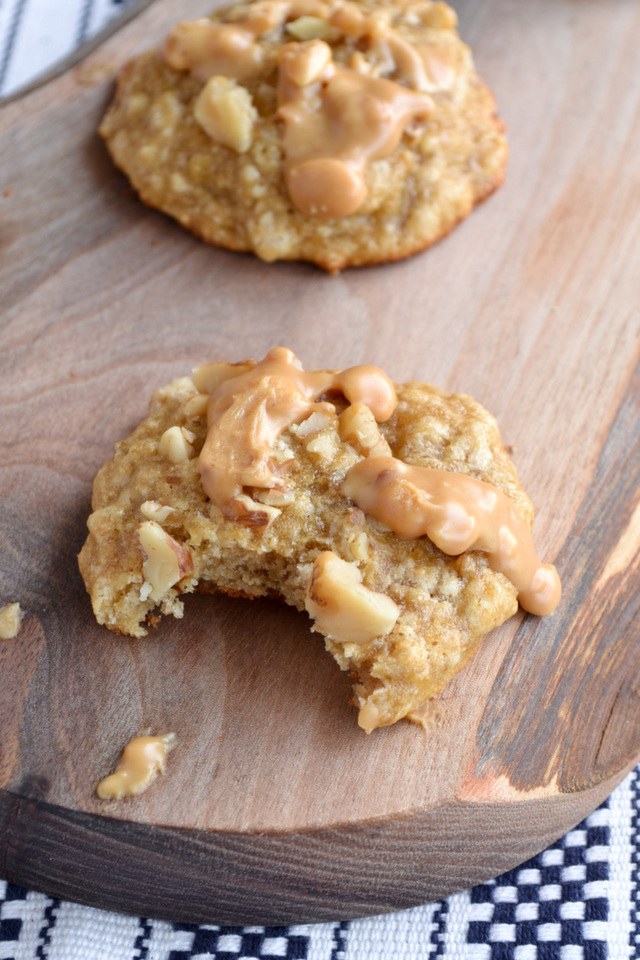 If I had extra space in my brain to remember song lyrics from bands such as Eve 6, then I wish I could locate the part of my memory that keeps track of my baking. Before the summer, I purchased a small notebook so I could keep track of the baking ideas I kept generating whenever I was nowhere near a pen and paper. Lately though, I've been flipping through my notebook and looking at my previous recipes only to discover that…..I already made this two years ago. This has happened more than once so already I'm a little weirded out.
When I was dreaming up this banana cookie recipe on my commute home from work, I had that nagging fear in the back of my mind that I had already made something similar. I was convinced that I had already made these cookies or at least some kind of hybrid of this recipe, such as where I used almonds or pecans instead of the walnuts I was now intending to use. When I arrived home, I went straight to my computer (still wearing my shoes I may add) and did a quick ingredient search on She Bakes Here. Just to play it safe, I also did a keyword search to pull up every banana-related mention I've made in the last 3 years.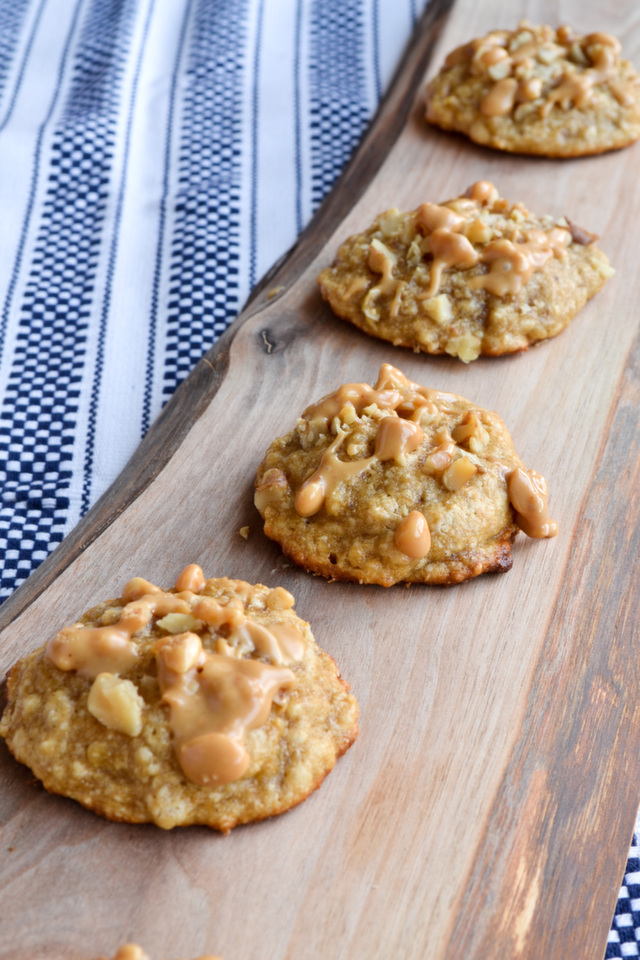 The results pulled up nothing except for the honest reality that I bake with a lot of bananas. And I mean a lot! Five recipes came up for 2013 alone. A search for peanut butter yielded similar results, but luckily nothing vaguely related to this recipe. Whew.
By the way, is five in one year a lot? It seems like it is, but I guess this is what happens when you have a seemingly endless supply of bananas and peanut butter in your cupboard. Ingredients like these are handy since they're always in season. It becomes a different story when you want to make something with strawberries, but it's December and you might as well take yourself out for supper for the amount you'll probably shell out for the berries.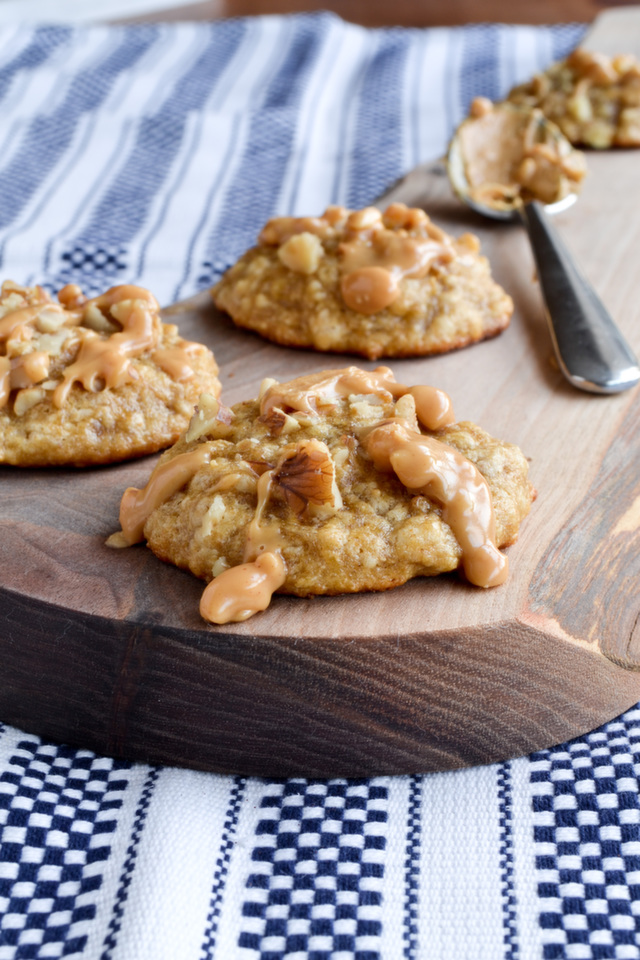 Making these cookies barely made a dent in our banana and peanut butter supplies, but they were fun to bake and very much reminded me of a soft bite-sized cookie version of banana walnut muffins. The peanut butter is a nice added touch for those who love to mix bananas and PB flavours together, but this isn't necessary if you prefer the flavour of bananas on their own. I will point out though that the walnuts are a must because they off-set the softness of the cookie with a nice added crunch.
Peanut Butter Drizzled Banana Walnut Cookies
Ingredients:
2 cups flour
1 tsp baking powder
1/2 cup butter/margarine
1/2 cup brown sugar
2 small bananas
1 egg
1/2 tsp vanilla extract
1/4 cup milk
1/2 cup chopped walnuts
1/4 cup peanut butter (for drizzling)
Directions:
Preheat your oven to 350*F. Line your baking sheets with parchments paper or a baking mat.
In a large bowl, sift together flour and baking powder. Using a pastry cutter, cut in the butter/margarine until the mixture is crumbly. Stir in brown sugar.
In a separate bowl, mash the bananas. Add in egg, vanilla extract and milk and beat gently with a fork.
Add the banana mixture to the flour mixture and stir with a wooden spoon until well combined.
Using a cookie scoop, scoop out batter onto a prepared baking sheet. Sprinkle with chopped walnuts.
Bake for 10-12 minutes until the cookies are a golden brown. Immediately remove from the oven and transfer to a wired rack to cool completely.
In a microwave safe bowl, heat the peanut butter in 15 second intervals. Stir the peanut butter between each interval until the mixture is smooth. Drizzle over the cookies and serve.