Banana Fruit Bread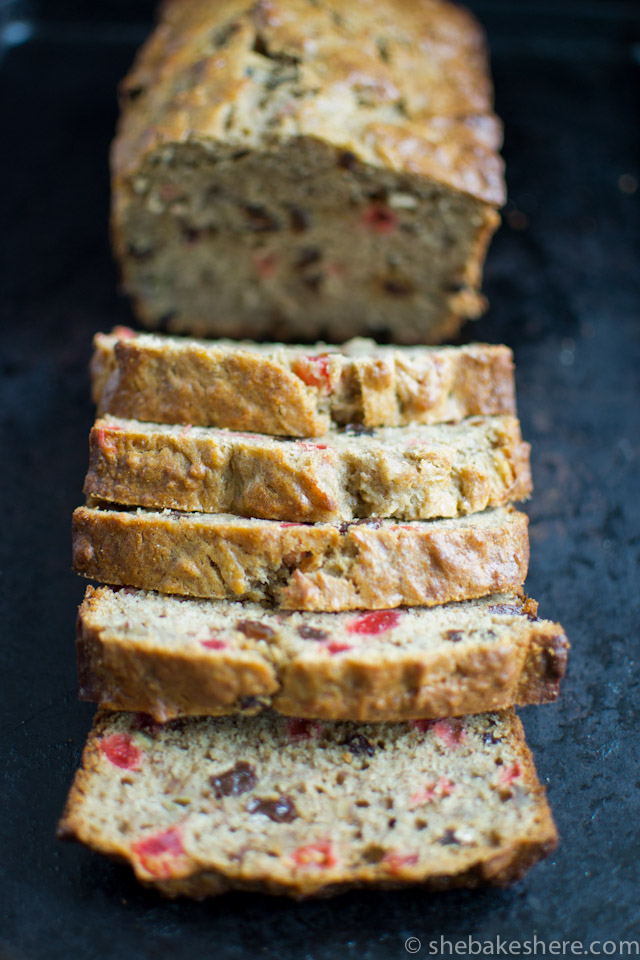 The last few months have been difficult since my Grandma passed away. Late last year we were informed that her cancer had returned and then she left peacefully in the second week of January. I barely had a chance to register the former and then we were thrown head first into Christmas. Suddenly we were wrapping presents, baking and making the most of the holidays. On January 2nd, a couple hours before our plane was to leave, I hugged her and silently wished her goodbye in my head because I knew I would never be able to say the words out loud.
We're now nearing the end of February and I'm still at the stage where I feel like every time I turn around, I'm reminded that she's gone. I wake up in the morning and it takes me a second, but it's there, that lingering feeling. I'll be in my kitchen cooking or baking and that feeling will occasionally wash over me. My 31st birthday was earlier this month and for a fleeting moment on that day, I remembered how she used to call me and send me well wishes. At some point, I know this feeling will lessen, but right now I'm still waiting for that moment to happen. Waiting for it to get easier.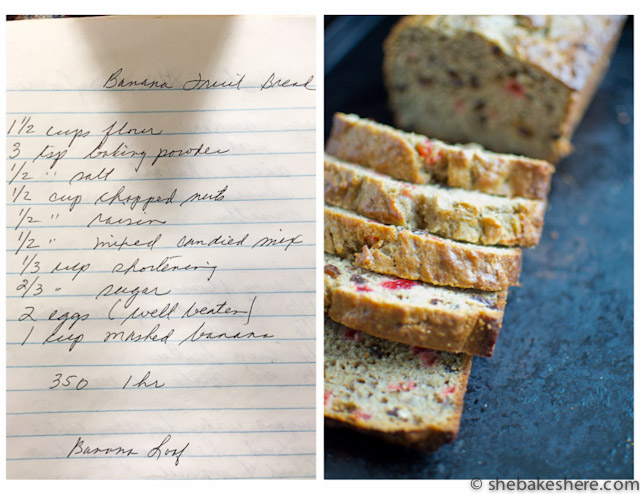 I made this Banana Fruit Bread from her recipe notebook on one of the last days of our Christmas holidays. We didn't have candied fruit mix, but she informed me that the glace cherries I brought from my own fridge would work. I sliced the cherries into quarters and added raisins and chopped pecans to the banana-filled batter. A day after it had baked and cooled, we enjoyed a thick slice and watched a 3-hour TV marathon of Border Security: Canada's Front Line. Sometimes when I close my eyes, that memory still surrounds me and I feel as though we're both curled up watching TV on the loveseat in my parents' sunroom watching stupid people try to sneak things over the border.
I feel so grateful that I was able to know my Grandma for over 30 years. There is no shortage of memories, between pouring over and gossiping about stories in the National Enquirer, baking with her in her kitchen and picking raspberries, vegetables and at one time apples in her backyard garden. The fact that I was able to spend one last Christmas with her and hug her goodbye will always be something that I will cherish.
But that aching feeling right now doesn't make it any easier.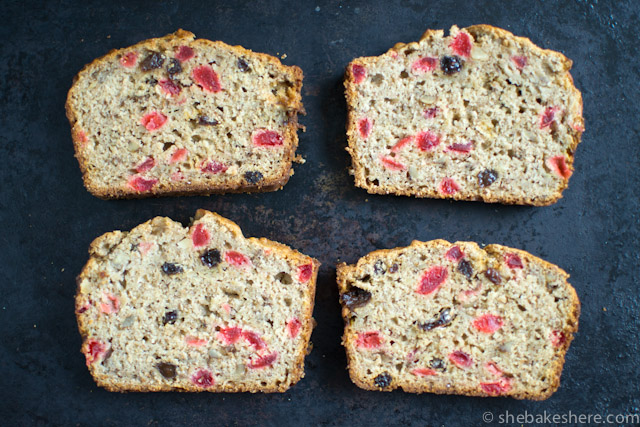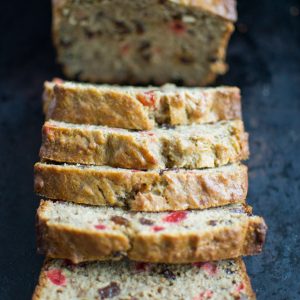 Banana Fruit Bread
Ingredients:
1/3 cup shortening
2/3 cup brown sugar
2 eggs, well beaten
1 tsp vanilla
1 cup mashed bananas (about 2-3 bananas)
1 1/2 cups flour
3 tsp baking powder
1/2 tsp cinnamon
1/2 tsp nutmeg
1/2 tsp salt
1/2 cup chopped nuts (either pecans or walnuts)
1/2 cup raisins
1/2 cup candied fruit mix*
Directions:
Preheat your oven to 350*F and lightly spray your loaf pan.
In a large bowl, cream together shortening and brown sugar. Add eggs, vanilla and mashed bananas and continue mixing until well-combined.
In a separate bowl, whisk together flour, baking powder, cinnamon, nutmeg, salt, chopped nuts, raisins and candied fruit mix* (see Notes). Gradually add the flour mixture to the wet mixture, stirring gently with a wooden spoon until no more flour is visible.
Bake for 1 hour** until the top is a golden brown and a toothpick inserted in the middle of the loaf comes out clean. Remove from the oven and let cool in the pan for 10 minutes. Remove from the pan and continue cooling on a wired rack.
Notes:
*Instead of candied fruit mix, I substituted 1/2 cup of finely chopped glace cherries. Maraschino cherries will also work.
**I recommend checking your loaf at the 50 minute. My loaf still needed the extra few minutes, so I made a little tin foil tent to prevent the top from browning too much.