Cookie Dough Banana Soft Serve "Ice Cream"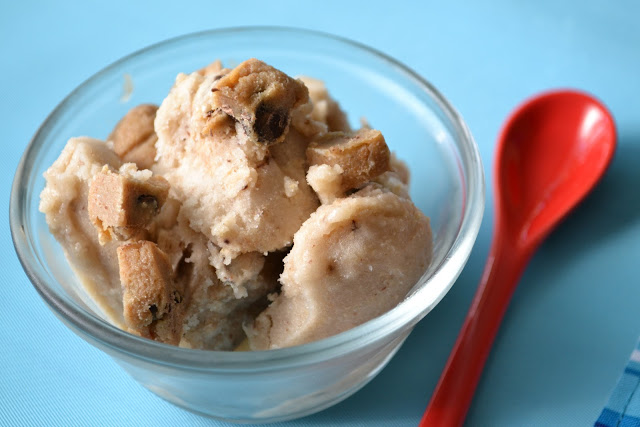 In the beginning of June, I made whole wheat cookie dough bites and later in the week when the humidity rose in our apartment, it took all of our willpower not to gobble them down.
Before I posted the recipe, I mentioned that Trevor compared the bites to the little bits of cookie dough in ice cream. Not that he really eats ice cream, but I'm sure that memory of being a kid and being able to digest it is still stuck in his head.
With this in mind, I set out to make a homemade dairy-free cookie dough ice cream substitute that he could enjoy. Just so I could stop getting dirty looks for wanting to keep the real thing in the freezer for me.
I present to you….Cookie Dough Banana Soft Serve "Ice Cream!"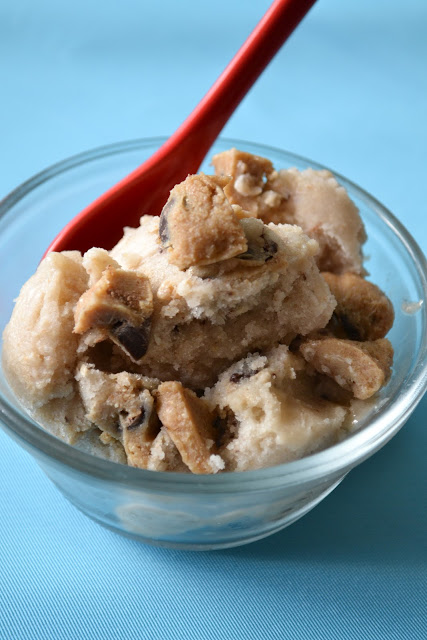 Last summer, I discovered banana soft serve on one of my favourite vegan websites and it's been a great dairy-free treat substitute for Trevor every since (plus it's a great way to get rid of ripe bananas that lurk in the back of your freezer.) Adding a few cookie dough bites to the mix was the perfect way to change up such an easy recipe.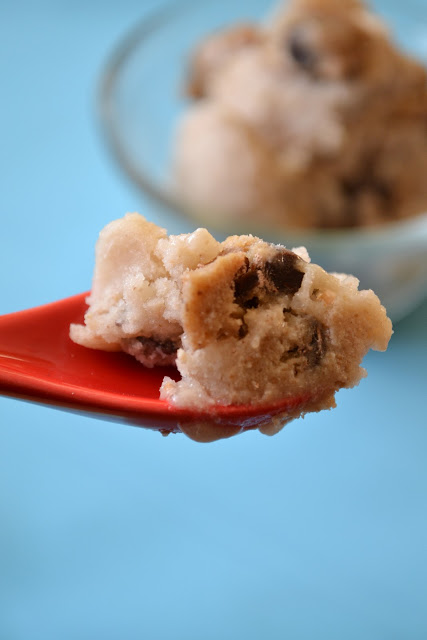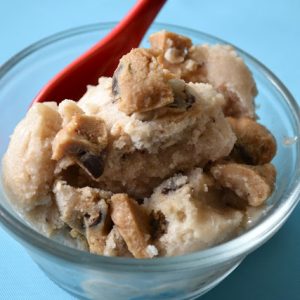 Cookie Dough Banana Soft Serve "Ice Cream"
Ingredients:
2 large ripe bananas, frozen
Splash of vanilla extract
Handful of cookie dough bites, cut into quarters
Optional: up to 1/4 cup of almond milk
Directions:
Cut up the frozen bananas into smaller chunks and puree until smooth in a food processor. You may have to turn off your machine a few times and push the banana chunks closer to the blades.
Add the vanilla and if more liquid is needed, add a little bit of almond milk. The contents should still be thick, but not too watery.
Once the banana puree is smooth, add two whole cookie dough bites (or more) to help mask the banana taste. For easier pureeing, take the chocolate chips out of the bites as these may take longer to grind up.
Pour the banana/cookie dough puree into a freezable container or a large freezer baggie and place in the freezer for approximately 3 hours or overnight.
Scoop out the contents with an ice cream scoop and garnish with chopped cookie dough bites.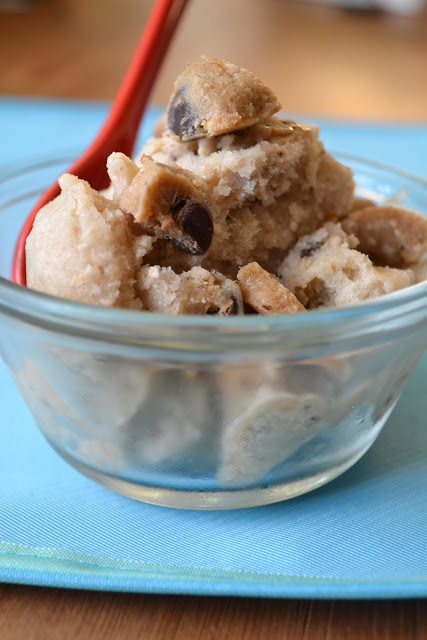 Did I mention that I could eat this all summer? (Sorry Trevor) Bring it on, Toronto humidity! 🙂