White Chocolate Red Velvet Cookies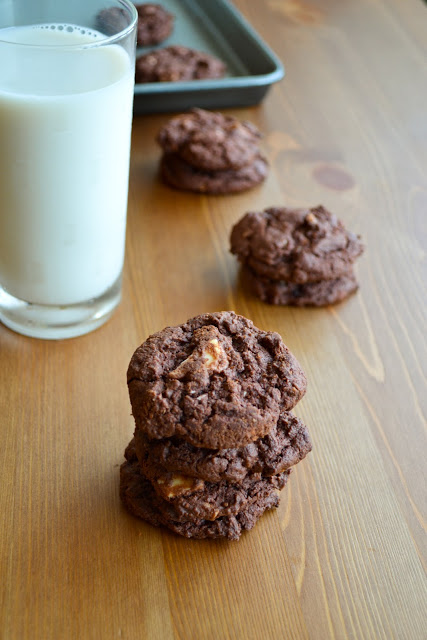 Sometimes the best therapy is baking cookies.
It can make a Friday night more bearable when your boyfriend is stuck working late and your friends cancel plans with you at the last minute.
Or also because you spent twice as long getting home from your daily commute from work since it's summer time and apparently summer time also means road construction season.
And because you came home to an empty fridge and ate cold leftover pizza for supper, which is a little sad because its also the same cold, leftover pizza you brought to work for lunch.
But mostly it's because nothing is more wholesome than baking cookies. It makes a home feel like a home and can bring a smile to any face. Whenever I move to a new place, I try to bake cookies within the first week. Despite being surrounded by boxes and usually having to dig out the essential spatula and baking sheets, I find that it brightens up the place. Plus it's a nice break from unpacking.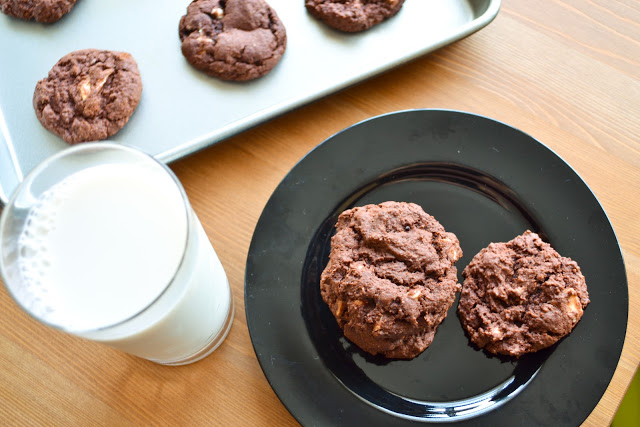 We haven't moved, I'm just making a point. Sometimes baking cookies just fixes everything.
These cookies are just like your standard chocolate chip cookies, and by that I mean if standard chocolate chip cookies had a rich and chocolatey red velvet flavour with melted white chocolate chunks. Next time I may add a little more than the standard 1/2 cup of chocolate and a little more red food colouring to make the colour pop. What can I say? I'm hard-core.
About as hard-core one can get while baking cookies on a Friday night.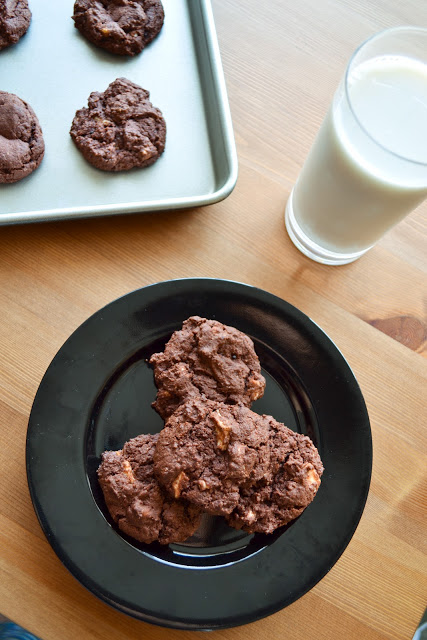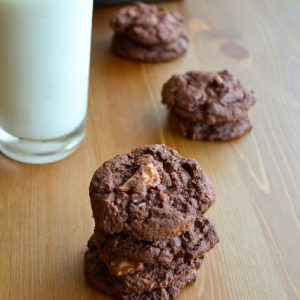 White Chocolate Red Velvet Cookies
Ingredients:
1/2 cup butter/margarine
1/2 cup white sugar
1/2 cup brown sugar
1 egg
2 tsp vanilla
1 tsp red food colouring
1 1/2 cups flour
1/3 cup cocoa powder
1 tsp baking soda
1/4 tsp salt
1/2 cup white chocolate, chopped up
Directions:
Preheat oven to 350*F.
In a large mixing bowl, beat together butter/margarine, white sugar and brown sugar. Add vanilla and egg. Mix together, scraping down the sides and add red food colouring.
In a separate bowl, whisk together flour, cocoa powder, baking soda and salt. With a wooden spoon, add dry ingredients to wet ingredients. Stir together until just combined.
Add white chocolate chunks and marvel at how it looks in the red cookie dough.
On a greased cookie sheet, scoop out dough in tablespoon sized mounds and bake for 5-7 minutes. Let cool on a wired rack.