Soft-Baked Chocolate Chip Peanut Butter Cookies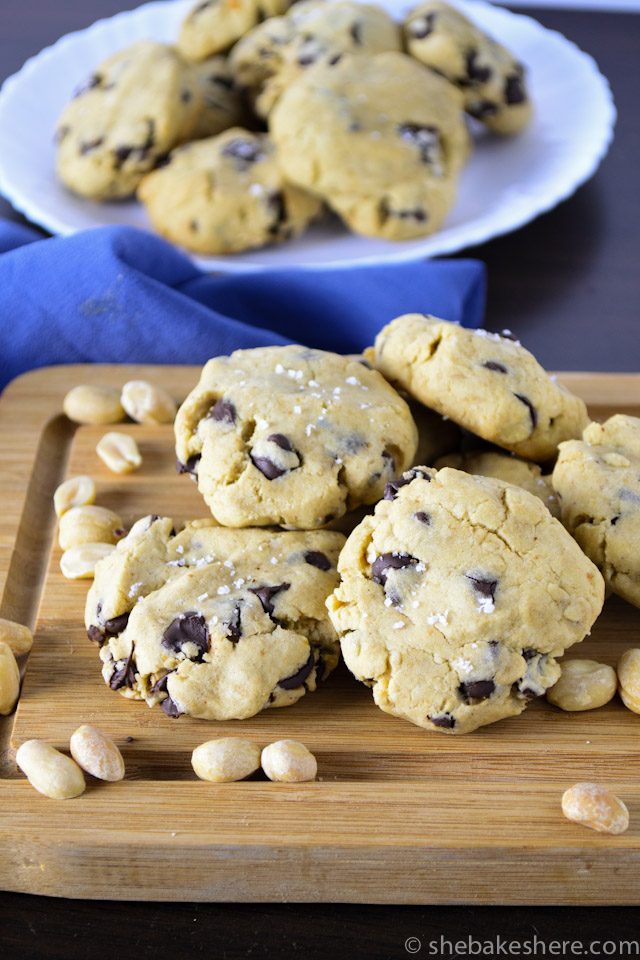 I can't believe that I almost forgot to post this recipe for Soft-Baked Chocolate Chip Peanut Butter Cookies. Do you want to know what reminded me? Here it is – scrolling through my own Instagram account. I spotted a photo I had posted over a month ago of these cookies cooling on a rack on my kitchen counter and my jaw dropped when I found these photos still on my camera. Am I the only person who does that? Forgetting to edit photos and post recipes I mean, not scrolling through one's own Instagram profile. I like to at least pretend that everyone secretly checks out their own account from time to time.
Forgetfulness aside, posting these cookies seems incredibly well-timed. For the last few days, I've been on a total peanut butter kick. Peanut butter on toast in the mornings, peanut butter on crackers in the evening. I even spread a little peanut butter ontop of a couple Oreo cookies a couple nights ago. I thought Trevor was going to have me committed, but then he swooped in and used his own Oero to swiped a bit of peanut butter off my cookie.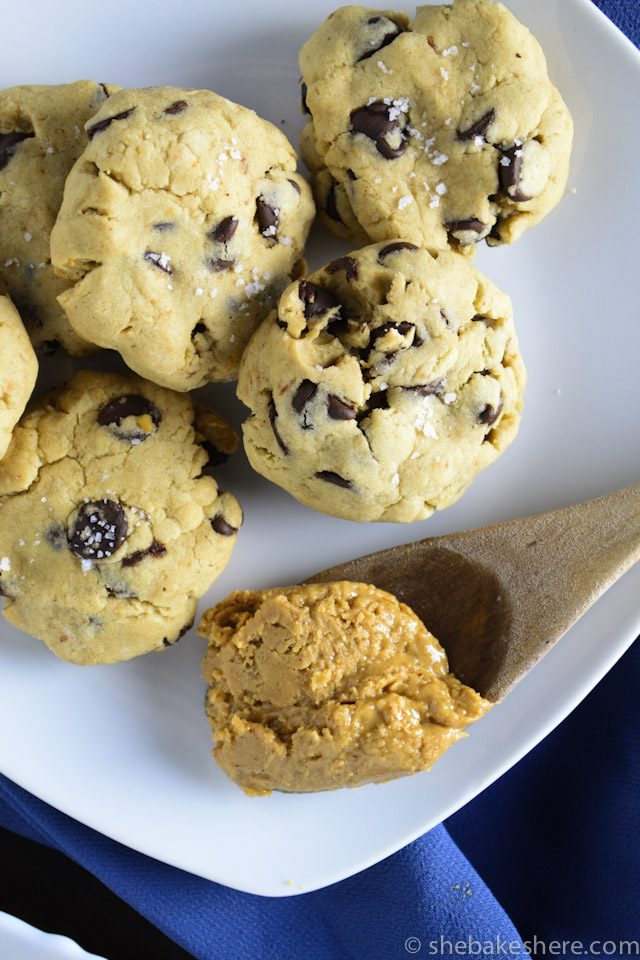 I think it goes without saying that the ingredient that really steals the show in these cookies is the 1/2 cup all-natural crunchy peanut butter. A little bit of nutty protein, a little crunch and really, is there any better combination than peanut butter and chocolate? Chocolate and sea salt you say? Well don't worry, I've also got that covered too. While these cookies were cooling, I threw caution to the wind and sprinkled a touch of sea salt goodness on each cookie. The result is a heavenly salty, chocolatey, peanut buttery soft-baked cookie that melts in your mouth and has you reaching for every last crumb. While the sea salt is totally optional, I highly recommend it to make all your chocolate chip peanut butter cookie fantasies come true.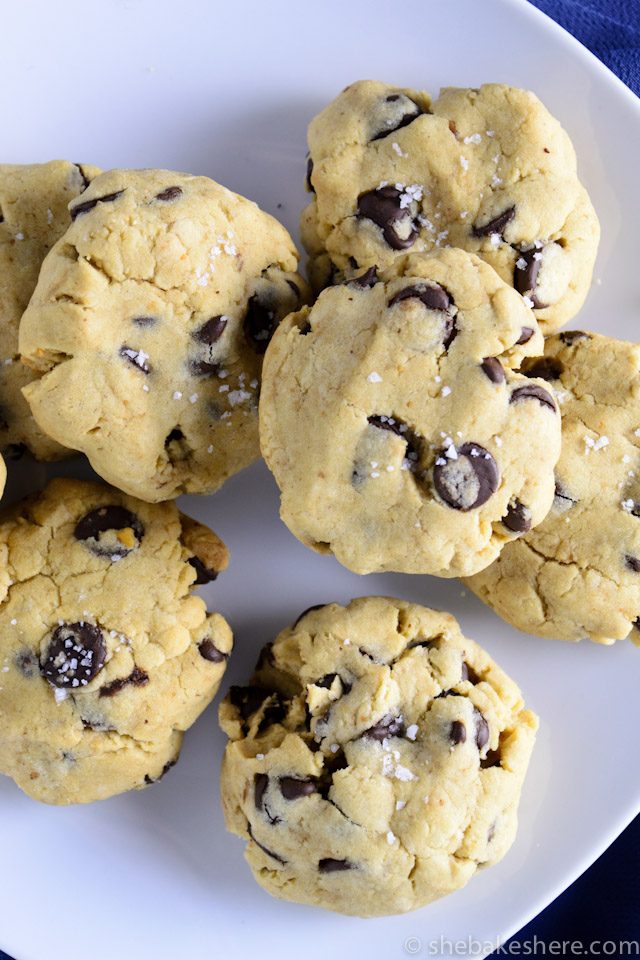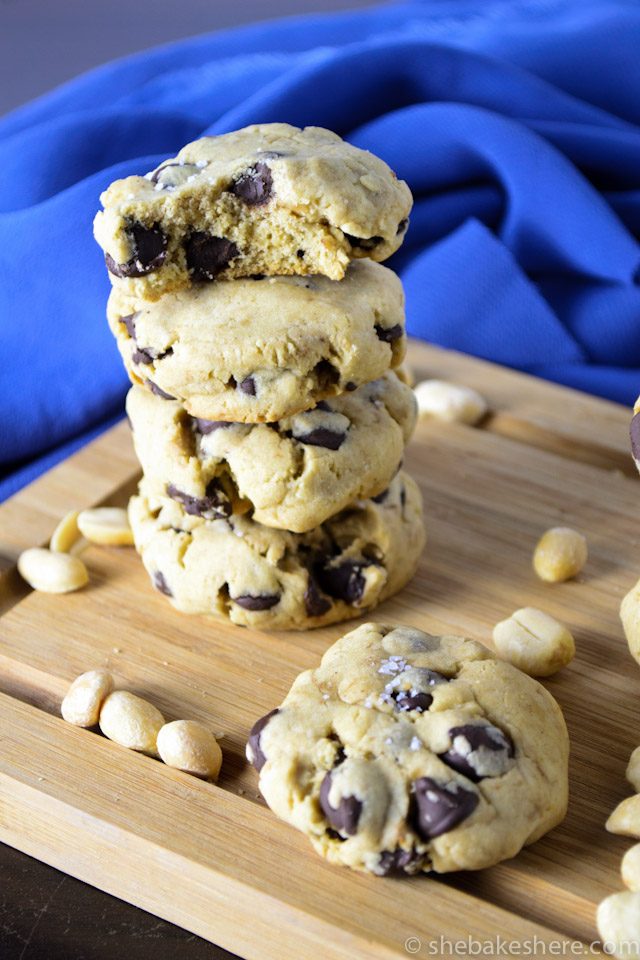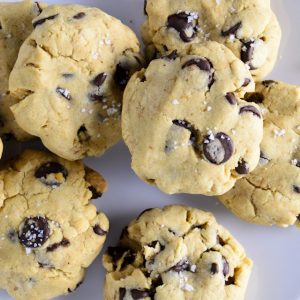 Soft-Baked Chocolate Chip Peanut Butter Cookies
Ingredients:
1/2 cup butter/margarine or shortening, room temperature
1/2 cup all-natural crunchy peanut butter
1/2 cup brown sugar, packed
2 eggs
2 tsp vanilla extract
2 cups flour
1 tsp baking soda
1/2 tsp salt
1 1/2 cups chocolate chips
Optional
Pinch of sea salt (for sprinkling)
Directions:
Preheat oven to 350*F. Line your baking sheets with parchment paper or a silicone baking liner.
Cream butter/margarine, peanut butter, and brown sugar until thoroughly mixed. Beat in eggs and vanilla.
While the wet ingredients are mixing, whisk together flour, baking soda, salt, and chocolate chips in a separate bowl. Using a wooden spoon, add the flour mixture to wet mixture and stir until soft dough forms and no more flour is visible.
Drop batter by the tablespoon onto your prepared baking sheets and lightly flatten each cookie with the back of the wooden spoon. Bake for 8-12 minutes until the edges are a light brown.
Let the cookies cool on the baking sheet for 1 minute before transferring the cookies to wired racks to cool completely. Optional: sprinkle the cookies with a pinch of sea salt while they are cooling.