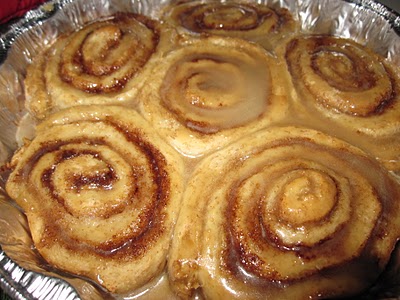 Ree Drummond is the bomb.
I bought her cookbook The Pioneer Woman Cooks along with my Cookie Craft book in January and I love it. I thought it was going to be just like her website, which is why I didn't buy it right away since all of her recipes are online.  But I'll admit it, it's easier to have a cookbook spread open in your kitchen during the baking process than a laptop displaying the recipe, but also running low on battery life.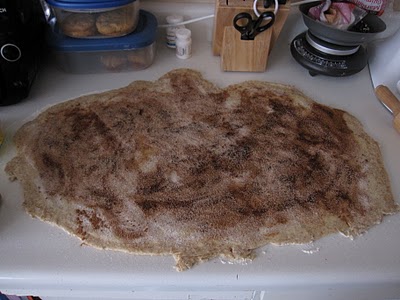 When I first discovered her website, one of the recipes that intrigued me the most was that of her famous cinnamon buns. The recipe was simple, straightforward and I already had all the ingredients already in my pantry, which is a big plus for me. The only thing that scared me was the amount of cinnamon buns the recipe made – serves 8 people. Yikes! 99.9% of the time, I'm cooking for just Trevor and I. Plus I had to factor in Trevor's lactose intolerance.
I also wanted my work pants to fit the next day.
This was where Amber at This Mommy Cooks came in. I came across her cooking blog when I was looking for a successful half-sized version of PW's cinnamon buns. She posted step-by-step photos of her baking process and I figured that 4 servings would be easier than 8 servings. Half the temptation would be gone! My clothes would still fit the next day!