Ginger Peach Baked Oatmeal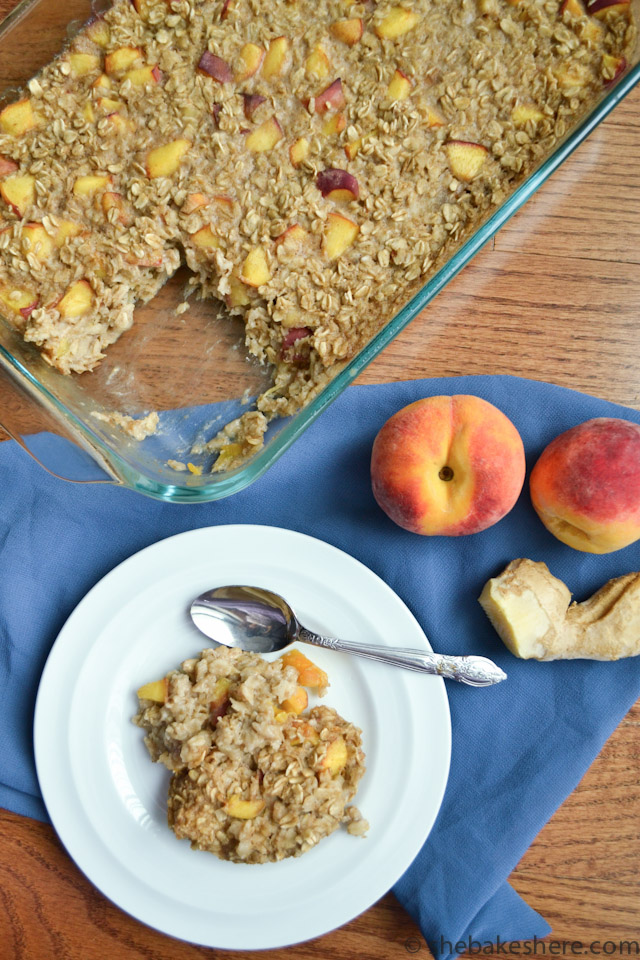 To say that August was an interesting month would be a complete understatement.
I had every intention to get back into the blogging swing of things when we returned from our summer vacation in mid-August, but when I stepped back into my kitchen, things felt different. I fully expected to be refreshed and inspired, but instead, the opposite happened. I was thrown very quickly into the "catch up" part of work and soon fell into the trap of making weird, lazy suppers of deli meat sandwiches and packaged mashed potatoes. We experienced a bit of a cold spell and instead of my usual BAKE ALL THE THINGS mantra, I would come home from work and watch episode after episode of mindless TV on Netflix.
It took a basket of very ripe Ontario peaches to break this spell. I bought them the week I returned to work with the intention of having a healthy mid-morning snack, but the basket remained untouched on our counter and later the fridge once I grew tired of looking at them. Every time I opened the fridge, the basket of peaches sat front and center as if to mock me and challenge my creativity.
Finally, on a chilly Sunday morning, as I was standing in front of the open fridge, I remembered that I needed to make something for my weekday breakfasts. Inspiration can do funny things to people, but once that thought hit me, I was almost on auto-pilot. I grabbed the peaches, a wooden spoon, mixing bowl, iPad and did a quick inventory check on my ingredients drawer. Not even an hour later, this ginger peach baked oatmeal was born.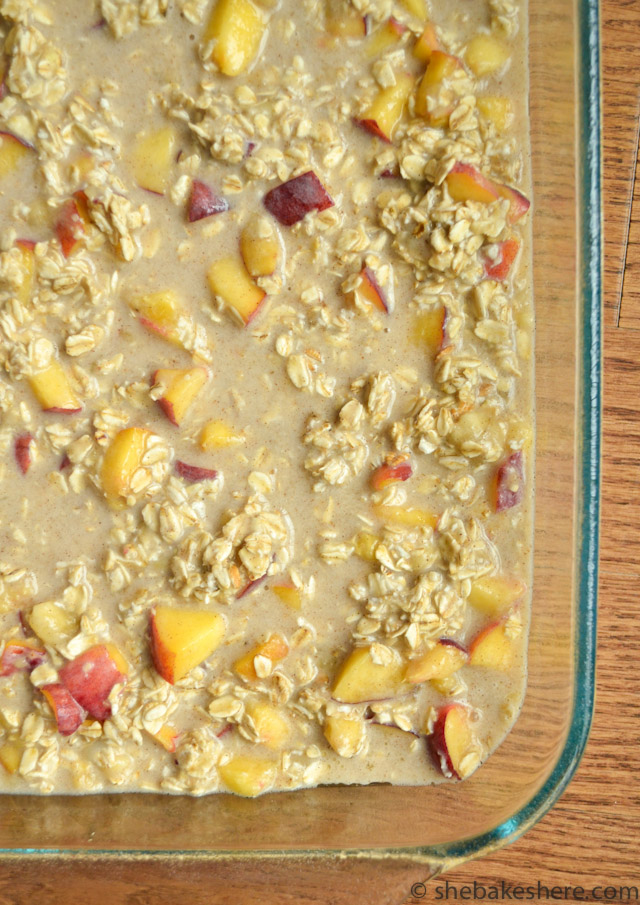 If you're like me and tend to be in a rush in the morning, this baked oatmeal is a great recipe to have on hand for a pre-made, ready to heat up healthy breakfast. Likewise, if you're on breakfast duty now that school is back in session, this make-ahead recipe is a great crowd pleaser and makes a wonderful packed lunch or snack option.
Made with no added sugar and lightly sweetened with ripe bananas, maple syrup, and fresh Ontario peaches, you'll almost feel like you're having dessert for breakfast – oatmeal cake anyone?
Ginger Peach Baked Oatmeal
Ingredients:
2 medium ripe bananas
2 1/4 cups almond milk
1/4 cup maple syrup
1 tsp vanilla
2 cups old-fashioned rolled oats
1/2 tsp baking powder
1 tsp cinnamon
3/4 – 1 tsp grated ginger
Pinch of sea salt
2 cups ripe peaches, diced into small pieces
Directions:
Pre-heat oven to 350*F and lightly grease an 8×11 inch pan.
In a large bowl, mash ripe bananas. Add almond milk, maple syrup, and vanilla and whisk until combined
In a separate bowl, stir together old-fashioned rolled oats, baking powder, cinnamon, grated ginger and sea salt. Add the dry oat mixture to the milk mixture and stir until just mixed. Carefully fold in diced peaches.
Pour mixture into your prepared 8×11 inch pan. Bake for 25-30 minutes and promptly remove from the oven. It will look a little underbaked but will continue baking for a few minutes after it has been removed.
Let sit for 5 minutes before serving.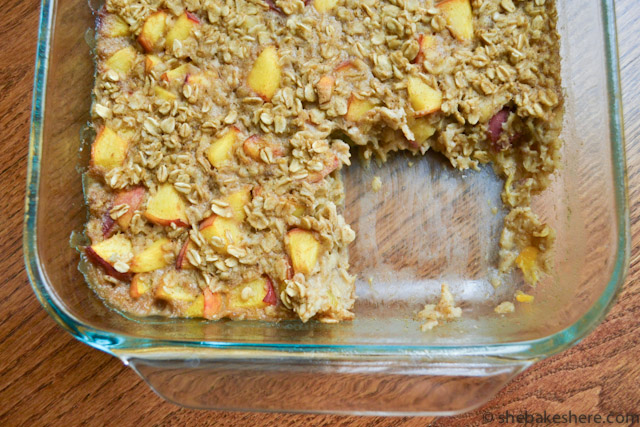 If you're curious to see what else I made with those peaches (hint: peach crumble pie) or to check out my vacation photos, be sure to check out my Instagram account.